For The First Time Ever, A Modest Wear Designer Is A Finalist On 'Project Runway'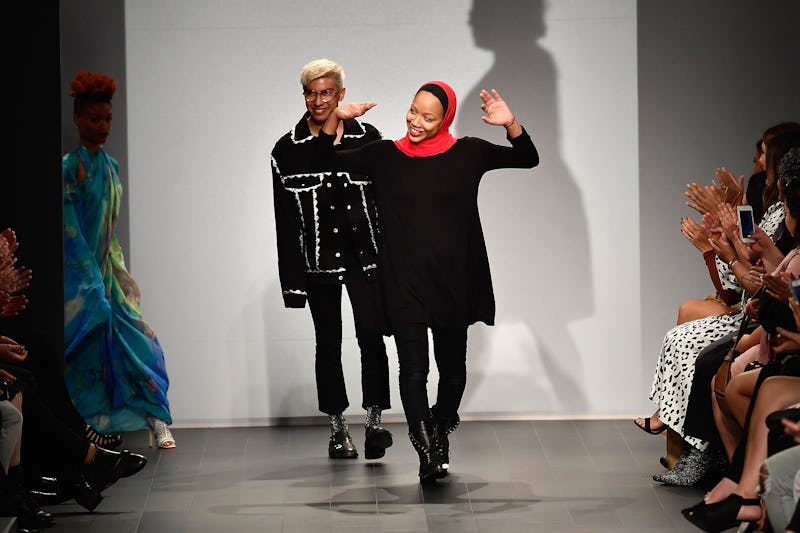 Frazer Harrison/Getty Images Entertainment/Getty Images
Project Runway is one of the longest running reality competition shows on television, and the franchise often breaks ground in the fashion industry. This season, the series features plus-size models for the first time — but that's not the only groundbreaking moment. Ayana Ife is Project Runway's first modest wear designer to compete in the finale, and she's making her presence on the show and in the fashion world known.
But if you're still wondering what exactly is modest wear, don't worry. Ife will break it down for you, though her philosophy on the design aesthetic is that it's hard to pin down.
"My modesty may not be modest enough for some people, and it may be too modest for some people," Ife, who is Muslim, tells Bustle. "But it's my interpretation of modesty, which I define as no skin showing. ... Essentially, you won't find any of my pieces for my specific line having any specific amount of skin showing. Where if I make a pair of pants, they'll be a full-length pant. If I make a top, it'll have full-length sleeves."
Just because Ife designs her definition of modest clothing, however, doesn't mean the designs aren't adaptable to fit different definitions of modesty — or to the everyday clothing market.
"I do have clients who pair [the clothes] differently," she says. "For example, I'm making a shirt dress that I pair with pants. They'll wear it with no pants. I'm happy that it can cross over and meet several markets, but the market I cater to is the modest market."
Ife's modest designs have given her a unique perspective on Project Runway this season. But the designer says her perspective on fashion didn't make the show any more challenging than it was for the rest of the cast. It was simply a matter of innovation, which is a constant in fashion.
"I'm not going to say that it takes more skill than average because that would be completely taking away from the high level of skill that all designers have," she says of modest design. "But you do have to put some extra thought into it so it doesn't look childish, so that it doesn't look matronly. [It's important] to keep that very sleek edge, but at the same time it's covered."
Ife says she wasn't concerned about being a modest designer on a show that rarely features modest designs. After all, that is her indelible fashion perspective. She was, however, worried about how that point-of-view would be received by those critiquing her fashions.
"My major concern was that I didn't know how the judges were going to receive it, and because it's something that's really important to me and really close to me," Ife says. "I was a little hesitant about it. But it wasn't because it was modest. It was because ... I really wanted to put out there and bridge the gap, so I was a little nervous about how they would receive it."
Ife is aware that there are common misconceptions about modest fashion and those who choose to dress modestly, which is why her reception-based nerves are more than understandable. But she is working to challenge these misconceptions through her work and time on Project Runway.
"The number one [misconception] is that modest means ugly," she says. "Modest means you have to look matronly. Modest means that no one's going to want to wear it. That it's not edgy, it's not cool, it's not fun."
But Ife says modest fashion can be current — and her designs are proof.
"I've always just done whatever I like when it comes to fashion, and to me whatever I like is usually very cool," she says.
Ife's designs and devotion to staying true to herself aren't the only things that set her apart in the competition. Her Muslim faith and hijab-wearing ways have made her a role model in a political environment that is intensely hostile to Muslim women. Ife isn't afraid of getting political in the name of her faith, or championing the Muslim community as a strong female role model.
"It's something I definitely now have stopped feeling scared about," she says. "For me, it's not about showing that Muslims are great. That's not what I want to show. I want to show that being a decent human means that you'll be a decent Muslim or a decent Christian.
"So that's how it's pictured more so for me: Being a decent person, loving people, and treating people the way I want to be treated."
While fans of Ife still have to wait until Nov. 16's finale to see if she takes home the Project Runway prize, you can expect to see more from Ife long after the show ends. The designer wants to continue building her brand and expanding into athletic wear for modest style.
Regardless of whether Ife wins, she's making a lasting mark in fashion by making modest wear mainstream.