This Is Why You *Totally* Recognise Ben Chaplin From BBC's New Show 'Press'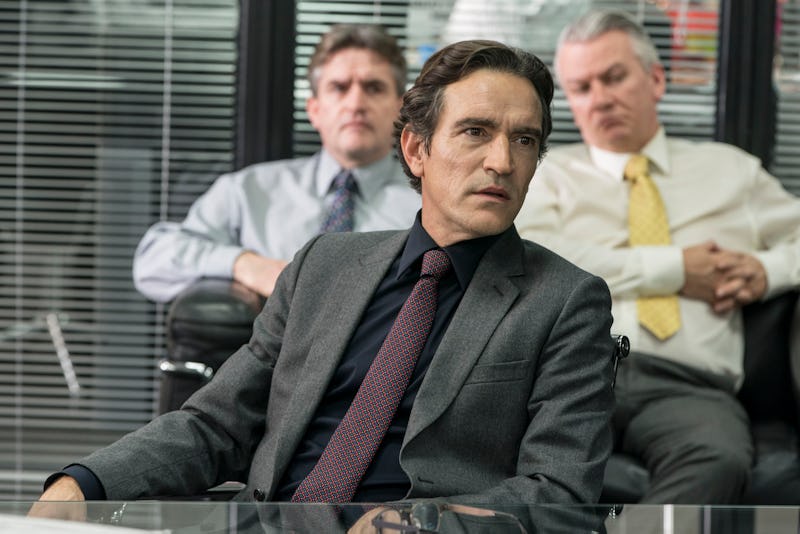 BBC/Lookout Point
Stick that TV dinner in the microwave: there's another major BBC One launch tonight, this time courtesy of newsroom drama Press. The show, created by Doctor Foster screenwriter Mike Bartlett, focuses on the turbulence at the heart of two very different newspapers, a tabloid and a broadsheet — it's "a tale of two papers", according to star Ben Chaplin. But who is Ben Chaplin, and what has he previously appeared in?
In Press — which premieres on Thursday at 9 p.m., according to the Radio Times — Chaplin plays Duncan Allen, editor of tabloid newspaper The Post. His co-stars include Charlotte Riley as Holly Evans, deputy editor of broadsheet the Herald, Priyanga Burford as Herald editor Amina Chaudury, and Paapa Essiedu as Post reporter Ed Washburn. As the BBC explains, "The series follows their lives as they attempt to balance work and play, ambition and integrity, amid the never-ending pressure of the 24-hour global news cycle and an industry in turmoil."
According to Chaplin, he plays Duncan Allen in the midst of a "mid-life crisis." He's "become desensitised to what he does", plus his home life is miserable, Chaplin reveals — and he's grappling with an ethical dilemma faced by many journalists in today's business-driven tabloid climate. "To what extent are they willing to put their jobs on the line to have a front page or an editorial that they believe in?" Chaplin said.
This certainly promises to be a compelling role for Chaplin — but where have you seen the actor before?
First, the biography. According to The Sun, Chaplin was born in Windsor on July 31, 1969. He changed his name from Benedict John Greenwood, he told the Times, when he registered with actors' union Equity, only to find a Ben Greenwood already signed up.
He attended the prestigious Guildhall School of Music and Drama (and was nearly expelled, he told iNews), before moving to the United States. His role in Broadway's Retreat to Moscow earned him a Tony nomination, while he secured an Olivier nomination for The Glass Menagerie, according to Playbill. He's now back in the UK, where he's "renting a home in North London," he told the Times.
So why does he look so familiar? He's no stranger to the BBC, appearing in 2017's psychological thriller Apple Tree Yard alongside Emily Watson. The role, according to the Times, granted him "pin-up status" — and his response? "I just find it hilarious, to be honest. At my age?" He also led the cast of the 2013 BBC TV movie The Wipers Times, set during World War One.
Chaplin's also in cinemas as we speak, alongside Emma Thompson and Stanley Tucci in Ian McEwan's The Children Act. He plays the devoutly religious father of a gravely ill teen, who rejects a blood transfusion on the grounds of his faith as a Jehovah's Witness. And earlier this year, he returned to his theatrical roots, starring in Mood Music at the Old Vic in London.
Other major roles? He played the father to Lily James' Ella in 2015's Cinderella, and appeared as Captain John Clarkson in TV miniseries The Book of Negroes, alongside Aunjanue Ellis, Lyriq Bent, and Cuba Gooding Jr. Back in the '90s, Chaplin scored several major film roles: in 1994, for instance, he appeared in The Remains of the Day with Anthony Hopkins and future co-star Emma Thompson. In 1996, he starred alongside Uma Thurman and Janeane Garofalo in romcom The Truth About Cats & Dogs, while his fellow cast members in 1998 Second World War drama The Thin Red Line included Adrien Brody and George Clooney.
His latest role in the BBC's Press promises to be a meaty one: Duncan Allen is "a hateful bully to his critics; an outspoken man of the people to his admirers," according to the broadcaster. Could Press be the UK's answer to Aaron Sorkin's The Newsroom — and Ben Chaplin the new Jeff Daniels? Let's report back at 10 p.m.