Ben May Not Have Bad Intentions On 'This Is Us'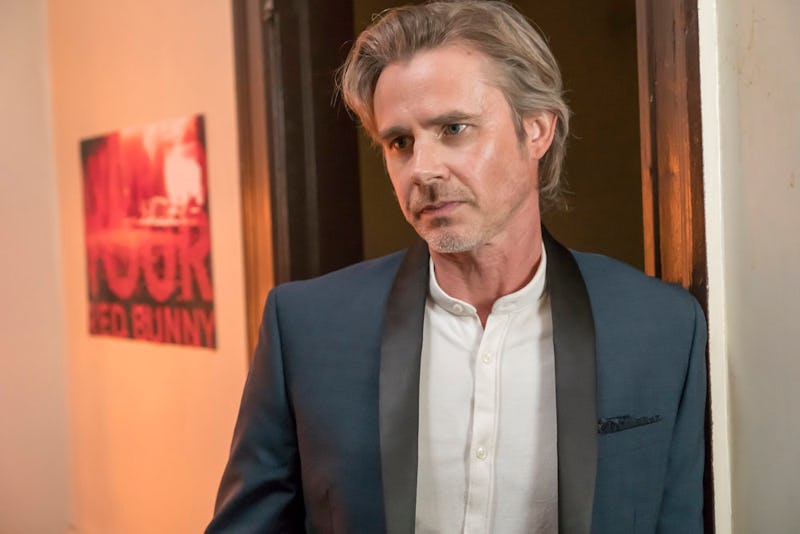 Ron Batzdorff/NBC
Jack and Rebecca of This Is Us are the best couple on television, and I will fight anyone who says otherwise. Though Jack is dead in the present day, we know that they were both fiercely in love and wholly devoted to each other during the time they were married. Everyone has their Achilles heel, though, and Jack's seems to be Rebecca's bandmate, Ben, on This Is Us. Jack is a little jealous of the fact that Ben and Rebecca had a fling two decades ago, but does her ex have a real chance of coming between television's best couple?
We first met Ben when he invited Rebecca to be in his band — a singer who never made the big time, this sounds like a wonderful idea to Rebecca (and to me, because I want Mandy Moore to sing in whatever project she's in). But when she wanted to go on tour and Jack found out that Ben was technically her ex-boyfriend (though she's been married to Jack for like 20 years, so how important could he be?), he was not thrilled. Come on, Jack — after that many years of marriage and three kids, you can't trust your wife to follow her dreams and not break your heart?
Ben is played by Sam Trammel, who has been an actor for a very long time, but is probably best known for playing Sam Merlotte on True Blood from 2008 to 2014 or the dad in The Fault In Our Stars. He's also in the new Kong: Skull Island movie and has been nominated for a Tony Award for his theater work, so I think Trammel has the pedigree required for the emotional heavy lifting of This Is Us.
Trammel also doesn't think that Ben is maliciously interfering in Rebecca's marriage, as he told Entertainment Weekly:
"I don't think that Ben is trying to manipulate the situation and play Jack. I think he just puts his foot in his mouth. ... When I said, 'If he loved you, he'd let you do it,' I don't think I was manipulating [Rebecca]. And then when I mentioned she was my ex ... we were definitely not playing that as me messing with Jack at all. That being said, you've seen the episode, and sometimes these things can come across, and you can lean into things however you want. I don't know how it came across, or if people are going to start thinking I'm an operator. That was not my intention in playing it."
It's an interesting point to make, and brings to mind the old adage that when you're a hammer, everything is a nail. Jack was already upset that Rebecca was going on tour, so when he found out that she had been involved with Ben, it could have been an excuse to go berserk, even though Ben wasn't trying to upset him.
Still, Trammel understands why Jack got so upset. "I'm taking her away from him, just time-wise," he told EW. "And the thing about it is, it's probably a new thing for that marriage. He didn't really sign up for that. So I can understand why Jack would be jealous. So whatever happens with me and Rebecca, just the fact that she's with me, that creates tension, obviously."
Well, I hope Ben doesn't create too much tension for the Pearson clan. We already know that Jack may not live much longer in the flashbacks, and I want to enjoy the time we have with him. Either way, I'll be busting out my handkerchiefs for the This Is Us season finale, and I hope will, too.