'The Bachelor' Contestant Bibiana Will Bring Cheer To Arie's Life — Literally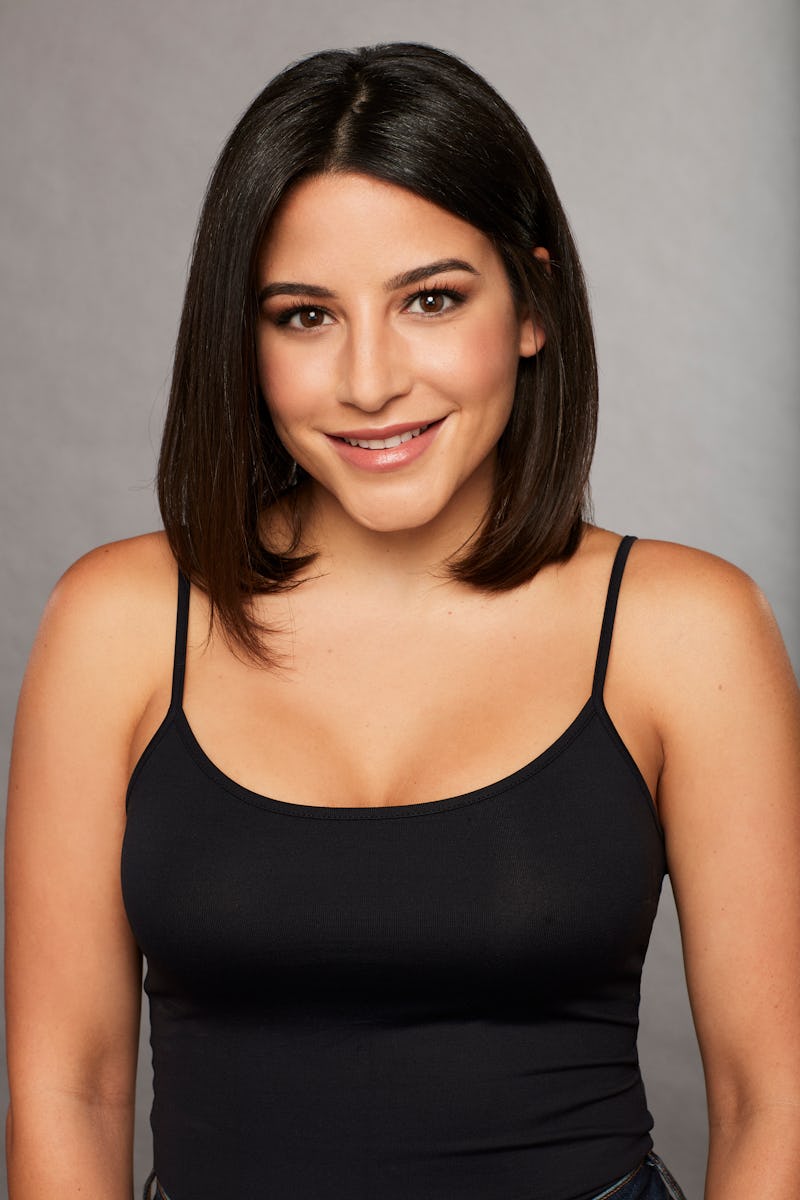 ABC/Craig Sjodin
As fans prepare to tune into Bachelor Season 22, curiosity about the season's contestants is at an all time high. So, who is Bachelor contestant Bibiana? Well, there's actually a lot to learn. A former Miami Dolphins cheerleader, Bibiana Julian is currently an executive assistant, according to her ABC bio. While a member of the Dolphins cheer squad, Bibiana became co-captain and was named Rookie of the Year. Interestingly, she reveals that football is actually her least favorite sport and says that she "secretly hated the games." Which is interesting in and of itself.
The Dolphins cheer collective is a tight knit group women, who, in addition to revving up team morale, serve as ambassadors to the community. Among their many duties, the women of the team serve as the face of the Dolphins organization, often supporting philanthropic and promotional events throughout the metropolitan Miami area. Because t's a highly-sought after position, the Miami Dolphins' squad selection is a hugely competitive process. A Miami-Herald article about the team's 2017-2018 drafting sequence explains the system in detail.
Referring to it as a "pageant-style tryout," the procedure includes a swimsuit phase, along with both an individual dance and group dance competition. The women are additionally subjected to vigorous question-and-answer session in an effort to measure poise and personality. Which tells you a lot about what Bibiana will be bringing to the table this season.
In 2006, she was voted America's Sexiest Cheerleader through FHM's online poll at the age of 19. An interview during that time reveals Bibiana's commitment to being a team player as she explains, "I think if any of our girls were in the contest, they'd have won. It's a Dolphin thing." Having the ability to navigate successfully in a group is a quality that could possibly be helpful when it comes to forming alliances while in the Bachelor house.
Bibiana also appears to be an avid traveler as indicated by the many vacation photos posted to her Instagram account having traveled to locales such as Greece, Colombia, Turks & Caicos, and Mexico. And, although she will soon take her place in the reality television star ranks, Bibiana seems to already be pretty good pals with Astrid Bavaresco from Wags Miami. In fact, she joined Bavaresco's lavish birthday vacation back in July 2017.
With her background in sports and cheerleading, Bibiana could prove to be a supportive partner for Arie, given his career in racing. And support is something the new Bachelor needs. After all, Season 22 is Arie's second shot at love on the Bachelor franchise. The 36-year-old had his heart broken by Emily Maynard on Season 8 of The Bachelorette in 2012. Fans watched with surprise as Maynard dumped Arie, aka the kissing bandit, in favor of Jef Holm. However, no one was more shocked about the move than Arie himself, who was certain that Maynard was the love of his life.
Despite the experience, Arie recently admitted that, although jilted on the dating series, he has yet to feel anything like what he felt when dating Maynard during her season. He reveals that the lasting impression from the experience is what ultimately helped him make the decision to return to the franchise. In an interview with Entertainment Tonight, he explained,
"I haven't felt that same feeling that I had when I was on The Bachelorette. It really drove me to do this ... [The show] gave me the time to really put myself in front of somebody and shut everything [out] and not worry about work and all the other pressures of life."
Given his history with the show, it's safe to say that Arie will be more careful when choosing a mate this time around, with her commitment to living life to the fullest, Bibiana could be just the one to win him over.