Cardi B's Sister Hennessy Carolina Has Big Dreams, Too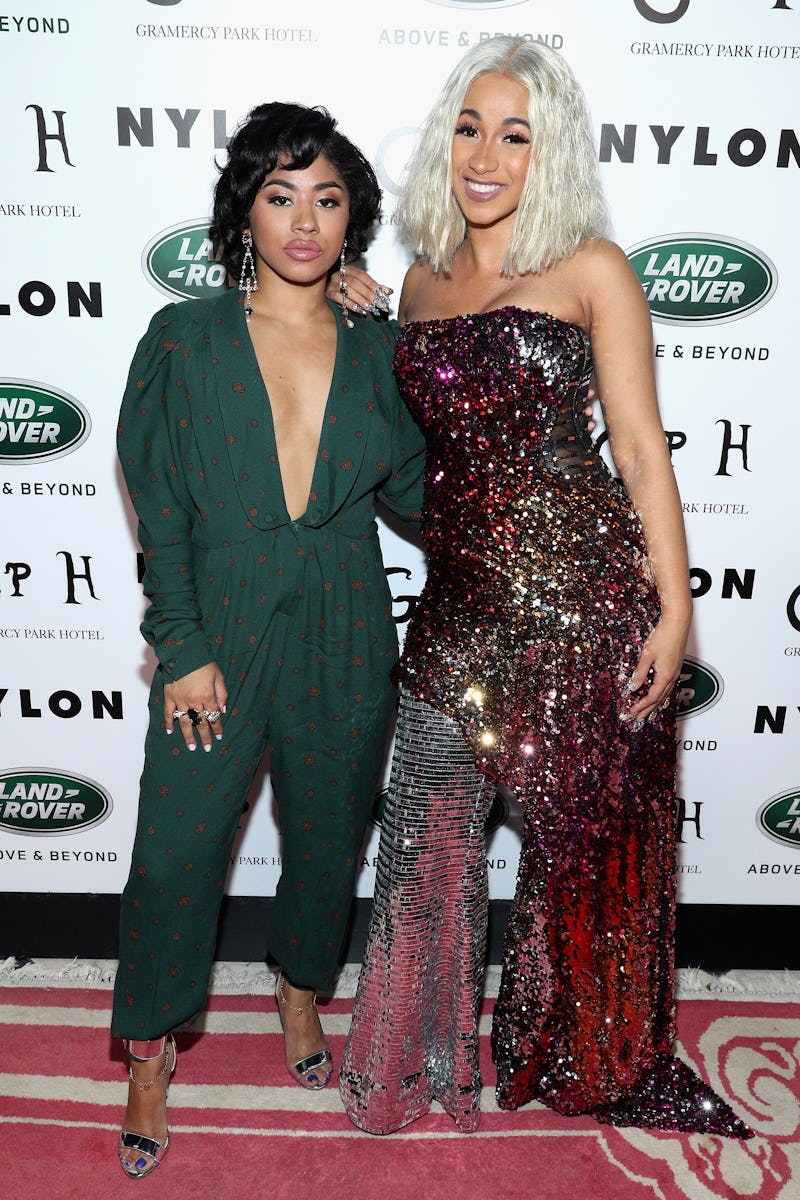 Rob Kim/Getty Images Entertainment/Getty Images
Over the last couple of months, it's become impossible to turn on the radio without hearing "Bodak Yellow" at least once, so it's safe to say that the woman behind the song is a success. We know who Cardi B is, but what about her family? Who is Cardi B's sister? Now that this rapper is sitting at the top of the charts, it's a good time to get to know one of the most important people in her life a little better.
If Hennessy looks familiar to you, there's a clear reason for that. She appeared on Love & Hip Hop: New York during Seasons 6 and 7, while her sister was starring on the show, so, if that's where you fell in love with Cardi, there's a good chance that's where you recognize her 21-year-old sister from. Or, you know, you might be one of her 1.4 million Instagram followers, because as famous as her older sister is quickly becoming, she's gaining her own fame, too.
And if you follow Cardi on social media, there's a good chance you're familiar with Hennessy from her accounts, because they post about each other all the time and seem to be really close. In fact, Cardi got her stage name because her nickname used to be Bacardi to go with her sister's alcohol-themed name, which makes for a pretty cute backstory.
According to what she said in an interview with BET from September, it sounds like Hennessy has big plans for her future. These days, she's hosting a lot of club events, putting all that Insta fame to work, and when she's not doing that, she's also working toward becoming a fashion designer, hoping that one day she can design clothes worn at big Hollywood events. She said:
"Growing up, I wanted to be a fashion designer, which I'm still in school for. Like that's what I want to be: a fashion designer. My dream customer is every celebrity that's on the red carpet. Everybody at the Met Gala and on top of that, just everybody and anybody. I would dress everybody."
And as far as her personal life goes? It involves her serious girlfriend, Mel, who she's been with for more than a year. Mel frequently appears in posts on Hennessy's Instagram and Facebook, and it seems like they're really happy together.
And then, there's the other woman in her life — her sister, of course. Even though it looks like Cardi has become ridiculously busy lately with her career taking off, there's still plenty of time for these sisters to get their bonding time in, and it's so much fun seeing them post photos from the time they spend together.
In the same BET interview, Hennessy also revealed that she and Cardi are just as close as fans seem to think they are, so take comfort that these two are definitely the #SisterGoals they appear to be on social media. She said:
"Well we live in the same household together, so we have no choice but to always be close. No, but we get along, we're best friends. Sometimes we used to fight for mascara but it's OK. That's what sisters do."
Anyone who has a sister knows that's definitely typical sister stuff, so what you saw between them on Love & Hip Hop was the real deal. It's so sweet to see their interactions on Twitter, too; they're always ready to stand up for each other.
It definitely doesn't sound like Hennessy is going to fly under the radar much longer, so it's a good time to jump on the bandwagon. Hennessy and Cardi aren't going anywhere anytime soon.