Everything You Need To Know About Caroline On 'BiP'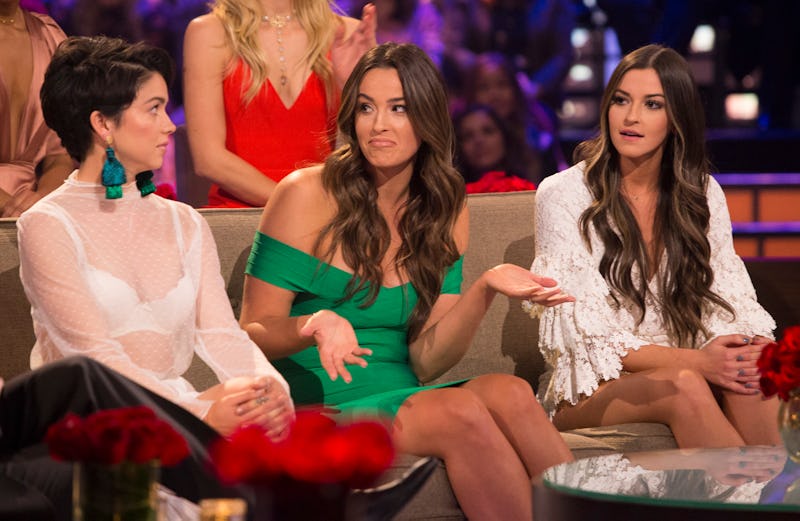 Paul Hebert/ABC
Ah, another day, another new addition to Bachelor In Paradise. There are so many people from so many different franchises that it's a little hard to catch up this season. Like, who is Caroline Lunny on Bachelor In Paradise? She's already mixed up in some Bachelor In Paradise drama it seems, which makes sense given her history.
Caroline got her start on Arie's season of The Bachelor, even though she was originally cast for a season with Rachel Lindsay cast-off Peter Kraus. On the Whine With Kelly podcast, Caroline said that Bachelor producers had told her she was cast as a match for Peter. I guess they thought Peter was a shoo-in for The Bachelor, but we all know that Peter was like, "I'm out of here, Bachelor Nation" and fled for the Great Lakes right after his time with Rachel.
Arie was a surprise pick for some of people already signed up to do the show, Caroline said on the same podcast. She said, "I didn't watch [Peter's] season, but I was definitely attracted to him, obviously. And then it was hard because when I got sent home, all the producers were like 'You were our pick. You were our girl. What happened? We literally left casting and we were like, 'Oh my gosh. That's Peter's girl."" Uh, you guys didn't pick Peter? That's why. Arie sent Caroline home in Week 4, but that wasn't the last he would hear from her.
It's no secret that Arie dumped Becca, his first choice, to be with Lauren, his runner-up. But Caroline and Becca are good friends, and on Arie's Women Tell All, Caroline confronted him about the breakup. America didn't know what he did at that point, but Caroline did, and she wasn't going to let Arie get away with that nonsense. "[I] wish him nothing but the best, but I'm also allowed to be really upset and he f*cked over my friend," Caroline told Variety after the taping. She also said she hopes he "he made the right choice" and "is happy" with his decision.
All of the women on Bachelor In Paradise were happy to see Caroline show up on the beach in Mexico, so it's safe to say that she's a good friend who will ride or die until the end. You get broken up with on national television? She's coming for that person who broke your heart, and she's going to subtweet Sex And The City gifs at him or her until they realize the magnitude of their follies. That's the kind of friend everyone needs.
And though Caroline has friends, she needs some love, too. Obviously, Arie didn't work out, and on Bachelor In Paradise, Caroline told Venmo John on Tuesday night that she recently got out of a relationship in which her partner wasn't kind — and especially unkind to her. She wants someone funny, real, and nice, and uh, yeah, Venmo John is definitely all of those things at once. Can these two go the distance on Bachelor In Paradise? A lot can happen in Paradise, but Caroline and Venmo John could very well find love in the hopeless place I like to call Bachelor Nation.