What You Need To Know About The Former Disney Star The White House Just Hired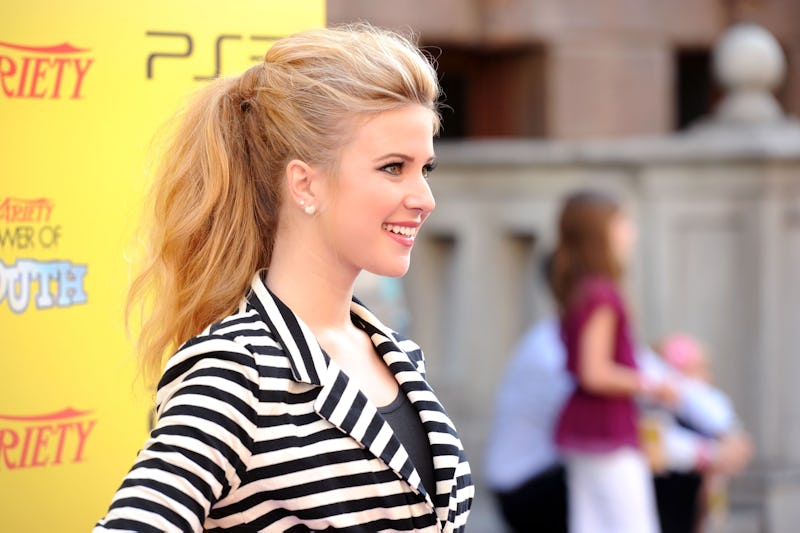 Jason Merritt/Getty Images Entertainment/Getty Images
While dramatic exits in the executive branch continue to dominate the news cycle, not every personnel shift is a departure. According to several reports, the White House is adding a former Disney Channel star to its payroll. There are a lot of questions, but the first one, of course, is who is Caroline Sunshine? It turns out, among other things, she's the White House's newest press assistant.
Made moderately famous for her role in Disney's Shake It Up, a show about a troupe of teenage backup dancers, Sunshine has since turned her attention to politics and international affairs, CNN reports. While at Disney, she acted alongside rising stars like Zendaya and Bella Thorne, but in college, Sunshine participated to activities like Model United Nations. Most recently, she reportedly interned for the White House.
White House spokeswoman Lindsay Walters, in a statement to CNN, described Sunshine as a devoted young Republican with a demonstrated investment in politics. "Prior to her internship at the White House, Caroline interned for the Office of House Majority Leader Kevin McCarthy, the College Republican National Committee and the California Republican Party," Walters said.
According to IMDB, Sunshine began acting professionally in 2009, and has appeared in movies like Marmaduke, and most recently, Mommy, I Didn't Do It.
Notably, the young addition to the White House is entering the administration with more political work experience than some other employees have had prior to joining Trump's team. Specifically, Sunshine joins the White House with more political experience than Ivanka Trump had when she was serving as an unofficial adviser to her father in the early days of his administration.
Prior to joining the Trump campaign, Ivanka was primarily a businesswoman, running a freshly-launched an eponymous clothing brand. Prior to that, she was a model. Sunshine's addition to the president's staff serves as a striking reminder that the president's daughter, who now occupies an official office in the White House's West Wing, has a resume more akin to that of a fashion mogul than a political consultant.
Sunshine also serves as one of the most recent examples of television entertainers pursuing political careers. Trump, himself, of course, also joined the political arena after a famous stint as a reality television star, running the program The Apprentice. In fact, a contestant on the show — Omarosa Manigault, generally referred to simply as "Omarosa," worked as a political aide for Trump for approximately a year. She enjoyed one of the more dramatic exits from the White House, now-infamously having attempted to chase Trump down after she was terminated, ultimately being forcibly removed from the premises.
And Republican entertainers aren't the only ones recently setting their sights on or adjacent to elected office. Last week, Sex and the City star Cynthia Nixon announced she would be challenging two-term New York governor Andrew Cuomo for his seat, come September.
Further back in history, there was also Arnold Schwarzenegger, who served as governor of California. And, of course, President Ronald Reagan, who left behind a career in Hollywood to work in the Oval office.
Sunshine, however, is significantly younger than those who came before her, and has thus spent a bit less time at the center of attention. She also has primarily acted in programs aimed at a much younger set of people — mostly appearing in television shows and movies written for teenage and elementary-aged audiences. She also hasn't ran a campaign — she's a staff member, not an elected official.
While it could be tempting to classify Sunshine as yet another actress or actor working in Washington, D.C., there are some key differences, such as her marginal political experience. As with any other employee of the current administration, how long she'll stick around is another question entirely.
Correction: A previous version of this story misstated Gov. Andrew Cuomo's name. It has been updated.