Carryn Owens Was Applauded At Trump's Speech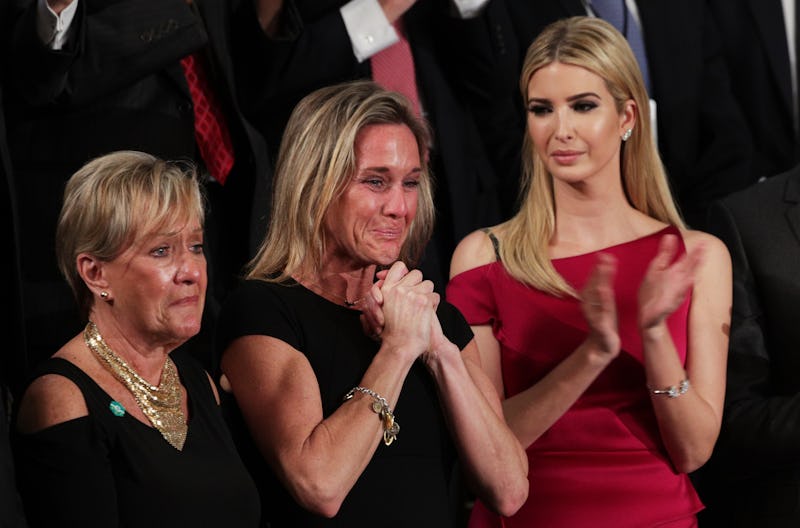 Alex Wong/Getty Images News/Getty Images
The most moving moment of President Donald Trump's address to a joint session of Congress Tuesday night came when he addressed a tearful woman sitting next to Ivanka Trump, as lawmakers gave a standing ovation. As CNN's Van Jones put it, the exchange was "the moment Trump became president." But who is Carryn Owens? Ryan Owens' wife open show of emotion transcended politics even for the briefest moment.
Carryn is the recent widow of Chief Petty Officer William "Ryan" Owens, a Navy SEAL who died in a mission in Yemen last month. In the aftermath, media reports have said that the military intelligence operation produced no actionable intelligence, and Trump has faced intense scrutiny for his decision to move forward with the operation. The president has been reticent to take responsibility for the attack, instead placing the blame on the Obama administration and the military.
Trump refuted that claim on Tuesday, saying that he had spoken to Defense Secretary James Mattis, "who reconfirmed that, and I quote, 'Ryan was a part of a highly successful raid that generated large amounts of vital intelligence that will lead to many more victories in the future against our enemies.'"
It'd be easy, then, to chalk the exchange with Carryn up to political capital. Ryan Owens' father refused to meet with Trump when his body arrived back in the United States, citing his anger over the raid. But even if mending a bit a bad of PR was the motive behind Trump's invitation, it's hard to deny the power of his direct address to the widow.
"Ryan's legacy is etched into eternity," Trump said. "For as the Bible teaches us, there is no greater act of love than to lay down one's life for one's friends. Ryan laid down his life for his friends, for his country, and for our freedom — we will never forget him."
Tears continued to stream down Carryn's face as Congress cheered for a length of time that Trump said must have broken a record.
There's a lot to be said putting a grieving family into the spotlight in such a manner, but the moment of bipartisan support for Carryn — if it can be separated from the president's political intentions — was undoubtedly moving. At the very least, she should know that the lawmakers in that room on Tuesday night won't be able to forget the exchange.