Chadwick Boseman's Love Life Will Be A Huge Disappointment For 'Black Panther' Fans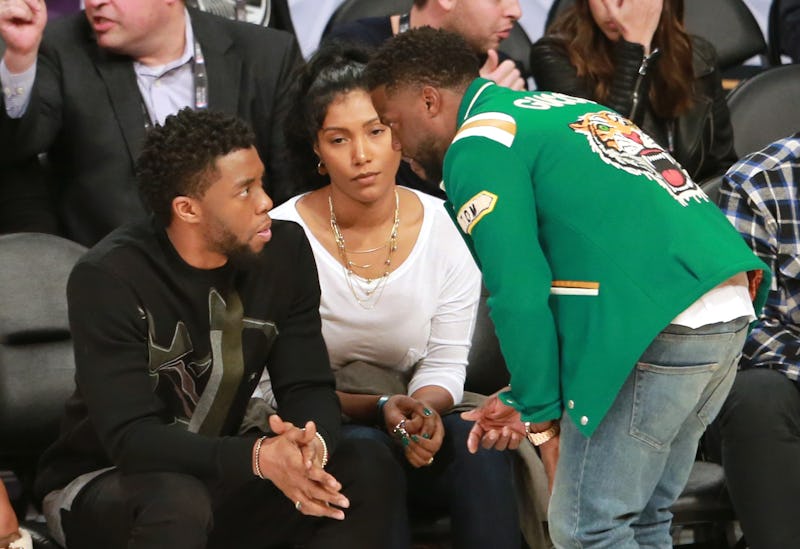 Leon Bennett/Getty Images Entertainment/Getty Images
Chadwick Boseman has been a movie and TV star for years. But with the release of Black Panther — and the film's critical and box office success — he's in the public eye more than ever. Which basically means a lot of people talking about whether or not Boseman has a girlfriend, alongside his magnificent acting talent. While the actor is fairly private on social media, there are clues that suggest the Black Panther star might be in a relationship.
Earlier this month, Boseman was photographed with singer Taylor Simone Ledward at the 2018 NBA All-Star Game in Los Angeles. Of course, the fact that they were seen together doesn't prove that they're dating, but a number of tabloids are nevertheless convinced that Boseman and Ledward are an item. One site suggests that the pair might have been dating for as long as a year, though the two of them haven't confirmed whether or not they're in a relationship and thus could simply be friends.
The actor was also seen holding hands with a mystery woman in L.A. last year. The woman in the photos is wearing big sunglasses, but, based on the images, it looks like it could be Ledward. Whoever the woman actually was, the pair definitely looked close while walking down the L.A. streets. Some sites have even reported that Boseman and Ledward were seen together in 2015, though, again, that doesn't necessarily mean they've been dating since then.
Details about Ledward are scarce, but it looks like the actor's rumored beau has been a member of the music industry for several years, as one fan site noted; she also has an incredible singing voice. Unfortunately, we probably won't get any details about Boseman's personal life from his Instagram account. He posts on Instagram and Twitter fairly often, but he doesn't share much about his relationships — let alone whether or not he's actually in one right now — online.
But while we might not know a ton about the actor's personal life, we do know plenty about Boseman's amazing Hollywood career. Before Black Panther, he played Supreme Court justice Thurgood Marshall in last year's Marshall. And the actor has played several other real-life figures, too. He starred as Jackie Robinson in 2013's 42 and played James Brown in 2014's Get on Up. Boseman also played (the fictional) Black Panther in Captain America: Civil War, though the new film has been the character's true time to shine.
He already has ideas for what to do after Black Panther, too. Originally a screenwriter, Boseman told Rolling Stone that he and his writing partner Logan Coles are working on the script for a new movie that Moonlight's Barry Jenkins will direct. "There's a plethora of stories in our culture that haven't been told, because Hollywood didn't believe they were viable," the actor told Rolling Stone. If Black Panther is any indication, though, there's definitely a cultural appetite for more stories about underrepresented figures.
Still, Boseman is presenting at the Oscars on Sunday night, so we might learn more about his personal life soon. If he chooses to bring a date to the ceremony, it's safe to say everyone will be talking about it. After all, Black Panther is the movie of the moment right now, so all eyes are on Boseman ahead of the ceremony.
Whether or not he brings a plus one to the Academy Awards ceremony, though, it's awesome that he's presenting an award at the Oscars. Given Black Panther's favorable reception, he might just be nominated at next year's event for his work in the film.