Why This Wrestling Trailblazer Was Honored By 'GLOW'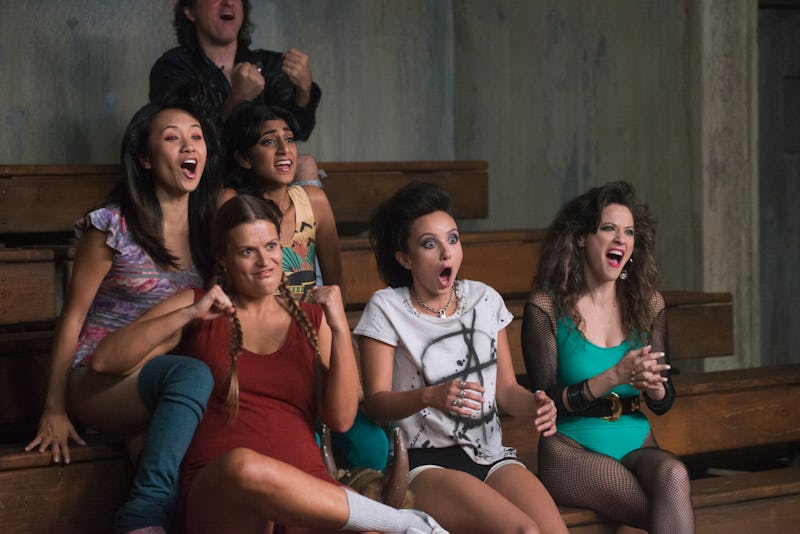 Erica Parise/Netflix
Tucked into the end credits of a particularly triumphant chapter of Netflix's new dramedy, GLOW, is a curious little tribute to Chavo Guerrero Sr. The show does draw from real life — it's based loosely on an '80s women's league named Gorgeous Ladies of Wrestling — but Guerrero was never directly involved with the production. So, why is Glow Episode 7 dedicated to Chavo Guerrero Sr.?
Chavo comes from a family synonymous with sports entertainment. His father, Salvador "Gory" Guerrero, was one of the early pioneers of lucha libre, a Mexican style of professional wrestling that blossomed in the 1940s, while his brothers — including Mando, Hector and Eddie — also became household names in the business.
Chavo was Gory's eldest son, and a wrestling legend in his own right. According to WWE, he was a celebrated 15-time heavyweight champion and a longtime rival of WWE Hall of Famer Roddy "Rowdy" Piper. As reported by ABC, he enjoyed a brief but memorable run with WWE in 2004 at the age of 55. Then billed under the name Chavo Classic, he joined his son, Chavo Jr., in a feud against his brother Eddie, and went on to become the oldest cruiserweight champion in WWE history.
Sadly, Chavo passed away at 68 in February after a brief battle with liver cancer. His son, former WWE Superstar Chavo Guerrero Jr., announced the news on Instagram. He wrote:
"Today the world lost a true rebel. He did things 'HIS' way. Not always right, not always wrong, but he always followed what he believed in. He was diagnosed with Liver Cancer in early January of this year. As [a] believer in Christ Jesus, he is now in Paradise. Today is a Sad day in the Guerrero Family. Rest In Peace Chavo 'Classic' Guerrero Sr."
Aside from Chavo's achievements within the industry, he did have tangential ties to G.LO.W. His brother Mando initially trained the women, who were mostly new to wrestling, before they made their debut in the ring. Lisa "Ivory" Moretti, who went on to become a WWE champion, credited Mando for igniting her interest in the sport. As she told canoe.com:
"He's the one that in a stupid audition for a pilot for a TV show, that no one there knew what they were doing, Mondo was the guy that made me feel passionate towards the sport because he had such a passion for it himself."
Moreover, according to IGN, Chavo's son, Chavo Jr. was reportedly brought on board as a wrestling coordinator to help GLOW star Alison Brie and the rest of the cast "acquire basic ring knowledge" ahead of filming.
So, while there's no definitive answer as to why Episode 7, in particular, honors Chavo Sr., it's likely the result of two things: the wrestling legacy he left behind, and his family's longstanding support for G.L.O.W.