Chef Matt May Be New To 'Below Deck,' But Here's Proof That Knows What He's Doing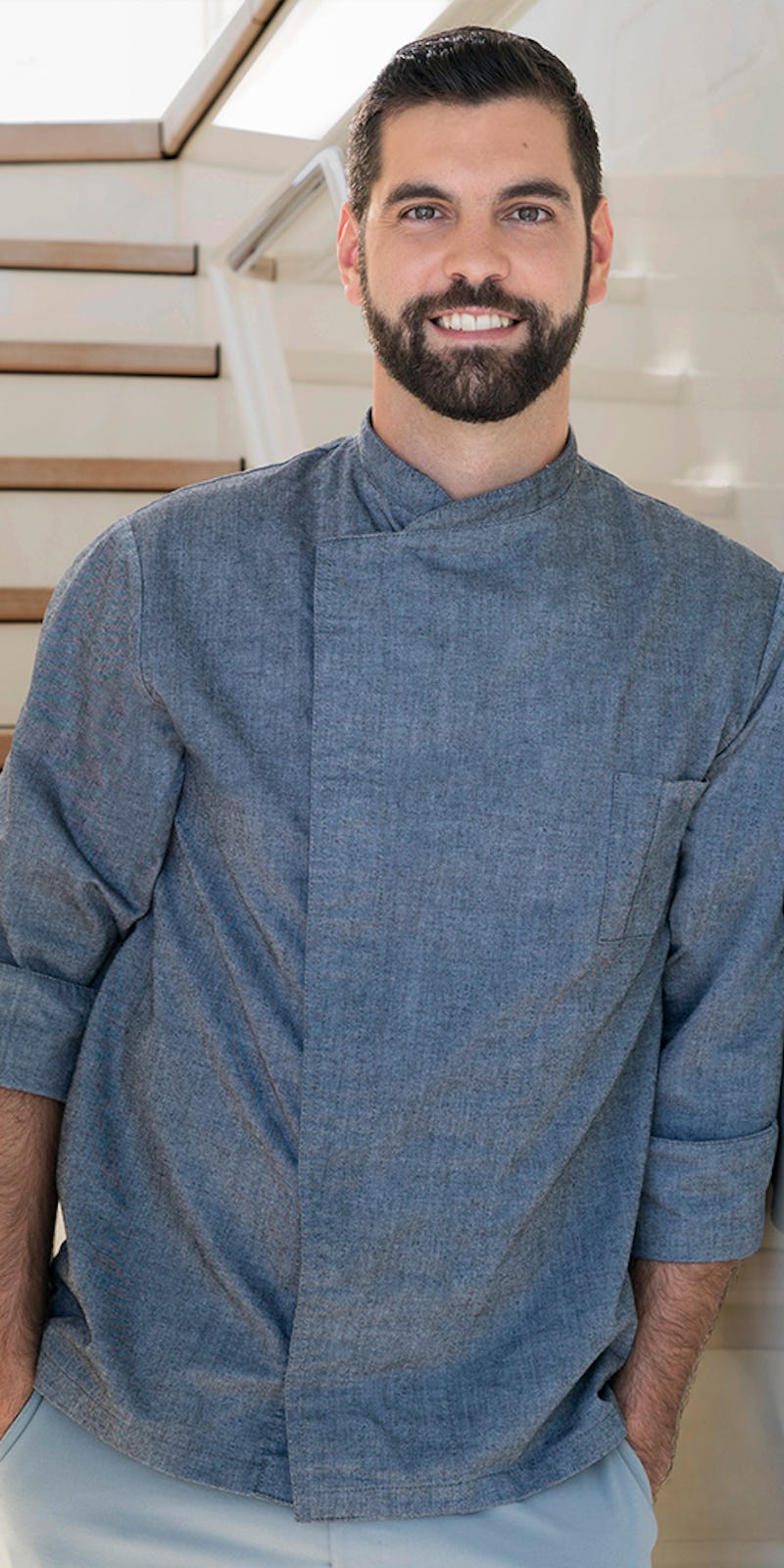 Virginia Sherwood/Bravo
Below Deck is returning for another season of fights, hookups, and power struggles on the high seas. And, Season 5 brings with it a new Below Deck chef, Matt Burns. He is an experienced chef at sea, but is new to the world of televised cooking. His lack of social media presence and quiet role in the promo makes me think he may bring more food than drama, a real changeup for the show. Matt's replacing fan favorite Chef Ben Robinson, so he's got a big chef's hat to fill. But, who is Matt Burns on Below Deck? Fans will want to get to know him asap.
In the promo, Chef Matt is shown having fun and talking about wanting to hook up with some of his fellow Below Deck crew mates. Other than this, Matt plays a smaller role in the preview. Guests always have particular requests when it comes to food, so the chefs easily fall into hot water and can become targets for drama. Only time will tell how Matt fits in with the cast, and fans will have to wait and sea if his appearance is a shipwreck. But potential for drama aside, there's no denying he's qualified for the job, handsome enough to hold the limelight, and clearly willing to get involved in ship shenanigans — all of which makes for great TV.
Matt's Bravo bio includes an impressive résumé of his chef experiences both on board and on land. According to this bio he has 10 years of restaurant experience and has been the executive chef on yachts for six years. In that time, he's cooked for celebrities and other fancy yacht goers in the Caribbean, the Mediterranean, the Adriatic, and the South Pacific. Basically, if there's a body of water, Chef Matt has most likely cooked on it! While this is his first televised chef adventure, he clearly knows his way around a yacht kitchen. Hopefully Matt's 10 plus years of experience will prepare him for his new demanding job.
And, while fans will miss Chef Ben, Chef Matt may serve some fresh new drama on the table with his food. And, if not, well drama aside his cuisine sounds like it'll be pretty interesting on its own. According to his bio, Matt is known for being creative in the kitchen likes "incorporating the latest food trends into his meals." Whatever that means, fans can watch everything unfold on Tuesday, Sept. 5 on Bravo.