Chelsy Davy's Rumoured BF Has A Surprising Connection To Meghan Markle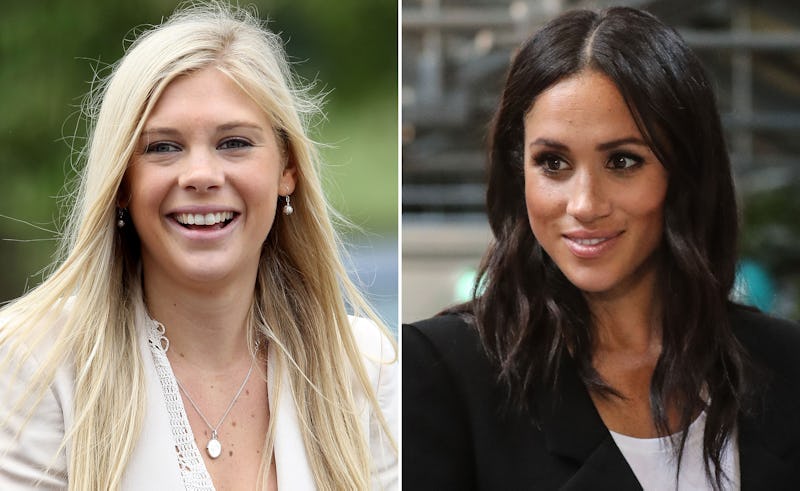 Chris Jackson/Getty Images Entertainment/Getty Images/Pool/Getty Images Entertainment/Getty Images
Look. break ups aren't the greatest experience, but they're certainly not the end of the world. That's the thing about love — it's a game of trial and error, but it's not unbeatable. A break-up can actually be a good life lesson (I know), helping you discover your likes, dislikes, and what you truly want in a partner. Prince Harry's ex-girlfriend knows this all too well, as she has happily moved on, as has he. So, who is Chelsy Davy dating now?
Well, it seems that Davy is dating TV producer James Marshall after the two were seen kissing in Soho back in April, as reported by the Daily Mail. Marshall is the former husband of Elettra Wiedemann, granddaughter of actress Ingrid Bergman, who is also reportedly a close pal of Meghan Markle — so close in fact, that she wrote an Insider's Guide to Paris for teh duchess' lifestyle blog The Tig. Maybe Markle had something do with Davy and Marshall's meet-cute? I mean, I doubt it but come on, that would be amazing.
Davy and Harry's relationship may have been a long time ago now, but they were together for quite a long time. The two met each other 2004 in Cape Town on Harry's gap year, according to The Sun.
Their relationship was reportedly on and off until their split in 2011, and it has recently come to light that the royal lifestyle may have been a part of this decision.
It was allegedly Prince William and Kate Middleton's wedding that confirmed to Davy that Harry wasn't "the one". As reported by The Mirror, journalist Angelia Levin wrote about Davy's feelings in her royal biography, Harry: Conversations with the Prince: "A friend revealed that seeing the enormity and pomp of the day convinced Chelsea that she and Harry had been right to separate."
Davy also spoke out for herself via an interview with The Times, commenting on how life with the royals was "so full-on" and that she "found it very difficult when it was bad [...] I was young, I was trying to be a normal kid and it was horrible."
Using her time — and experience — with the royal family as inspiration, Davy launched her own jewellery brand Aya in 2016, describing it to The Times as a range that "brings together all these seemingly impossible-to-connect parts of her life: the bush, the luxury lifestyle circuit, the gilded royal life and business."
The businesswoman is truly dedicated to her craft, which is inspired by where she grew up in South Africa. She says the range captures "the beauty of Africa through its rare and precious gemstones and exquisite African craftsmanship so that each piece of AYA jewellery embodies the unique charm of Africa," as written on AYA's website.
Judging by Aya's website — and Davy's Instagram — her business is doing tremendously well, with Princess Eugenie seemingly being a fan of Davy's jewellery, wearing a beautiful pair of Aya earrings in June.
Davy looks like she's truly having the time of her life, and boy isn't that smile contagious.