Chris Brown On 'Below Deck' Already Has A Habit That's Got To Go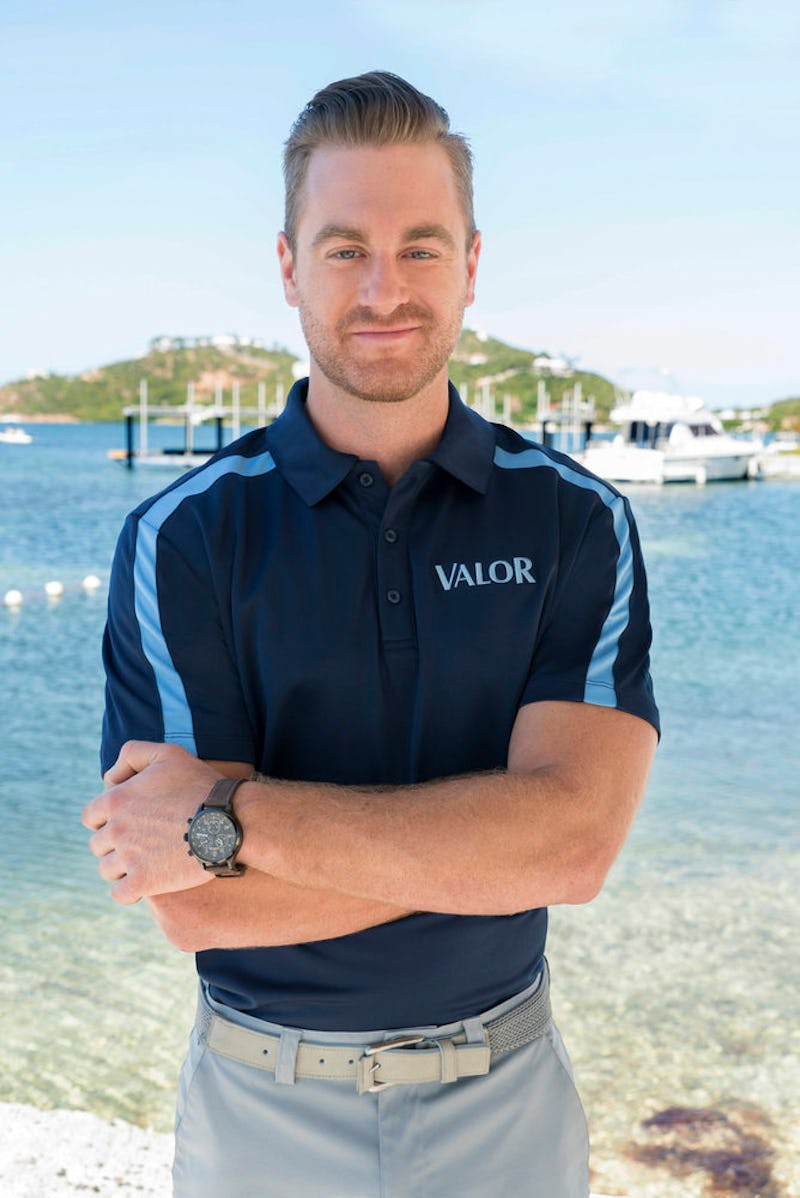 Virginia Sherwood/Bravo
Grab a life preserver, because based on the Season 5 premiere of Below Deck, you're going to need it in order to survive the most inexperienced crew that has ever sailed the Bravo seas. Seriously, poor Captain Lee, Kate Chastain, and Nico Scholly, because the crew they were given (minus Chef Matt Burns) is well, as Kate put it, "50 shades of green." Take Below Deck star Chris Brown, who not only has no idea what he's doing as a deckhand, but also consistently refers to himself in the third person.
When first stepping onto Valor, the now Bravolebrity introduced himself as follows: "I'm Chris Brown." Surprised, Kate responded, "Chris Brown?" To that he replied, "Like the famous guy." Yikes, he might want to avoid making that comparison.
Of course, Chris' name doesn't make him anything like the singer, nor should anyone compare the two. However, he may want to ease back on calling himself by his full name (same with his fellow crew members) because it's going to get old real fast.
There's no doubt that Chris is one interesting guy — who may not survive an entire charter season. Not only did he admit that he's "green as sh*t" about his yachting experience, but he also revealed he practiced tying knots by using his headphones (yes, he literally tied his headphones) and then once he felt good enough about them he decided it was time "to go back to drinking."
Chris also opened up about his childhood on Tuesday's premiere. "For the majority of growing up, being Christian identified who I am and I was celibate for 26 years of my life, so I gotta make up for lost time," he said during his private interview.
Oh, and if you were wondering what he's most passionate about, as he said in the premiere, "Four things Chris Brown loves the most? Women, alcohol, snowboarding, and travel. Yachting covers three, so let's give this a go."
Besides his lack of boating experience, according to his Bravo biography, Chris was destined to be on a boat. "Travel, adventure, and excitement" are listed as his "passions." After meeting a deckhand in Costa Rica four years ago, Chris decided yachting was the life for him. Though, the close quarters of a boat may come to haunt him, as his bio also reads, "He holds a powerful, polarizing personality that clashes with people as often as it melds with them."
Good luck, Chris, because if you're only on board to have fun and let everyone know you have the same name as a singer, then you just might find yourself being tossed overboard.