Here Are The Top Four Singers Going To 'The Voice' Finals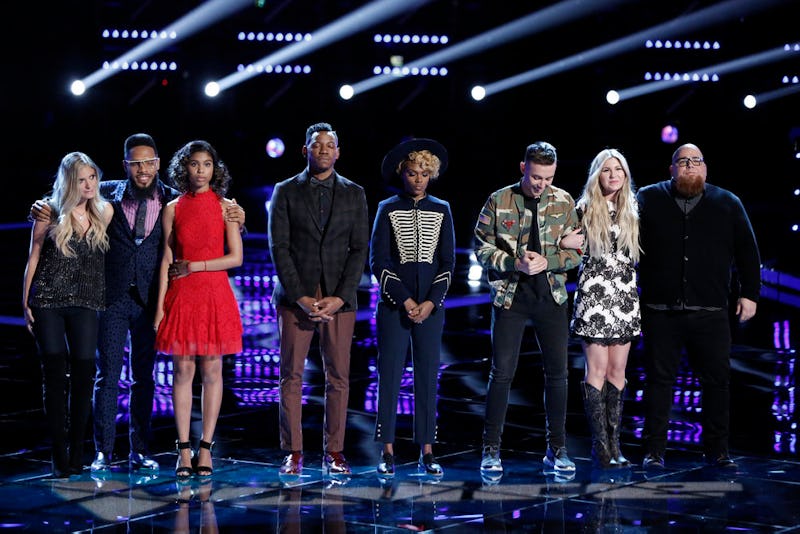 Tyler Golden/NBC
It was an intense night during the semifinals round of The Voice. After weeks of competition, tons of heartbreaking eliminations, and plenty (I mean plenty) of high points, we've finally arrived at the biggest reveal of Season 12: Who is in The Voice's top four? If you've been following this season quite closely, then you may be surprised with how things shook out; I was certainly stunned by the results. As it stands, the top four on Season 12 of The Voice are Chris Blue, Lauren Duski, Aliyah Moulden, and Jesse Larson.
It's not that the top four — Blue, Duski, Moulden, and Larson — aren't great singers. Quite the contrary, in fact. They've turned in performances solid and good enough to get through to the next round, shown they're willing to get bold with their song choices, and they each possess heaps of musical vision and commitment. However, these singers have, respectively, been safe bets from the start. There are arguably other singers who come to mind (like spitfire contestant Brennley Brown) when you mention Season 12 of The Voice and who might have won the whole enchilada.
All surprise and shock aside, what I can say is that the top four will make for an incredibly interesting finale week. I may have noted above that each of the top four singers have been consistently good enough for most of the competition, but I can also admit that in the last few weeks, these singers have upped the ante on showing their skills off and matured quickly in front of our eyes.
Blue himself told us on Tuesday night's episode he wanted to show audiences his truest self for his semifinals performance. In doing so, he hoped that it would firm up his bond with the audiences and they would vote him through. Look what happened: he's in the top four.
Ever since Moulden's tearful performance of Labrinth's "Jealous," she proven to us that she is a mature woman despite being one of the youngest singers this season. Duski has blossomed onstage, really leaning into her country roots while showing us that even though she loves a good sad song, she doesn't mind singing her heart out doing it. And Larson's embraced his soulful self, winning the semi-finals Instant Save with a country music performance that showed off his versatility.
The top four of Season 12 have worked their butts off to get to this point. Start crossing all your fingers and toes now that your favorite on The Voice has what it takes to go all the way.