This Democratic Candidate Is Making Huge Waves In Pennsylvania's Special Election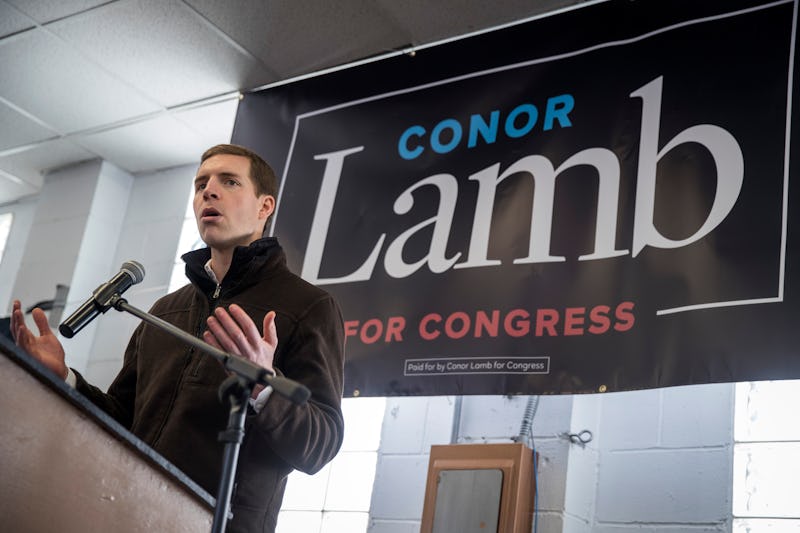 Drew Angerer/Getty Images News/Getty Images
On Tuesday, Pennsylvania's holding a much-anticipated special election to fill a vacant House seat in the 18th congressional district. Though the district is considered a highly conservative one, Pennsylvania's Democratic special election candidate, Conor Lamb, is making waves in the political realm. And according to recent polls, he's actually favored to win the election. Analysts are eager to find out what this could mean for the 2018 midterms.
According to TIME, Lamb grew up in the Pittsburg area and attended the University of Pennsylvania, receiving both a bachelor's degree and a law degree from the institution. Following school, Lamb joined the Marines and was deployed to Okinawa, Japan, where he worked as a military prosecutor. Lamb then served as an assistant U.S. attorney in Pittsburg after he returned from deployment, focusing on prosecutions in the illegal drug trade.
He was eventually nominated by the State of Pennsylvania's Democratic Party to serve as its candidate in the special election shortly after Republican Representative Tim Murphy, who previously held the 18th district seat, resigned. The eight-term congressman called it quits after allegedly asking a woman with whom he was having an affair to obtain an abortion. Murphy did not directly address the allegations in his resignation letter.
Lamb is facing Republican Rick Saccone in the special election. According to ABC News, Lamb is considered a conservative Democrat because he's supported Trump's recent tariffs on steel and aluminum. But that's certainly not the only reason. Moreover, according to Vox, he is also not on the record as being supportive of strong gun control policies. Additionally, Lamb has expressed that he personally does not believe in abortion. He says he would not, however, let his own views impact his support for abortion legislation.
According to a poll released by Monmouth University on Monday, Lamb has a strong shot at winning the conservative district. The poll revealed that, "Lamb holds a 51% to 45% lead over Saccone if turnout yields a Democratic surge similar to voting patterns seen in other special elections over the past year."
If Lamb does indeed win the special election, it could be a huge boon for Democrats, even though he leans more to the right than other politicians in his party. According to TIME, a Lamb victory in such a conservative district could mean that Democrats stand to make considerable inroads in the 2018 midterm elections. As Nash Jenkins of TIME wrote, a Lamb win could also reveal that Democrats have not "alienated their working-class base" and that the longevity of Trump's influence is limited.
Former Vice President Joe Biden even got in on the conversation. He implied that, if Lamb wins, his victory could deter other Republicans from running in future races. "The impact would be profound. I promise if you if he wins you're going to see probably another half a dozen Republicans say they're not running again," Biden said to audiences at Robert Morris University in Moon, Pennsylvania while campaigning for Lamb last week.
Ryan Williams, who formerly worked as part of Mitt Romney's 2012 presidential campaign's communications team, echoed similar sentiments about the implications of the race to CNBC:
This race has a minimal impact on legislative affairs. It has a far more significant impact on political affairs. The winner of this election can claim a moral victory that can be used to set the tone for the 2018 midterms ...
Pennsylvania voters will shortly decide who will represent their 18th congressional district in the House of Representatives. If their chosen representative is indeed Lamb, his victory could be indicative of good things to come for Democrats in the 2018 midterm elections — and a cause for concern for many Republicans.