Why This Michigan Attorney General Hopeful Wants You To Vote For Someone Without A Penis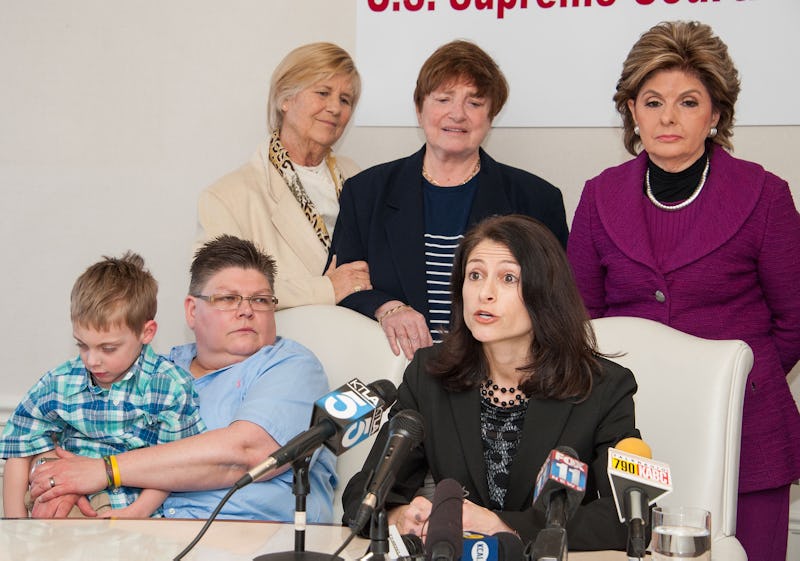 Valerie Macon/Getty Images Entertainment/Getty Images
On Tuesday, in a clever Youtube video, Michigan Attorney General contender Dana Nessel explained why voters should choose a woman candidate for the position. The video, called "Putting An End To Sexual Harassment Scandals: Dana Nessel For Michigan Attorney General," explains that a female attorney general would be less likely to expose herself to others, because, well, she doesn't have a penis. It's as simple as that.
The Democrat running to be the state's Attorney General said that locals need to put more women in positions of power to combat pervasive sexual abuse.
If the last few weeks have taught us anything, it's that we need more women in positions of power, not less. So, when you're choosing Michigan's next Attorney General, ask yourself this: Who can trust you most not to show your their penis in a professional setting? Is it the candidate who doesn't have a penis? I'd say so.
Over the last several weeks, a nationwide reckoning with pervasive sexual harassment carried out by powerful men has taken the media, tech industry, and politics by storm. In the arena of politics, several prominent public figures from both the Republican and Democrat parties have been accused of sexual misconduct and harassment against vulnerable women. According to Nessel, one practical way to nip the inappropriate conduct in the bud is by electing more women. "I'm a woman. That's not a liability, that's an asset," she said.
Nessel went on to explain why America needs more women in positions of political power.
Some people will tell you that I can't be the Democratic nominee for Attorney General here in Michigan because 'we can't have an all female ticket for statewide office in 2018.' Pundits and insiders are asking, 'Can we afford to have a female Governor, a female Attorney General, and a female Secretary of State?' Well, I read the news and I bet you do too, and it has me wondering, can we afford not to?
If elected Michigan's attorney general, Nessel told her viewers that they can expect better working conditions wherein sexual harassment won't be the regular norm. "Right now I want to tell you what you can expect me not to do. I will not sexually harass my staff and I won't tolerate it in your workplace. I won't walk around in a half-open bathrobe. And I'll continue to take all sex crimes seriously just like I did as a prosecutor," she said.
Nessel, who is competing against Republican House Speaker Tom Leonard, defended her commercial on air and said, "I think the ad was rather tame when it comes to the news stories that have come out whether they are journalists, whether they're in Hollywood, or whether they're political representatives - we've heard some pretty lewd stories coming out."
Nessel's video showed screenshot clippings of a report on Republican Senate candidate Roy Moore, who was accused of inappropriate sexual behavior toward a teenaged girls. Moore has denied all allegations. In addition to Moore, Nessel's commercial video showed a clipping of a report on CBS News' Charlie Rose who was recently accused of sexual harassing female colleagues and was terminated from the network. "I have behaved insensitively at times, and I accept responsibility for that, though I do not believe that all of these allegations are accurate," Rose said in response to the allegations. "I always felt that I was pursuing shared feelings, even though I now realize I was mistaken."
Joining Moore and Rose clippings was the president of the United States, Donald Trump, whose 2005 Access Hollywood tapes recorded him boasting about grabbing female genitalia sans consent. Although Trump apologized for the remarks in 2016, the recordings remain notorious as ever. Given the ongoing momentum against sexual abuse and violence in the workplace, Nessel may just have a strong case in her favor.