Darren Criss Gave His Fiancé Mia Swier A Sweet Shoutout During His Emmys Speech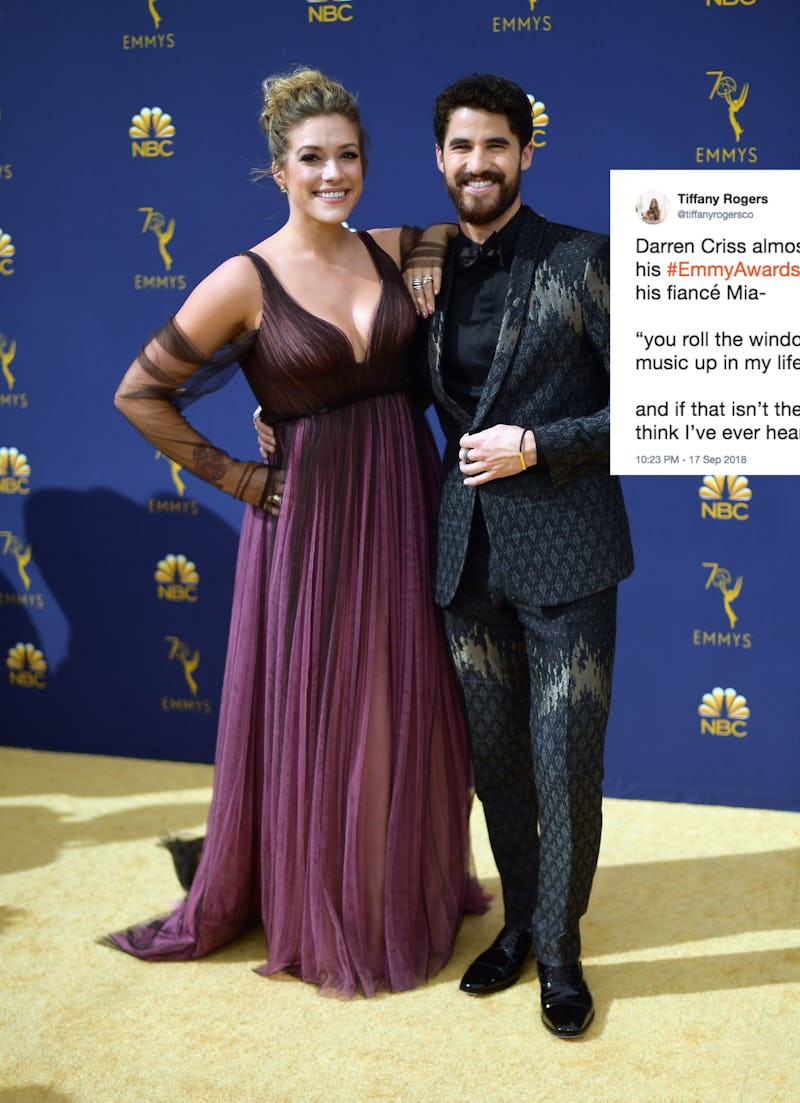 Matt Winkelmeyer/Getty Images Entertainment/Getty Images; tiffanyrogersco/Twitter
During Monday night's Emmy Awards, Darren Criss won the trophy for Outstanding Lead Actor In A Limited Series Or Movie for his role in The Assassination of Gianni Versace: American Crime Story. During his speech, he gave a shoutout to his longtime girlfriend. But wait, who is Darren Criss' fiancé? Mia Swier has been by the actor's side for years — way before his Emmys win. And now's the perfect time to brush up on some details about their relationship.
According to People, Criss proposed to Swier back in January. In an announcement on Instagram, he celebrated his bride-to-be. Alongside an adorable photo of the pair, Criss wrote,
"Mia and I have had seven and a half years of fun, wacky, wonderful, CRAZY adventures together. And I'm happy to announce that we're kicking those adventures up a notch. We're goin for it. To boldly go where neither of us have gone before. Engage."
Do you hear that? Seven and a half years. And that was written back in January, meaning they must've passed the eight-year mark by now. That's impressive.
In case this is the first time you're just learning of the adorable couple, here's what you need to know: Swier is a Los Angeles-based writer and producer. According to IMDb, she's worked for Fox Networks, which includes doing promotional content for series like Glee, Scream Queens, and The Mindy Project. (Yup, you're correct if you're thinking about the fact that Criss appeared on Glee. What a small world.)
According to Marie Claire, Swier attended New York University, where she reportedly studied Mass Communication and Media Studies. So basically, her and Criss' careers go hand-in-hand. And apparently they met before he even planned to be a TV star, per Marie Claire.
During his Emmys acceptance speech, Criss gave Swier a shoutout right near the end. He also kissed her before taking the stage, because priorities. As he was wrapping up his list of people to thank, Criss said,
"To my darling Mia, you roll the windows down and pump the music up in my life. And I'm so thankful for you. I'm so lucky to have you."
What an analogy, huh? Unexpected, yet poetic all at the same time. She looked on proudly from the crowd, smiling super big. Honestly, if she was a little teary-eyed, it's impossible to blame her. Seriously, even Twitter was swooning at Criss' analogy. It'll have you thinking back to going for a joy ride in your favorite car, that's how joyful it is.
Tears were shed. Hearts were melted. Standards were raised. All in all, Criss' win was a win for all the viewers, who watched the sweet moment unfold on screen.
People really could not get enough. Just read all of these other tweets:
If you hadn't heard of Swier until the Emmys, now you know more about the woman who stole Criss' heart. Based on her career background, she's just as hardworking and dedicated as her award-winning fiancé.
Together, it sounds like they have each other's backs. And if she inspires a car-themed analogy and that somehow becomes the new standard for romance, then that's a win in itself.