Coldplay's New Documentary Reveals A Secret 5th Band Member & It's Just Too Cute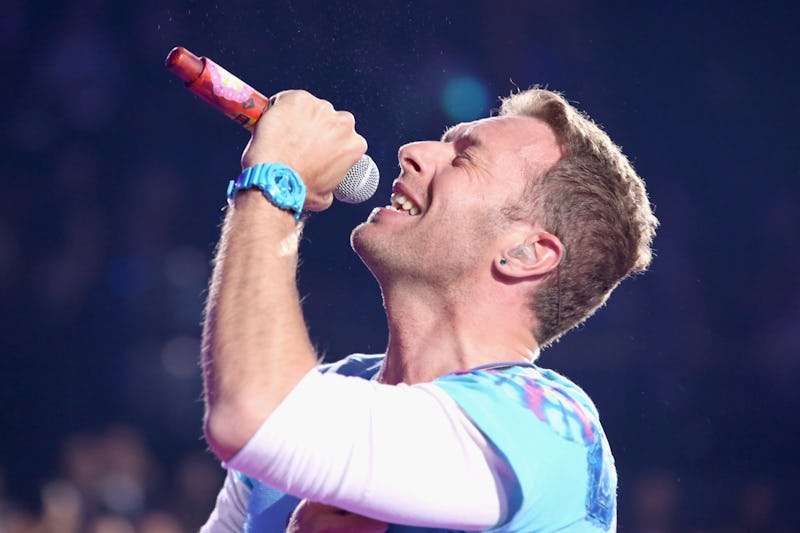 Jonathan Leibson/Getty Images Entertainment/Getty Images
The official Coldplay documentary, A Head Full Of Dreams gives view to the band behind the ultra colourful live shows and the seemingly ageless frontman. If you've already seen it, you'll have got a glimpse into all of the backstage dramas, the divorces, and basically all of the feels. But there's one prominent figure in the doc who you might not have come across before — the band's manager, Dave Holmes. He's been through a heck of a lot with the boys, but what about the man himself, who is Dave Holmes?
The Coldplay doc's been a long time in the making — two decades, actually — and Holmes has been there throughout it all. So has its director, Mat Whitecross, who started recording the band from their very first rehearsal, according to an Instagram post from Holmes. According to an interview with Music Business Worldwide back in February, Holmes told the mag that he'd first come across the band in 2000. "I flew over to meet them and we just hit it off right away," he said. He's been through a lot with one of the world's biggest bands since then, but Holmes' proudest achievement? Embarking with the band on the "Head Full Of Dreams" tour — the third biggest tour of all time, he said in the same interview.
Alongside Coldplay, Holmes has also worked with the Scissor Sisters and My Chemical Romance, ever since setting up his own management company in 2004, according to the business' site — though Coldplay have been the band he's most devoted to. You get a peek into the relationship between band and manager on the doc, and it's safe to say that at times, it gets pretty intense.
During the aftermath of frontman Chris Martin's divorce from Gwyneth Paltrow, you can see Holmes consoling a pretty distraught Martin, and lifting him up to perform another incredible show. After all, Martin is clearly one of Holmes' greatest assets. "If he wasn't a professional musician, I think he would have been a professional athlete," Holmes told Variety on Nov. 14, ""He's the driving force in our organization. He's the engine."
But it's the whole band, not just Martin, who have made Coldplay so hugely successful. As Variety have also reported, A Head Full Of Dreams made $3.5 million in its first day — an almost unimaginable sum of money for a music doc. So, Holmes must be pretty chuffed. The timing of the doc seem a bit suspicious though. It's not pegged to any album releases, and it doesn't look as though Coldplay aren't touring anytime soon. So, is A Head Full Of Dreams the closing chapter to Coldplay?
Neither the band nor Holmes are giving away any answers. But one thing's for sure — if you happen to be an aspiring music manager — then you won't want to look any further than Holmes for inspiration. His work with Coldplay over the past two decades, which has seen them go from one meteoric success to the next, are a testament to what might just be one of the greatest band-manager relationships in rock music history.