What You Need To Know About The Man Who Reportedly Stopped Trump From Firing Mueller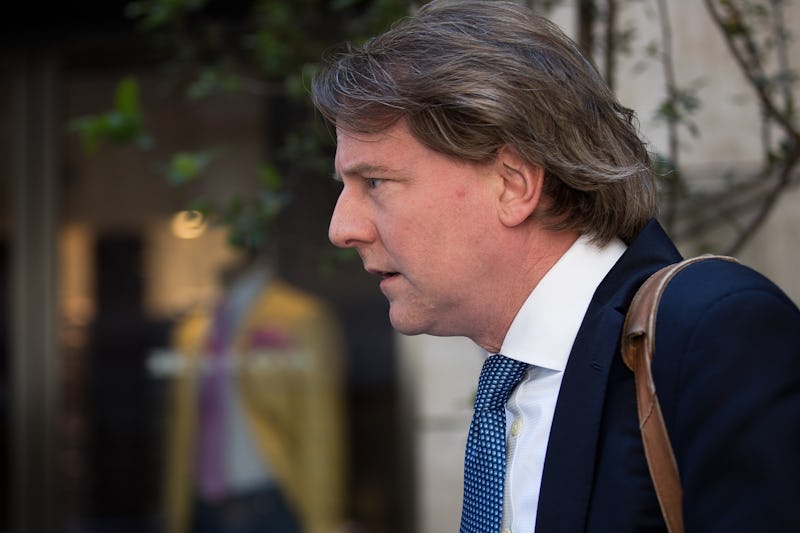 Drew Angerer/Getty Images News/Getty Images
According to a bombshell report in The New York Times on Thursday, President Trump tried to fire special counsel Robert Mueller in June, but backed down after one of his top lawyers refused to give the order and threatened to resign if Trump did so of his own accord. That lawyer is White House counsel Don McGahn, who you'll almost certainly be hearing a lot more about in the weeks and months ahead.
After McGahn joined the Trump campaign in 2015, The Washington Post described him as "the most entrenched Beltway insider in a campaign run by outsiders." And indeed, McGahn is a seasoned Washington veteran who spent many years in Republican politics before joining the Trump campaign.
A graduate of the University of Notre Dame, McGahn spent four years at the Washington, D.C. law firm Patton Boggs until 1999, when he signed on as general counsel for the National Republican Congressional Committee, which works to elect Republicans to the House of Representatives. He stayed there for almost 10 years, according to his LinkedIn page, before managing his own law firm, McGahn & Associates.
McGahn was a lawyer for the George W. Bush campaign during the 2000 election; according to US News & World Report, it was McGahn who filed Bush's candidacy papers with the Federal Elections Commission.
Years later, Bush nominated McGahn to serve on that commission. The Senate confirmed him, and he stayed on in various capacities until 2013. While on the FEC, McGahn was a staunch opponent of campaign finance regulations, telling OpenSecrets.org in 2011 that "people who may want to participate in politics shouldn't have to read 500 pages of regulations" if they choose to run for office.
"It really discourages people from participating when they see a very thick rulebook," McGahn said. "There's got to be a better way."
McGahn's history in Republican politics don't stop there. He led the legal team of former Speaker of the House Tom DeLay in the early 2000s, when DeLay was accused of ethics violations in a wide-reaching lobbying scandal (DeLay was convicted on money-laundering charges in 2011, but that conviction was overturned three years later). Despite this resume, however, McGahn only dipped his toes into presidential politics in 2015, when he became general counsel for Rick Perry's second campaign for the presidency, a candidacy that never gained steam and collapsed before the first primary.
When McGahn joined the Trump campaign, he quickly got to work when a former New Hampshire Republican Party official attempted to get Trump kicked off the ballot in the Granite State's primary. McGahn successfully fought off that legal challenge, and Trump went on to win that contest. After defeating Hillary Clinton in the general election, Trump decided to keep McGahn on as White House counsel.
Thursday's New York Times article is not the first time McGahn has been in the news with regard to the Department of Justice's probe into Russian interference in the 2016 election. According to an earlier Times piece, it was McGahn who informed Attorney General Jeff Sessions that Trump did not want Sessions to recuse himself from the Russian investigation. But Sessions recused himself anyway; this left Deputy Attorney General Rod Rosenstein in charge of the Russia probe, and he promptly handed control of the investigation over to Mueller, a former FBI director.
It was reported in November that Mueller intended to interview McGahn as part of the probe. Although it's unclear exactly why, it's worth nothing that McGahn has been in Trump's orbit for quite a long time — continuously from 2015 to the present — and according to CNN, has often acted as "conduit of information" to Trump.
In addition to his political and legal career, McGahn spent 10 years as a guitar player in a rock band, according to NPR.