Let's Investigate Who Ed Sheeran Is Singing About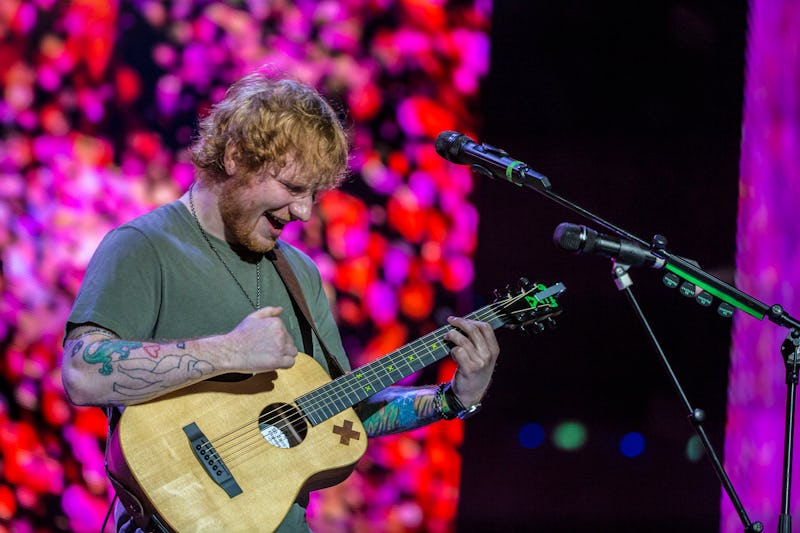 Glenn Hunt/Getty Images Entertainment/Getty Images
What's up, Sheerios? If your Friday has been transformed by one carrot-topped Brit dropping two new tracks after no new music from the songwriter since 2015, now is the moment to celebrate. The famine is over and the musical feast is here. But if you're more drawn to the melodic beats of Ed Sheeran's second track, you might be wondering just who Sheeran's "Shape of You" is about. After all, it's incredibly personal sounding, right? Think about the jukebox shoutouts and going to an all-you-can-eat buffet on a first date. But according to the musician himself, it isn't a confessional song. Sheeran originally penned the track for another major name in music. He told BBC Radio 1:
"['Shape of You'] is actually a really random one because I went in to write songs for other people with a guy called Steve Mac and Johnny McDaid, and we were writing this song and I was like 'this would really work for Rihanna,' and then I started singing lyrics like 'putting Van The Man on the jukebox' and I was like 'well she's not really going to sing that, is she?'"
So, what happened next? "And then we sort of decided halfway through that we were just going to make it for me," he explained.
But hang on a second. Obviously Sheeran can say anything he likes in an interview, and if I was a celebrity, I'd probably be guarding my private life with all the ferocity of a rabid honey badger. Heck, Sheeran even told The Sun in 2015 after a string of celebrity romances went wrong:
"I've learned a lot of things being in this industry by doing things right — and doing things wrong. One thing I've learned is mixing the public with the personal life always ends in tears... so I'm not going to talk about that side of things [any longer]."
So if — and it is a substantial if — Sheeran is just trying to make his love life more private by fronting a little, who is this song likely about?
Arguably, this ultra-personal sounding song would probably be about Sheeran's current girlfriend, Cherry Seaborn. Of course, not every detail of the song is spot on. There's the fact that he didn't meet Seaborn in a bar, but at high school. However, the fact that they're currently together and that Seaborn recently relocated from the U.S. to the U.K. for him suggests that she's very much the number one lady he feels passionately about in his life, and that they do all those things that couples commonly do. As such, I'd argue the steamy chorus with its refrain of "I'm in love with your body" is probably inspired by none other than the beautiful former hockey player.
This would also explain the strangely inexplicable money side of the song. After all, Sheeran is not exactly broke. So it's kind of hard to explain the following lines:
We're going out on our first date
You and me are thrifty
So go all you can eat
Fill up your bag and I fill up a plate
But if we're talking about someone he met in high school, maybe this does make sense. Perhaps Sheeran's first memories of hanging out with Seaborn come from a time when he didn't have much of his own money and so they did the sorts of dates that teenagers do — like going to an all-you-can-eat place (this said, no shade intended: as a woman with a healthy appetite I'm not going to pretend I don't still enjoy some fine all-you-can-eat cuisine).
So my best guess? Any autobiographical snippets used in the song would have been based on Sheeran's rather lovely romance with Seaborn. Here's hoping the rest of the new songs are just as subtly revealing.