So Jack & Ellie From 'Love Island' Dated For A LOT Longer Than You Think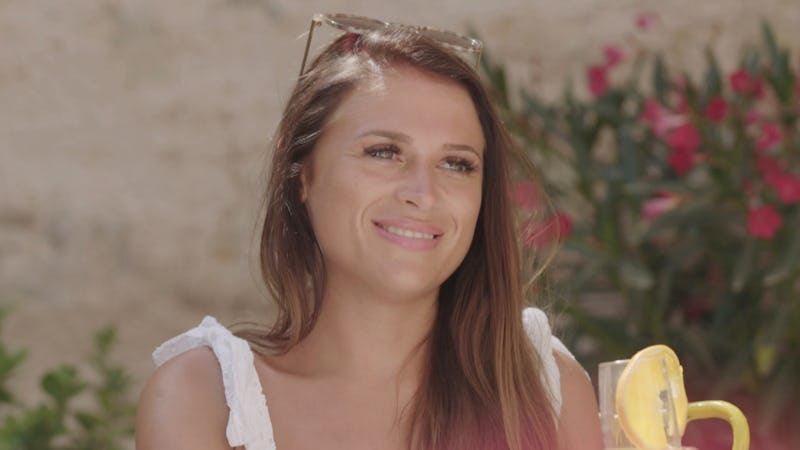 ITV
The course of true love never does run smooth, but someone spare a thought for Love Island couple Dani Dyer and Jack Fincham for whom love was running quite smoothly until a few days ago. After a rocky start, the pair cemented themselves as Love Island favourites within the first few days of this series and had no real hiccups until Jack was sent to Casa Amor with the rest of the male Islanders and forced to live with his ex-girlfriend Ellie Jones for a few days. So, who is Love Island's Ellie Jones? And, what is her relationship history with Jack exactly?
Ellie entered Love Island's second villa Casa Amor during last Thursday's episode, and was keen to inform viewers and the male Islanders all about her and Jack's former relationship, before confronting the man himself. "I have got a bone to pick with you," she told him. "You could have left things with me a little bit different. You shouldn't have been in contact with me two days before. If I was in your position I wouldn't keep in contact. You could have gone about things a little bit different."
After seemingly patching things up and deciding to remain friends with Ellie, Jack chose to stay loyal to Dani during his time at Casa Amor. Although, of course, this was unbeknownst to Dani who was seemingly taunted by producers about what Jack may be up to with his ex Ellie in the other villa, culminating in at least 650 complaints being made to Ofcom by disgruntled viewers.
And, while Dani was probably hoping Ellie wouldn't quite make it into the main villa, these hopes were dashed when Sam Bird decided to ditch Samira Mighty and couple up with Ellie, thus securing her a place in the main villa. At least, for the time being. And, no. Dani wasn't best pleased.
So, in the immortal words of Big Brother's Nikki Grahame... who is she?
Well, aside from being Jack's ex-girlfriend, Ellie is a 22-year-old office administrator who lives in Kent. And, speaking of her relationship with Jack, The Sun reports Ellie and Jack started dating around August 2016, without making things either official before Jack entered the villa. She appears to be on Instagram at @EllieJones_xox where she has shared pictures of herself on holiday in Ibiza and Dubai.
But, what's next for Ellie? Well, after receiving a frosty reception from the original villa's girls during Monday night's episode, Ellie is sent on a mate date with Dani during Tuesday night's episode, where the topic of conversation is — obviously — there one current common interest.
Jack. Duh.
Sharing more about her former relationship with Jack during Tuesday night's episode, Ellie confirms the pair started seeing each other in 2016 and that they were pretty much on and off since the get go. Nonetheless, Ellie did reveal to Dani that she "wouldn't go back there" with Jack, which I'm sure is music to Dani's ears.
"We were on and off since 2016," Ellie said. "I didn't know he was coming on here. That's what I had the hump about. He could have gone about things a little bit differently with me but he did apologise for that… I wouldn't go back there. He didn't make me that happy. I was a bit down about it in that situation… He wasn't the best. He could have just done things a bit differently."
Despite Ellie's assurances, it looks like Dani isn't too thrilled about everything Ellie tells her, as she lets Jack know she is kind of surprised by the extent of his relationship with Ellie when she gets back to the villa. "I didn't realise you two were that intense," Dani explained. "She said to me that you've been on and off for two years. This girl is sitting there telling me all this stuff about you. It's not nice to hear. It made me worry a bit."
But, will the worry last? Will Ellie continue to make waves for Jack and Dani in the villa, anyway? Only time will tell.
Love Island airs on ITV2, Sunday to Friday at 9 p.m.