The Arrival Of Jack's Ex On 'Love Island' Means More Danny Dyer Memes & LOL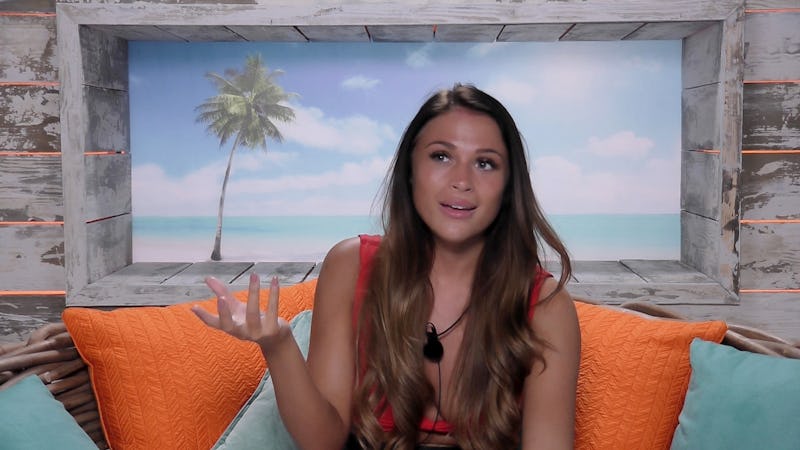 ITV
Amidst the multiple relationship breakdowns that have plagued the villa over the past week, Love Island fans could at least take comfort in knowing Jack Fincham and Dani Dyer's pretty new but totally official boyfriend/girlfriend status was pretty much rock solid. However, a huge spanner was thrown into the works during Thursday night's episode, when Jack's ex-girlfriend Ellie Jones entered the Casa Amor villa where the boys are now staying. This left fans with two terrifying and all-consuming fears: will Jack cheat on Dani with Ellie? And, did he actually cheat on Ellie with Dani first?
Following a dramatic few days in the villa, Jack and his fellow male Islanders were dissecting the recent departures of Eyal Booker and Zara McDermott when he received a text. It read: "Boys, tomorrow you'll be heading out on a lads trip. You must get up early and sneak out of the villa while the girls are asleep. You must not discuss this with any of the girls. #wakeupcall #boysontour."
The following morning, the boys packed their bags and left the villa for the sunnier sofas of Casa Amor. And, Jack was sure in for a surprise when he saw his ex-girlfriend Ellie was one of the six new female arrivals.
Explaining his shocked reaction, Jack said: "I see the girls walk in, and I looked at the girl in the red bikini, Ellie, and we've got history. And yeah, it's going to be a bit weird. It's a bit of a weird situation. You don't expect to have a brand new girlfriend and then the girl that you've been sleeping with comes in."
Nonetheless, what Jack failed to disclose in this omission was that he was actually sleeping with Ellie leading up to his appearance on Love Island, and failed to inform Ellie of his plans prior to leaving her behind in England while he headed to the villa in search of — effectively — someone else. And you can bet Ellie isn't going to let him forget about that anytime soon.
"I have got a bone to pick with you," she told him. "You could have left things with me a little bit different. You shouldn't have been in contact with me two days before. If I was in your position I wouldn't keep in contact. You could have gone about things a little bit different."
So, will Jack be tempted to go back to Ellie?
Well, Dani is certainly concerned. Even though she has yet to learn the true extent of Ellie's arrival, the Islander with the ever-changing hair colour did voice concerns during Thursday's episode that Jack may stray during his time in Casa Amor.
She said: "I know Jack's my boyfriend and stuff and I trust him but I can't always pull the wool over my eyes. This always happens to me. I get really, really happy with someone and then some girl with a nice bum and boobs who hasn't eaten cheese toasties every night is going to try and sway him. I'd be silly to not worry and I am worried."
But, are viewers worried? A little bit, if these reactionary memes on Twitter are anything to go by.
Below are just a few of them:
However, other viewers are convinced Jack wouldn't dare risk the wrath of Dani's father and meme legend Danny Dyer, if he were to catch Jack cheating on his first-born daughter. Here are the memes for that:
Guess we'll have to wait and see!
Love Island airs on ITV2, Sunday to Friday at 9 p.m.