Neil Gorsuch's Daughter Emma Is The Oldest Of 2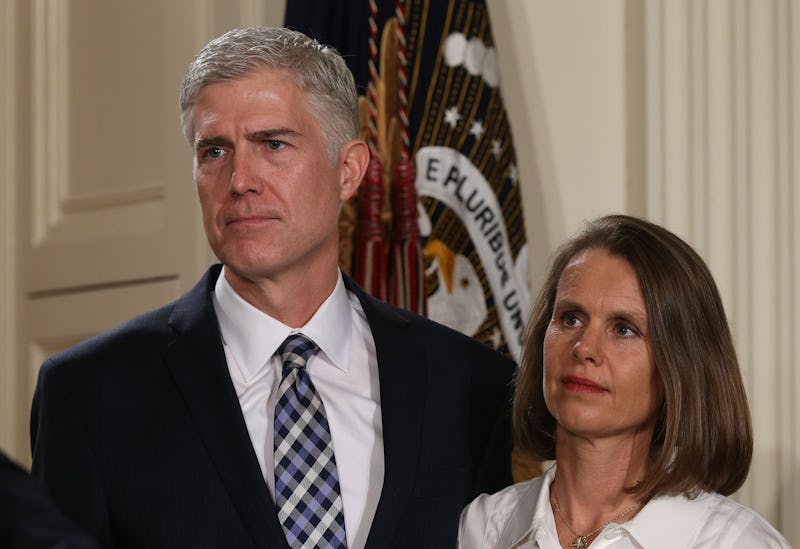 Alex Wong/Getty Images News/Getty Images
Recently named as President Trump's nominee for the Supreme Court, Neil Gorsuch is about to come under intense public scrutiny. Given the highly politicized atmosphere surrounding the Supreme Court (see: Merrick Garland), it is likely that Gorsuch will face scrutiny and opposition during his confirmation hearing. And that's if he gets a hearing at all, as some Democratic senators promise to hold up his nomination, a la 2016 Republican obstruction of President Obama's pick. During his acceptance speech, Gorsuch said he would rely on his wife and daughters to "ground" him through the process. And at 49 years old, Gorsuch's eldest daughter, Emma, born in 1999, is just a teenager herself.
Gorsuch also has another daughter, two years younger, named Belinda. He and his wife, Eloise, met while he was studying at Oxford. She is of British descent, but since she is registered as a Republican, one assumes she has since become an American citizen. They live in Colorado, where Neil Gorsuch grew up. Aside from working as a federal appeals court judge, Gorsuch has also been an adjunct professor at the University of Colorado at Boulder, earning positive reviews from colleagues and students alike.
The Gorsuch family lives outside of Boulder. The SCOTUS blog reports that the family "raises horses, chickens, and goats," which fits a larger theme of Gorsuch's life: he's big on the outdoors. Gorsuch is a skier, a fly fisher, a hunter, and all-around outdoorsman.
But Gorsuch hasn't always lived in Colorado. When he was a teenager, his family moved to Washington, D.C., as his mother, Anne Gorsuch Burford, was appointed by President Reagan to run the Environmental Protection Agency (EPA). She resigned three years later in 1983, after being caught up in a scandal involving the cleanup of hazardous waste dumps. Congress cited her with being in contempt for refusing to turn over records relating to the case. Burford maintained her innocence, claiming such records were under the protection of "executive privilege."
Both of Neil Gorsuch's parents, as well as his grandfather, were also lawyers. Apparently, the legal bug runs strong in the family. If Neil Gorsuch is confirmed by the Senate, he will become the youngest Supreme Court Justice to be confirmed in twenty-five years.
That gives Emma Gorsuch plenty of time to decide if she, too, will follow in her father's footsteps, and join what seems like a family tradition in the legal profession.