A Fox News Host Is Under Fire For Allegedly Sending Photos Of Male Genitalia To Female Colleagues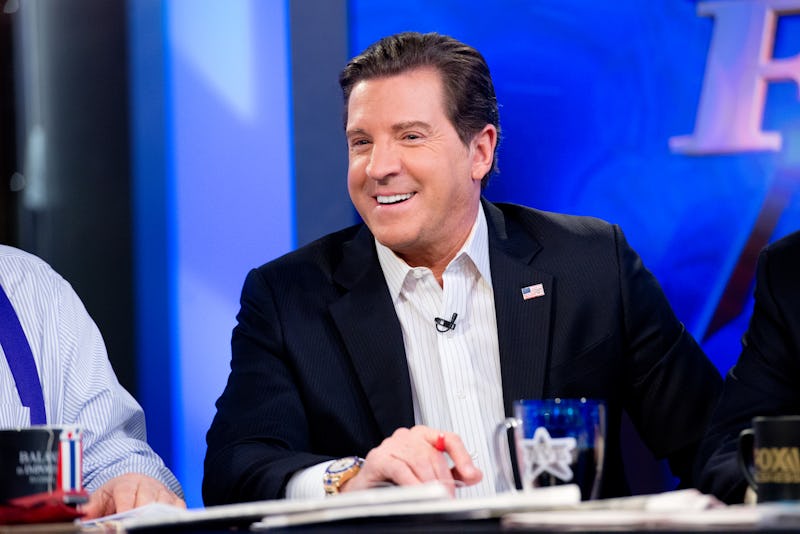 Noam Galai/Getty Images Entertainment/Getty Images
At least two women claim to have received text messages containing explicit photos from Fox News host Eric Bolling, HuffPost reported on Friday, a matter that the company reportedly plans to look into. The women, whose identities are being kept anonymous, are both current and former colleagues of Bolling's. The photos depicted male genitalia and were allegedly sent years ago on different occasions. Bolling's lawyer, Michael J. Bowe, denied that his client ever sent inappropriate or graphic text messages or emails.
"Mr. Bolling recalls no such inappropriate communications, does not believe he sent any such communications, and will vigorously pursue his legal remedies for any false and defamatory accusations that are made," Bowe told HuffPost.
A spokesperson for Fox responded to Bustle's request for comment on Saturday, stating, "We were just informed of this late Friday afternoon via a HuffPost inquiry and plan to investigate the matter."
In addition to the two recipients, four other people confirmed to HuffPost that they'd seen the alleged pictures in question; eight others said they'd had conversations about the photos.
Bolling's phone number, which the alleged recipients recognized, was what led them to identify the television host as the sender. One of the women claims to have immediately responded to Bolling's message demanding he never send such photos again. Bolling allegedly never responded.
Since May of this year, Bolling has co-hosted The Fox News Specialists alongside Katherine Timpf and Eboni Williams. He's filled different roles as commentator, host, and financial analyst on different Fox programs since 2007. His contract was recently renewed.
This is the latest in a string of high-profile sexual harassment cases to have allegedly taken place at the Fox network. Former Fox News Chairman Roger Ailes resigned last July after Gretchen Carlson, once a host on the network, filed a sexual harassment lawsuit against him. Numerous other hosts went on to accuse him of sexual harassment following his departure. Ailes has denied all allegations of sexual misconduct.
After two decades hosting Fox's most profitable program, Bill O'Reilly was forced to resign in April after The New York Times published a report covering his quiet settlements in several cases of sexual harassment accusations made by multiple colleagues. According to the report, the network was aware of the allegations and consistently chose to stand by O'Reilly's side. O'Reilly has vehemently denied the accusations .
And in April, right-wing blogger Debbie Schlussel accused Fox host Sean Hannity of banning her from making appearances on his program after she rejected an alleged invitation to his hotel room. Hannity denied the accusation.
Bolling has yet to comment directly on the allegations against him.