'Agents Of S.H.I.E.L.D.' Is Introducing A Literally Earth-Shaking Character From Marvel Comics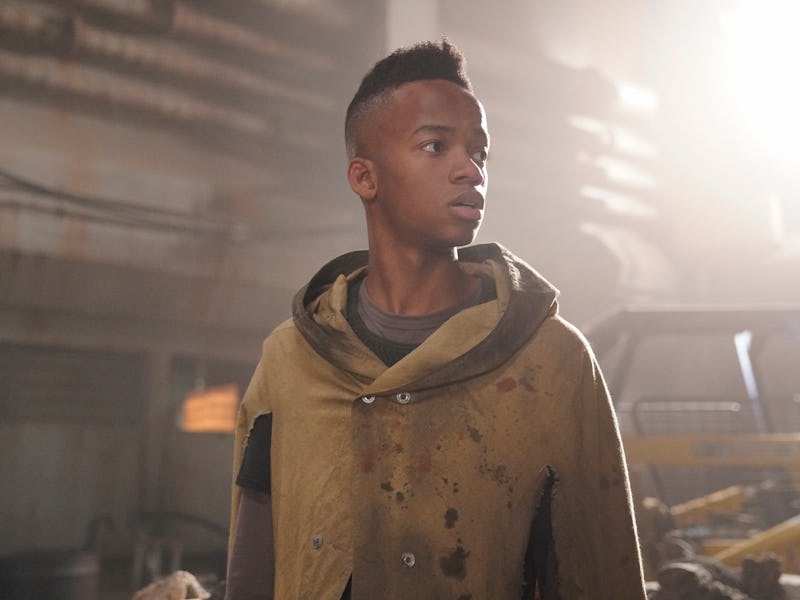 Jennifer Clasen/ABC
Season 5 of Agents Of S.H.I.E.L.D. premieres on Dec. 1 and finds the crew out in the void of deep space. The show's next outing will feature an array of new characters, sure to deepen the bench or the already dynamic cast. One of those new Agents Of S.H.I.E.L.D. characters is Flint, played by actor and rapper Coy Stewart.
The news of the introduction of Flint — as well as other new characters Grill, Deke, and Tess — first appeared on Entertainment Weekly. "Flint is a young man who's been forced to grow up fast in a tough environment," his character description reads, "but hasn't lost his desire to make something of himself. When he crosses paths with our S.H.I.E.L.D. team, he just may get the chance to prove that he's capable of big things."
As of right now, it seems that Flint is the only one of the new S.H.I.E.L.D. characters to be adapted from Marvel comics. In the comics, Flint or Jaycen, is a character with special abilities, who comes from a hard upbringing. He also has the ability of "geokinesis," which means he has the power to "manipulate the earth around and within him, to a degree."
Flint first appeared in Inhumans #3, which came out on Oct. 3, 2014. The character has an array of fun abilities that the series should have a fun time demonstrating, should he come with all his powers. Flint's geokinesis gives him the ability to: create a "rock armor" shield from the ground; fly by moving the earth and standing on stones; explode the earth through "ground rupturing"; and mold dirt and soil into shapes used to fight. It remains to be seen if Agents Of S.H.I.E.L.D. is going to allow Flint to keep all of those powers, but he's certainly an interesting example of an inhuman.
Stewart posted on Instagram about his excitement about becoming a part of the series. He captioned a screencap of the casting news, "Super hyped to show you all what I've been a part of. Excited to join the Marvel family. It's been a blessing."
The arrival of Stewart and the rest of the show's new blood helps to mark yet another shift in theme and setting for the adaptable series. Executive producer Jeph Loeb, spoke to Comicbook.com about the new season, specifically the cosmic element of the normally Earthbound show. He said:
"What makes the show exciting is that at its core, it's always about a group of individuals who are trying to find the weird, the unusual, the dangerous, the sometimes humorous things that are out there. And we just went a little more out there this particular time."
In the same ComicBook.com piece, actor Clark Gregg, who plays Director Phil Coulson on the series, talked about the importance of mixing it up each season. Gregg said:
"It reminds me of comics – you know, when one (story arc) rolls over it's a whole new ballgame? And it's really thrilling, because I think if we were still basically doing the same thing as we were doing in our first ten episodes, we'd probably be a little bored by now. But it's kind of a reboot every year, and it's exciting for the characters. We get some new blood, we got some incredible new blood."
That "incredible new blood" is pushing S.H.I.E.L.D. into a season that is starting to feel closer to where the Marvel Cinematic Universe currently is than the series ever has before. The radical space element and increased amount of inhumans in the cast list reminds the audience that this series is very much linked to the ongoing Avengers plotline, as it exists in the movies.
Agents Of S.H.I.E.L.D. is a show that's constantly reinventing itself, and Coy Stewart's new character will be a big part of its next phase.