'Crazy Rich Asians' Star Henry Golding Had THE Most Normal Job Pre-Hollywood Fame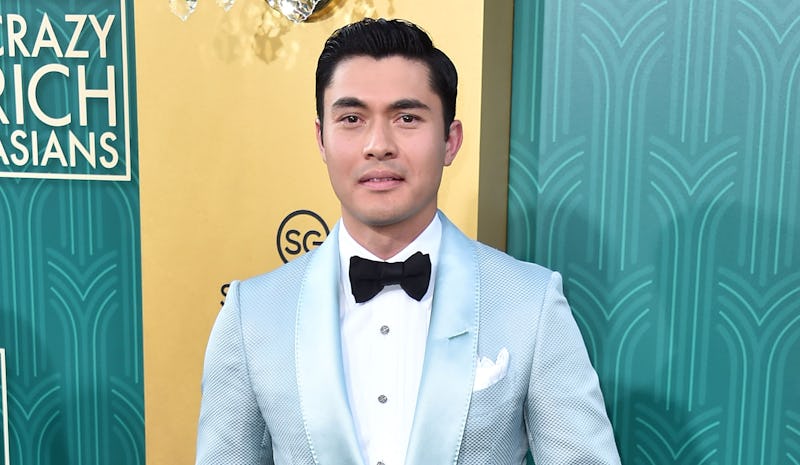 Alberto E. Rodriguez/Getty Images Entertainment/Getty Images
Crazy Rich Asians premiered in the United States on Saturday, and despite pre-release uncertainties, the film has been a huge success. The movie follows Rachel Chu (played by Constance Wu) as she meets the family of her boyfriend, Nick Young (played by Henry Golding), for the first time. In a twist no one saw coming, turns out, his mum and dad are cray rich, and he is one of the most eligible bachelors in Singapore. But who is leading man Henry Golding, the actor behind the billionaire bachelor?
Well, while he may be playing the lead role in one of this year's biggest summer rom-coms, Golding's CV isn't exactly bursting with huge Hollywood credentials. In fact, his role in Crazy Rich Asians is his first and major breakthrough role on the big screen.
Born in Malaysia, Goldings' family moved to Surrey when he was eight. After working as a hairdresser for a couple of years, he decided to pursue his dreams of being on camera, reports Vulture, and moved to Kuala Lumpur. There, he started securing presenting gigs, hosting documentaries, which is why UK viewers may be more accustomed to seeing him trekking through the rain forest than walking a red carpet.
Golding is perhaps most recognised for his work with the BBC and the Discovery Channel. His works has seen him venture through the Soganli Valley of Cappadocia, work alongside the Ruam Katanyu emergency rescue teams to help save lives, and traveling to Laos in search of the Mahouts, a dying culture of elephant trainers who bond with the animals and stick with them throughout their lives.
But how did an onscreen explorer become the next Hollywood heartthrob? Well, praised for making distant lands feel close and accessible, it is Goldings' charm and charisma that has not only made him a very successful travel presenter but also contributed to him landing the lead role in Crazy Rich Asians.
Speaking to Vulture, Kevin Kwan, executive producer and writer of Crazy Rich Asians, said: "Henry is just a superstar. He's a leading man three times over without the first movie even coming out yet, and it's a testament to his talent. People just fall in love with him."
Golding was finishing up the TV docu-series Surviving Borneo for the Discovery Channel when director of Crazy Rich Asians, Jon M. Chu, saw some of his social media posts. Taken in by the places he'd visited, the food he has eaten, and (funnily enough) the local cats, Chu contacted Golding to see if he would be interested in reading some lines. Oh, if only posting cute dogs you saw in coffee shops landed us all roles in Hollywood blockbusters.
Speaking to Glamour about why he thought the role was right for him he said, Golding said: "The filmmakers were literally at the eleventh hour trying to find an appropriate Nick Young, and the accounting lady said, 'I met this guy Henry Golding at an event about five years ago, and I thought he was the epitome of this character.'"
Living in Singapore where both the film and book are set, Golding told People magazine: "Jon (M. Chu) always says that they searched the entire world for their Nick Young... and he was exactly where the book told him he was going to be." Well if that isn't fate I don't know what is.
Before flying out to LA to film Crazy Rich Asians,, Golding finished the Iban rite of manhood which saw him trek through the mountains in southern Thailand to reach his birthplace of Sarawak. He finished off the trip by jetting to Malaysia and marrying his beautiful and equally successful fitness instructor and Instagram influencer girlfriend, Liv Lo, reports Marie Clare. And I thought I was busy.
So, what is next for this onscreen explorer-turned- Hollywood-actor? Well, he is starring alongside Blake Lively and Anna Kendrick in thriller, A Simple Favour, which comes out later this year. Some fans are even calling for Golding to be considered as the next James Bond. Well, he has the experience battling his way through less than comfortable conditions.
If like myself you can't wait to see what all the fuss is about, the release date for Crazy Rich Asians has been moved to September 14 in the UK. This means less than a month until we can see Golding in all his five star, Hollywood glory. I know I'll be booking tickets.