Idris Elba's Daughter Has Some Pretty Big Things Planned As Golden Globes Ambassador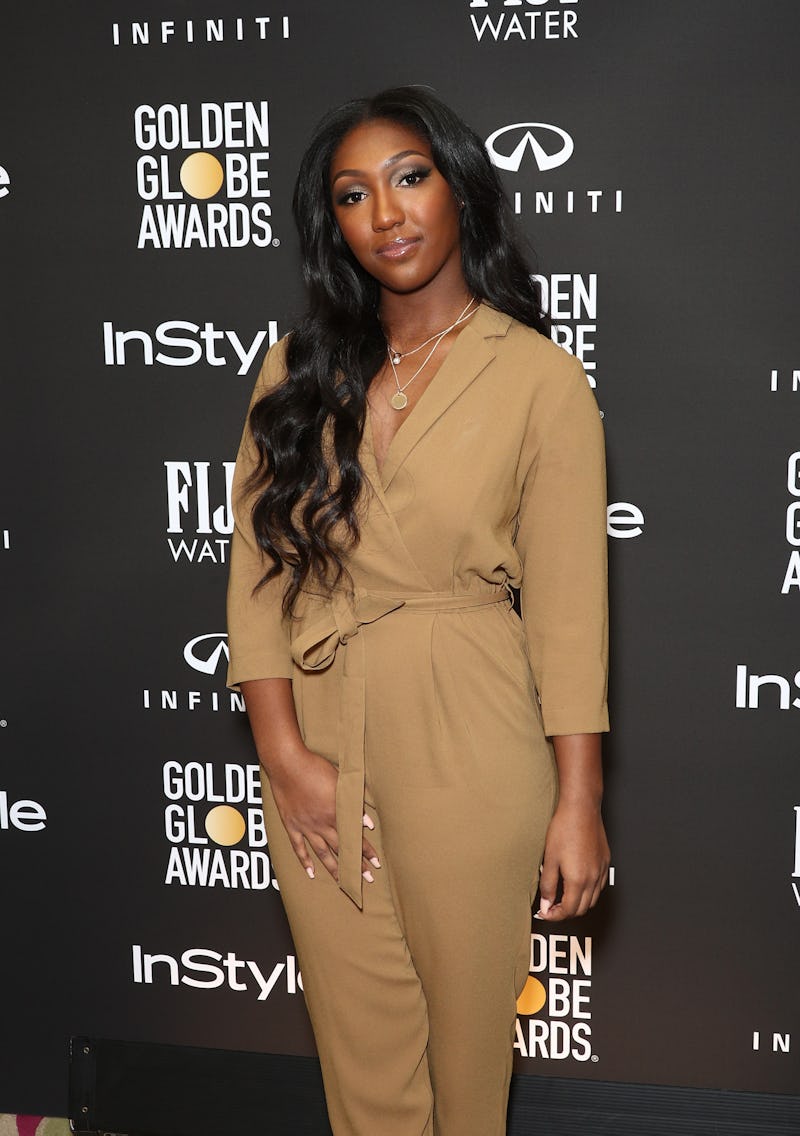 Frederick M. Brown/Getty Images Entertainment/Getty Images
Just days after snagging the coveted title of People's 2018 Sexiest Man Alive, Idris Elba has yet another reason to celebrate as his oldest child brings her own proud distinction to the family name. According to Entertainment Weekly, Elba's daughter, Isan Elba, was named Golden Globes Ambassador. Who is Idris Elba's daughter, Isan? Well, she's your 2019 Golden Globes Ambassador, and she's ready to make her own unique mark on the world — and maybe even steal a bit of the spotlight from her famous father when the ceremony takes place in January 2019.
With Isan's beauty and bright personality, it seems that the apple hasn't fallen too far from the tree. The self-proclaimed fashionista, who celebrated her milestone Sweet 16 birthday with a huge party this past January, not only shares her father's good looks, but has also considered following his footsteps in the entertainment industry. Earlier this year, she told E! News, "I want to be an actress but recently had a change of heart, so maybe photography and writing is sort of my thing now."
Isan, who Idris shares with ex-wife Hanne Kim Norgaard, appears to be in good practice when it comes to attending Hollywood events. She made her red carpet debut alongside her dad at the Daddy's Little Girls movie premiere in 2007 and has been by Idris' side at many other events in the years since.
Further proving her daddy's girl status, Isan recently explained to Essence that it was her father who actually delivered the exciting Golden Globe news. She told the mag, "He said that he had a surprise for me. But because I hate surprises, I kept saying, 'Tell me, tell me, tell me!'"
Isan went on to recount the moment when Idris finally spilled the beans, telling Essence:
"I was just jumping around my room, screaming. To be [among] so many legends of the film and television industry and also, represent my family is going to be really amazing."
While it goes without saying that Isan's latest accomplishment must be a proud moment for the 46-year-old actor, People notes that she had a less than enthusiastic reaction to the news about her father's "sexiest" status. At press event announcing her role as the Golden Globe Ambassador, Isan joked: "I wake up in the morning and it's my dad. I was like, 'This is not what I was expecting. This is not very fun.'"
In addition to her duties at the forthcoming Globes event, which include assisting presenters and ushering winners off the stage after they've accepted their awards, Isan's newly-minted role also features a philanthropic component that she reveals is near and dear to her heart, according to Entertainment Weekly. With the new position, the outlet notes that Isan will partner with a charity that focuses on mental health, particularly within the Black community, which is something that she feels very passionate about. Per EW, She explained,
"I definitely feel strongly about the mental health stigma. Mental health is not really talked about in the African-American community and as a teenager, I have friends who deal with mental illness. Being a Golden Globe Ambassador will allow me to align with an organization that shines a light on the [issue]. I'm really grateful for that."
Last year, the Hollywood Foreign Press Association announced that the position of "Miss Golden Globes" would be renamed "Golden Globes Ambassador." The annual title, which began in 1963, is notably awarded to up and coming Hollywood talent and would often be bestowed upon a celebrity's daughter or son – in which case would be named "Mr. Golden Globes."
Hollywood Foreign Press Association president Meher Tatna revealed that the recent makeover was introduced as an effort to "represent a more inclusive role that was not only gender-neutral but also spoke to the HFPA's commitment to philanthropy" while announcing Isan as the newest Golden Globe Ambassador on Nov. 14, according to Variety. At the 2018 ceremony, Simone Garcia Johnson, the daughter of Dwayne "The Rock" Johnson was the first to take on the newly-named position at the 75th annual Golden Globe Awards.
As the daughters of major actors, both Simone and Isan notably snagged the roles shortly after their father's became People mag's "sexiest" leading men. Despite having a relatively quiet year in terms of acting roles, Idris Elba's past week has been quite eventful with his new cover and the recent and widely-discussed release of a doll in his likeness that many seemed to find... uhm, not so sexy.
With Isan's recent ushering onto the stages of Hollywood award ceremonies, it seems that Idris may soon have some major competition on his hands.