James Scaramucci, The Mooch's Son, Was Born During His Father's Short-Lived White House Tenure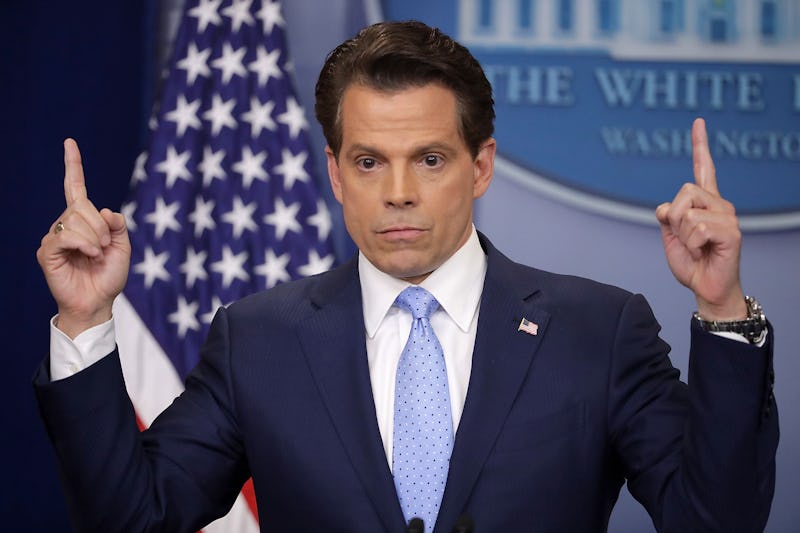 Chip Somodevilla/Getty Images News/Getty Images
In between his hiring and firing, former White House communications director Anthony Scaramucci welcomed the arrival of James, his youngest son. His estranged wife Deidre Ball, who reportedly filed for divorce while she was about nine months pregnant, gave birth to their second child on July 24, a week before "the Mooch" was ousted. Scaramucci, 53, has now fathered five children between two women: Ball, 38, and first wife Lisa Miranda, 54.
James was reportedly born prematurely in New York City while Scaramucci was with Trump at a Boy Scout jamboree in West Virginia. An anonymous source close to the situation told gossip column Page Six that Scaramucci congratulated his Ball via text message saying he would "pray" for their child. Another anonymous source told the tabloid that Scaramucci had wanted to go the hospital, but the delivery had been too sudden.
Ball and Scaramucci were married for three years before the divorce filing and she gave birth to their first son Nicholas in 2014. Because of the timing of James's birth colliding with a tumultuous first week in the White House, Scaramucci was reportedly unable to meet his son until four days later.
In the days after James's birth, the Mooch trashed Reince Priebus and Steve Bannon in a profanity-filled rant to a reporter from The New Yorker. A day later Scaramucci tweeted that while he can take hits, he wanted his family to be kept only in prayers and thoughts, nothing more.
Press secretary Sarah Huckabee Sanders announced Scaramucci's departure on July 29, 10 days after Trump appointed him the communications director. His removal is the first notable move under the president's new chief of staff John Kelly, a no-nonsense former Marine general whose personality would have likely clashed with the New York financier's.
Amidst the career controversy, Scaramucci also had to contend with his personal life making the media rounds. Jill Stone, attorney to his wife Ball, has tried to extinguish reports that the divorce was fueled by Scaramucci's "naked political ambition and infatuation with Trump." Stone declined to disclose the reason for the divorce and told New York Daily News that it's a private matter.
At the time of writing, there has been no news of a replacement for White House communications director. Prior to his appointment, Scaramucci served as the senior vice president and chief strategy officer at Export-Import Bank. To avoid a conflict of interest in his now short-lived government role, Scaramucci had also reached a deal to sell his hedge fund SkyBridge Capital. It is unclear if Scaramucci will return to Export-Import or SkyBridge Capital.