This Cast Member From Arie's Season Is More Than Ready To Take On 'BiP'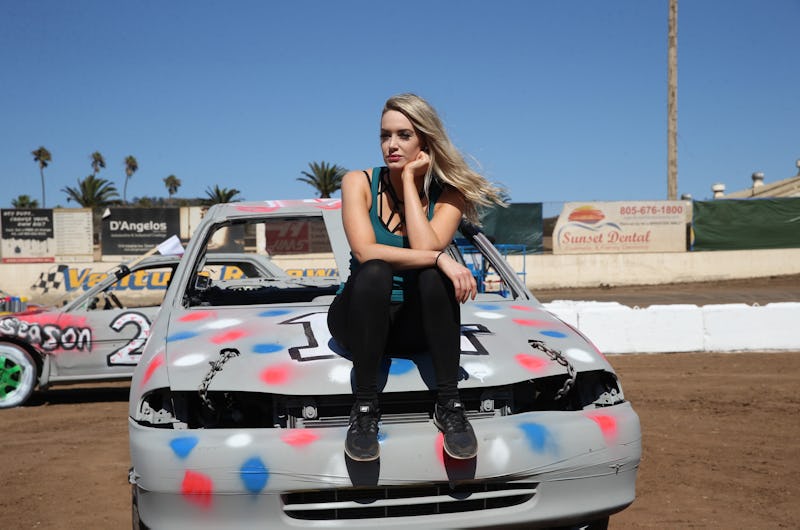 ABC
Bachelor In Paradise is the ultimate second chance for Bachelor and Bachelorette contestants who didn't manage to win a final rose. For example, Jenna, who was on Arie's Season of The Bachelor, may not be as recognizable as some of the other cast members from her season, but her appearance on Bachelor In Paradise could change all of that and make her a Bach Nation regular.
Jenna was dumped during Week 6 of Arie's season, going home in the same episode as Chelsea and Krystal. She's arguably best remembered for being the person who proudly stated that they would "drink her [own] pee for Arie," during a group hiking date. While Jenna didn't get as much screen time as either of her fellow cast members during Arie's season, that could allow her to go into Paradise without the baggage of her time on the show dragging her down.
Unlike contestants like Krystal and Chris R. who had plenty of negative moments aired on The Bachelor and The Bachelorette, Jenna is getting a chance to re-introduce herself to America, and to have a second chance at making a first impression with everyone else in Paradise. As she says in the promo for the season, she's ready to get "cocoNUTS."
While there's a lot that audiences can stand to learn from Jenna on Paradise, she's not been shy about letting fans into her life through social media. She declared on Twitter that "There might be a storm coming to Paradise," suggesting that Jenna won't just be there so soak up the sun and relax. For those looking for a deeper peek into her life, Jenna's Instagram features a variety of modeling pictures, as well as the occasional picture of Jenna hanging out with a pig, or pictures and videos of her hanging out with fellow Arie survivor Jacqueline.
What one may not gather from a cursory glance at Jenna's Instagram or Twitter account is that Jenna owns her own business, Jenna Cooper Media based out of Raleigh, North Carolina according to The News & Observer. Jenna's LinkedIn page also lists her as the founder of the Rose Gold Club, which she describes as a "elite club for women in the [Raleigh area] who are interested in developing relationships through becoming more involved in the social scene." Jenna may be making time to appear on The Bachelor and Bachelor In Paradise, but Jenna is no slouch when it comes to forging her own professional path.
Jenna is a lot more than "the pee girl" from Arie's season, and Bachelor In Paradise will likely provide a much better glimpse at what Jenna is truly like than what was seen of her on Bachelor. Jenna revealed to News & Observer that on Paradise she's "looking for a man who can keep up. Someone who can handle my energy, loves my ever-present but endearing flaws, and wants to help me make a positive difference in the world." Bachelor may have shown Jenna competing for Arie, but judging by what she's Jenna is looking for it seems that Paradise will show her taking charge.