Seattle Elected Its First Female Mayor In 90 Years & That's Not Even The Most Groundbreaking Part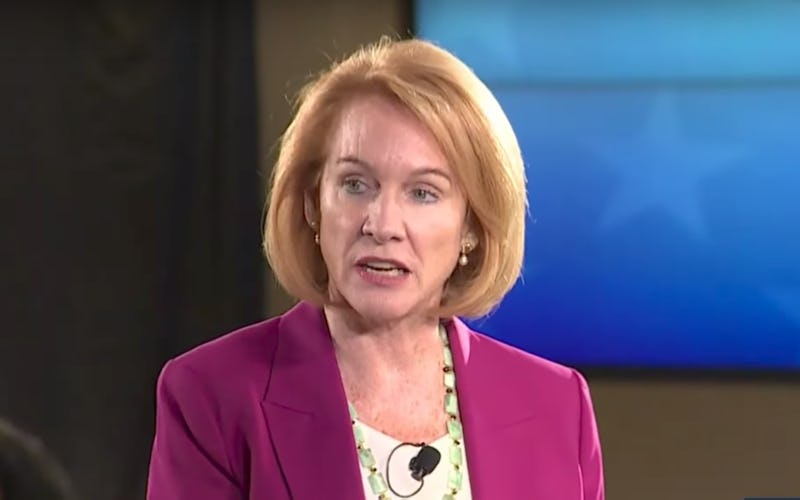 King 5/YouTube
Tuesday's elections brought victories for female candidates across the country, including Jenny Durkan, who became Seattle's first lesbian mayor-elect. She made all kinds of history before even taking office: Durkan also will be the city's first female mayor in more than 90 years.
"Ninety-two years later, Seattle is about to have a new woman mayor," she told The Seattle Times, "Just imagine what they're going to blame on me."
In an election face-off rarely seen in American politics, Durkan defeated another female candidate, Cary Moon. Both women entered a crowded political field after former Mayor Ed Murray resigned in September amid child sex-abuse allegations (which he has denied). Durkan finished first in the Aug. 1 primary, a lead that clearly carried over to Election Day.
The progressive was appointed in 2009 by President Obama to serve as the U.S. attorney in western Washington state, becoming the first openly gay person to hold that title. She was also told she was the first openly gay person ever appointed to a leadership role in the Justice Department, she said on her campaign website. "I took that role seriously, mentoring others and talking about how coming out was  —  and remains  —  important to demonstrating to everyone the reality of our humanity," Durkan wrote.
A Seattle native, Durkan has two sons with her partner, Dana. And although she isn't the city's first openly gay mayor, LGBTQ advocates were still thrilled to see Seattle elect its first openly lesbian mayor.
She also joined a long list of female candidates who made history on Tuesday either for being the first elected official of their gender, race, or sexual orientation in their areas. To name a few, Vi Lyles became the first black Democratic woman elected mayor of Charlotte, North Carolina, and openly transgender women were elected to office in both Virginia and Minneapolis, Minnesota for the first time.
The last female mayor of Seattle held office in 1926. Bertha Landes was the first woman to govern a major American city, after not being allowed to vote until she was 41. "Throughout her brief political career, Landes had to prove herself in ways that men did not," wrote The Seattle Times' Jim Brunner, "facing constant scrutiny over whether her dress and demeanor were proper for a woman of the early 20th century." She later lost the 1928 election to a man who refused to debate her.
Although Durkan had a female opponent in her race, she ran her campaign in strong opposition to President Trump. She wrote on her campaign website that she's "uniquely qualified to fight back against President Trump and defend our values while also delivering our city's basic services and solving our own problems with innovation and hard work." Specifically, she cited her efforts helping to secure a federal judge's order barring the deportation of immigrants after Trump declared his first travel ban.
"Seattle is about to have a new woman mayor. Just imagine what they're going to blame on me."
Before serving as a U.S. attorney under President Obama, she fought for marriage equality in her state—and vowed to continue fighting for trans rights while in office. Prior to practicing law, she taught English and then worked as an airport baggage handler in Alaska before attending the University of Washington Law School.
Durkan is used to breaking barriers, further exemplified by the fact that she was the only female baggage handler while working at a small Alaskan airport. "I went through a little hazing and was given the toughest jobs but by the end of the summer I could unload jets full of cargo, pick up outboard engines and fix the forklift engine that failed every day," her website boasts.
If her Twitter account's any indication, Durkan celebrated her historic election victory in the best way: with some good grub.