Oliver Will Get A Blast From The Past On 'Arrow' When An Former Enemy's Son Shows Up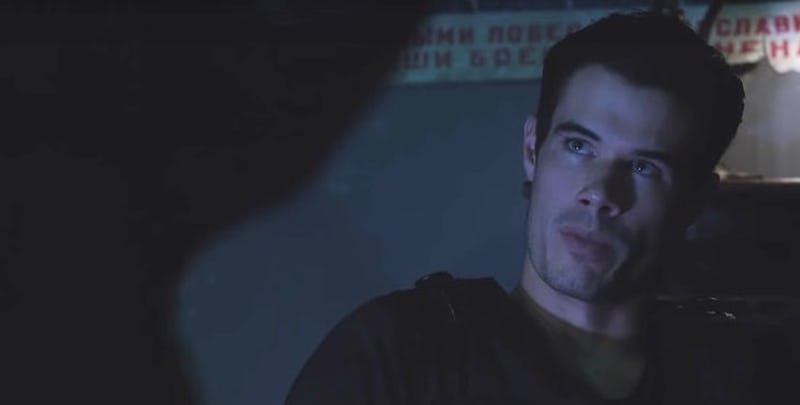 The CW
When Oliver Queen returns to The CW for Arrow Season 6 on Oct. 12, the hero will of course have new goals, friends, and challenges. And a new season also means fresh villains, but one newcomer in particular has a strong connection to someone from Oliver's past. Joe Wilson is coming to Arrow this year; and that ought to complicate things for the Green Arrow. To Oliver, Joe is the son of his former mentor, his mother's killer, the notorious mercenary and reformed villain Deathstroke (Slade Wilson).
Liam Hall of Lucifer and Camp fame will be playing Joe, according to Entertainment Weekly. He's also known as Jericho in the comics, but it seems that Arrow will be making some other changes to the character. The most noticeable difference is that Joe can speak. In the Season 6 trailer, we hear Joe's voice; but in the comics, he had his throat cut as a child by an enemy of his father, rendering him speechless. Unlike his father, who has no real super-powers to speak of besides his extreme training in hand-to-hand combat and weaponry use, Joe may have superpowers on Arrow.
In DC comics, Joe has the ability to take possession of anyone he makes eye contact with. But he's also trained, though to a lesser degree than his father. Primarily, he is acting as a hero in the books. In the story arc known as The Judas Contract, he saves the Teen Titans from his father, who had accepted a contract to kill them. After becoming a Teen Titan himself, he turns evil, becoming possessed himself by the demon Trigon (Raven's father).
Although, this is the first time Joe has appeared on Arrow, this is not the first son of Slade to make an appearance on the CW. In an episode of Legends Of Tomorrow, fans saw an alternate timeline version of Slade's eldest son Grant in 2046. He'd taken up his father's identity of Deathstroke. However, there's no news yet to suggest that Grant will appear in this season of Arrow alongside his brother Joe.
What's most interesting about Joe Wilson joining the show is that it hints at what kind of themes Season 6 will explore. Those themes will explore family dynamics, as Manu Bennett is confirmed to be a part of this season, reprising his role of Joe's father, Slade. According to TV Line, he'll will potentially appear in multiple episodes.
Producer Marc Guggenheim has confirmed at San Diego Comic-Con, per CinemaBlend, that not only will Deathstroke be back, but he'll be back for the premiere and a two-part episode that includes flashbacks. His reappearance is unexpected, since the Season 5 finale hinted at Slade being killed in an explosion with several other characters.
Going all the way back to the first season of Arrow, there's an interesting dynamic to Slade and Oliver that resembles a father/ son relationship. They talk, bond, and Oliver learns skills from Slade that ultimately help him to become the Green Arrow. In the finale of Season 5, Oliver offers to help Slade find his son, in exchange for helping to save his own.
Oliver's son was saved. And with confirmation that Joe and Slade will both appear in this season, it would seem that father-son relationships are going to take center stage. What remains to be seen however, is just why Slade was separated from his son in the first place and why they had been estranged.
Joe Wilson may just be one of the most exciting characters of this new season of Arrow because he can go in so many directions. He's played hero, he's played a villain, and he's played in that grey area between the two. Arrow's sweet spot is within that grey area, so Slade's son should fit right in.