Why Trump Went On A Twitter Rampage About This Former CIA Director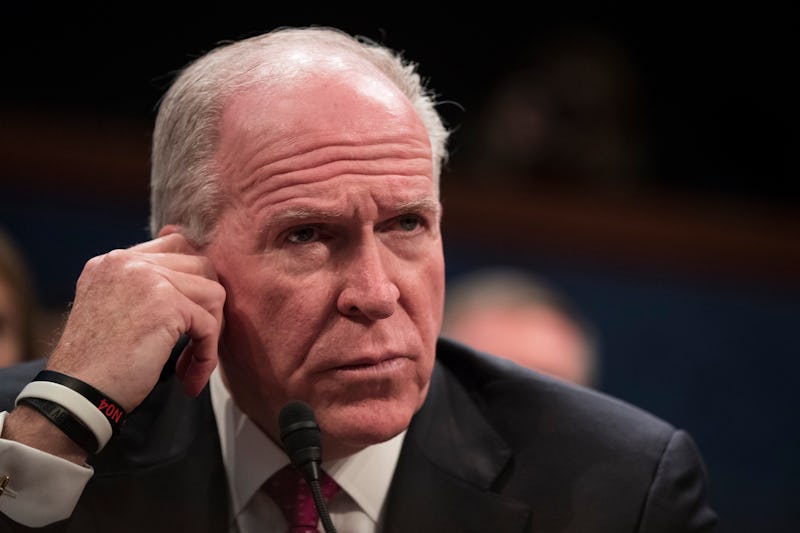 Drew Angerer/Getty Images News/Getty Images
American intelligence agencies and the people who lead them tend to stay out of politics — that is, at least until those people leave the agencies. Now, the name of a former CIA director has come up in an explicitly political place: president Trump's Twitter feed. You might be wondering who former CIA director John Brennan is, since Trump tweeted that Brennan had "disgraced" himself and "started this entire debacle." The debacle Trump was referring to is the Trump/Russia investigation.
Former Obama CIA director John Brennan has insulted Trump repeatedly on Twitter, and now the president is taking it out on him. In a series of three tweets on Monday morning, Trump quoted conservative podcaster Dan Bongino talking about Brennan, and Bongino was not holding back his criticism of Brennan.
"John Brennan is panicking. He has disgraced himself, he has disgraced the Country, he has disgraced the entire Intelligence Community," the first tweet began. The rest of the sequence then went on to accuse Brennan of "[starting] this entire debacle about President Trump" and being "largely responsible for the destruction of American's faith in the Intelligence Community."
"This guy is the genesis of this whole Debacle. This was a Political hit job, this was not an Intelligence Investigation. Brennan has disgraced himself, he's worried about staying out of Jail," Bongino's quoted statement ended.
According to CNN, Brennan had a long career in the CIA before becoming the CIA director in 2013 under President Obama. Immediately prior to that, he was Obama's Assistant for Homeland Security and Counterterrorism. Upon leaving his office at the beginning of Trump's presidency, Brennan was named a Distinguished Fellow at the Center on National Security at Fordham University. However, his name has come up in the news since his CIA tenure ended, because he's been outspoken not only about Russia's role in the election, but also about the job that President Trump is doing.
In May of 2017, for example, CNN reported that Brennan told the House Intelligence Committee that Russia had "brazenly interfered" in the 2016 U.S. presidential elections. Brennan said that based on interaction he had seen involving Russia and the Trump campaign, he believed that the FBI should further investigate potential links between the two.
"I saw interaction that in my mind raised questions of whether it was collusion," Brennan said, during his testimony.
Since that time, Brennan has not held back in expressing his feelings about the president. In a tweet from the day that former FBI director Andrew McCabe was fired, Brennan wrote that Trump would "take [his] rightful place as a disgraced demagogue in the dustbin of history" after "the full extent of [his] venality, moral turpitude, and political corruption becomes known."
"You will not destroy America," Brennan wrote in the tweet, addressing the president. "America will triumph over you."
Since then, Brennan has continued to speak ill of Trump on Twitter. On May 8, he tweeted about Trump's decision to pull out of the Iran nuclear deal, calling it "madness" that was "a danger to our national security." On the night of May 20, Brennan addressed Sen. Mitch McConnell and Rep. Paul Ryan in a tweet.
"If Mr. Trump continues along this disastrous path, you will bear major responsibility for the harm done to our democracy," Brennan wrote, referring to Trump's call for a Justice Department inquiry into the FBI's investigation of the Trump campaign. "You do a great disservice to our Nation & the Republican Party if you continue to enable Mr. Trump's self-serving actions."
The next morning, Trump posted Bongino's rant about Brennan. While Brennan hasn't come up as frequently in Trump's tweets as, for example, for FBI director James Comey, the president has certainly made it clear that Brennan is an enemy.