The Republican Las Vegas Sheriff Has Long Been Calling For More Gun Control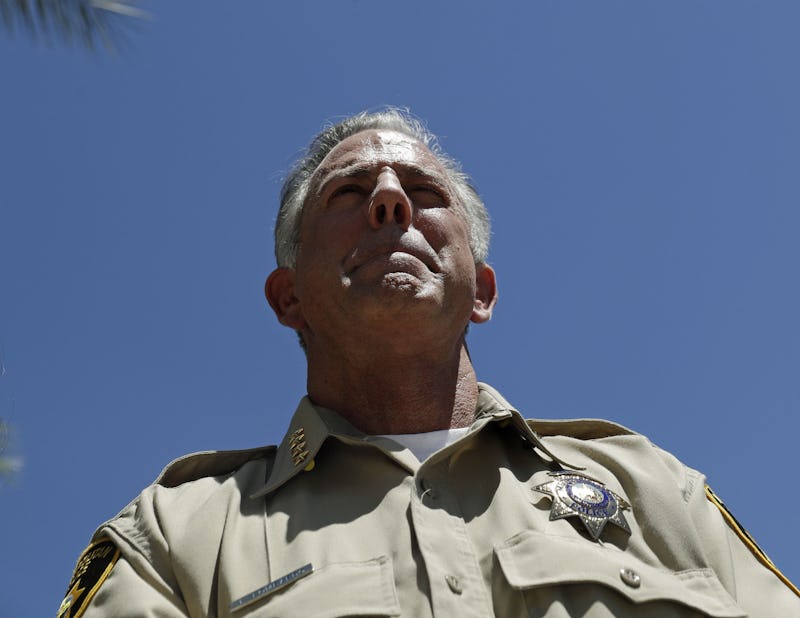 John Locher/AP/REX/Shutterstock
A tragic shooting at a country music festival in Las Vegas has left dozens dead and hundreds injured, Las Vegas Sheriff Joseph Lombardo confirmed Monday morning. The gunfire was reportedly "relentless" according to witnesses who spoke to The New York Times, calling into question what kind of gun the shooter used. The sheriff himself has previously called for certain gun control measures that possibly could have played a role in lessening this kind of tragedy.
During a press conference early in the morning, Lombardo said (though note that the injured toll has since been increased to more than 400):
We are looking at in excess of 50 individuals dead and over 200 individuals injured ... Obviously this is a tragic incident and one that we have never experienced in this valley. My condolences go out to the loved ones.
That number for family and friends to get an update on loved ones is 1 866 535 5654.
"It's a devastating time," Lombardo said. "We have responded to the scene, and we're doing the best we can to provide safety to the survivors."
The shooter reportedly had up to 10 rifles in a hotel room where he was stationed and shooting from the 32nd floor. A law enforcement analyst told CNN that the audio of the shooting indicated that the shooter may have used a "military-style" weapon. It "had to be numbers of magazines or a very large drum, it sounded to me like a belt-fed weapon, a military-style weapon," James Gagliano told CNN.
In 2016, Lombardo gave an interview to The Las Vegas Sun about gun control and questioned the necessity of having high-capacity magazines. "I'm a very avid hunter, I was in the military myself, and there's no need to have a high-capacity magazine for any practical reason," he told the newspaper.
Lombardo is the former assistant sheriff of Clark County. A member of the Republican party, he was elected as the sheriff for the Las Vegas Metropolitan Police Department and has been serving since the beginning of 2015. Lombardo was born in Japan and moved to Las Vegas when he was a young teen. He graduated from the University of Las Vegas with a degree in civil engineering and a master's in crisis management, according to The Sun, and also graduated from the FBI National Academy and served in the United States National Guard and the Army Reserve.
He has spoken about Trump after he was elected in November 2016, stating that he foresaw changes in the way police did their jobs. "He's been out, he's been vocal, he says he supports law enforcement wholly. And ... at face value, I hope that he's being honest about that."
With at least 50 people dead and more than 400 injured, Lombardo will be picking up the pieces from this tragedy for weeks and months to come. For now, he has requested that people donate blood if they are in the area. There are several locations where you can donate blood in Las Vegas and other Nevada cities, but the police department has specifically requested people go to the Labor Health & Welfare Clinic at 7135 W. Sahara.
There are other ways you can help the victims if you can't donate blood. Consider a monetary donation to the Red Cross or local organizations. Consider writing to your senator or representative if you want to express your support for gun control legislation. You can also keep an eye out for GoFundMe campaigns for the victims and their families. One of the victims, Lombardo said, was one of his officers who was attending the concert off duty.