This Documentarian Is Organizing DAPL Protests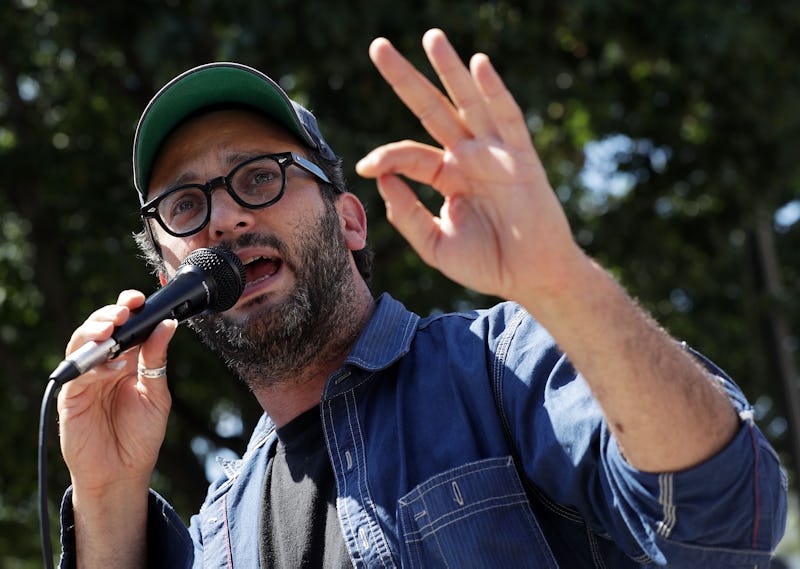 Alex Wong/Getty Images News/Getty Images
After months of protesting, when the Army Corps of Engineers denied the Energy Transfer Partners the easement required to drill under the Missouri River for the Dakota Access Pipeline, No DAPL advocates celebrated the victory. However, on Tuesday as President Donald Trump signed an executive order to approve construction of the DAPL and Keystone XL those in opposition made plans to protest once again. A Facebook group including documentary filmmaker Josh Fox organized a protest in New York for Tuesday.
The demonstration, titled NoDAPL NoKXL NYC Rapid Response, is planned for 6 p.m. Tuesday at Columbus Circle in New York. Fox is the director of Oscar-nominated documentary Gasland, which focuses on Americans affected by fracking. His most recent film, How to Let Go of the World and Love All The Things Climate Can't Change, tackles climate change.
In a press release following the announcement of Trump's executive order, Fox renounced the president's actions and made clear that he was going against the will of the people, saying:
Trump is ignoring the millions of people who vehemently oppose these projects and he does so at peril of his own legitimacy. Trump's decree offends the rule of law. It violates tribal sovereignty, and upends the environmental review process. It flies in the face of our democratic process and contradicts the will of the American people, 80 percent of whom want renewable energy and 100 percent of whom want clean water. And it contradicts clear rulings from federal court upholding new environmental review for DAPL.
Fox visited the site of the NoDAPL protests in Standing Rock, North Dakota, and penned a piece for the Daily Beast describing the conditions the peaceful protesters endured during their demonstrations.
Of Trump's executive order, and the protests of those who opposed it, Fox said in a press release:
The water protectors and the pipeline protestors aren't going to just accept Trump's tyrannical order. We're non-violent, we're strong and we will fight it effectively. We're a national movement now that Trump can't stop with executive orders or militarized police crackdowns. This is the kind of hijacking of the public interest we can expect from Trump, but it won't stand.
According to Reuters, the Standing Rock Souix said that they would fight the president's decision.
Trump's decisions on the pipelines so early on in his presidency reveals how his administration will probably handle fracking and environmental issues going forward, and it doesn't seem to be a great sign for environmental groups and those worried about the damage these pipelines might cause.