Why This Person Might Play A Key Part In 'Making A Murderer' Part 2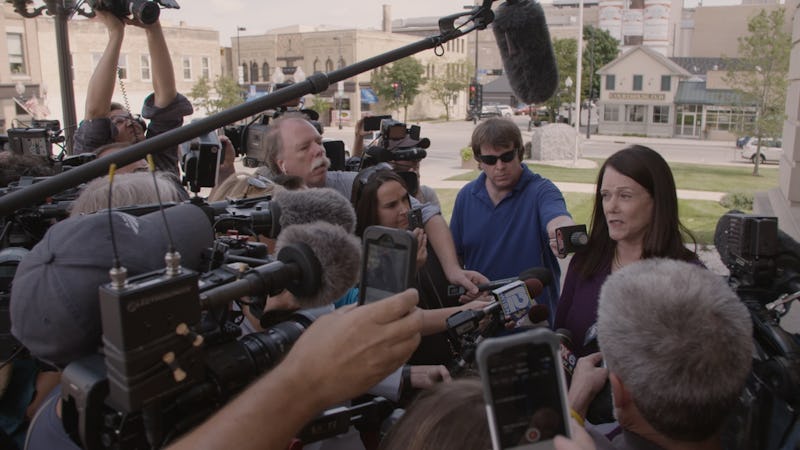 Netflix
In 2016, Making A Murderer dove deep into the case of Teresa Halbach's murder, as well as Steven Avery and Brendan Dassey's alleged involvement in it. (Both men were convicted in connection to her death, but have repeatedly maintained their innocence). Now, Part 2 will bring with it a host of new names you'll need to familiarize yourself with — including that of Josh Radandt, who could be a key player in Avery's ongoing appeal.
According to the Post-Crescent, Radandt is the operator of a quarry located adjacent to the auto salvage yard owned by Avery's family — which, as viewers know, is a huge part of the case. Per a report from Newsweek, Halbach was allegedly killed shortly after visiting the property on Oct. 31, 2005. The outlet also reports that bone fragments were found at the salvage yard after her death, as well as Halbach's RAV4 vehicle with Avery's DNA.
Making a Murderer, however, cast doubt on how Avery's case was handled, and now his legal team is pointing to Radandt's property as a point of inconsistency in the investigation.
According to the aforementioned Post-Crescent article, Radandt provided a sworn affidavit to Kathleen Zellner, Avery's lawyer, claiming that someone used his property to move Halbach's RAV4 onto Avery's property from somewhere else. "I was told by the Department of Justice agents that they believed Teresa Halbach's vehicle was driven to the Kuss Road cul-de-sac ... past my hunting camp until reaching an intersection with a gravel road that ran northeast into the Avery property," Radandt wrote, according to the newspaper.
Per Post-Crescent, Zellner also alleged in post-conviction court documents that "DOJ investigators never authored a report documenting their conversations with Mr. Radandt about the RAV4 being driven from his property and planted on Mr. Avery's property." (Bustle reached out to the Wisconsin Department of Justice for comment regarding Radandt and Zellner's claims, but did not hear back before publication).
This is not the first time the circumstances surrounding Halbach's car have come into question. According to a 2016 Rolling Stone report, Zellner alleged in a motion that a Manitowoc County Sheriff's Department officer found the vehicle on Nov. 3, 2005 — two days before it was officially recovered on Avery's property. She went on to claim that law enforcement officers planted evidence inside the car, then allegedly moved it to the Avery salvage yard on the evening of Nov. 4. (Manitowoc County Sheriff Robert Hermann told Bustle he was not "discussing or making any further comments related to [Avery's] case.")
Andrew Colborn, the officer who radioed dispatch about the vehicle on Nov. 3, testified that he "should not have been" and "was not looking at the license plates" at the time of the call, according to another Post Crescent article. In an email obtained by the newspaper in 2016, Colborn claimed that he had simply requested information on the vehicle upon learning Halbach was missing, and that "no evidence was planted at any time by any law enforcement officer during the course of this investigation." Colborn has since retired from the force.
Zellner, however, has remained steadfast in her claim that Avery was framed, and as she continues to appeal his case, it seems as though Radandt's testimony will be critical.