Katherine Heigl's 'Suits' Character Sounds Like The Complete Opposite Of Izzy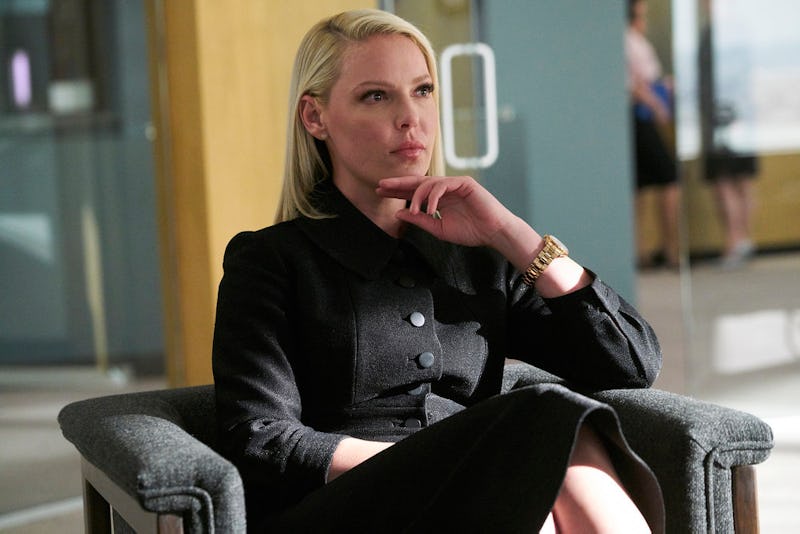 Ian Watson/USA Network
USA Network's legal drama Suits is returning this month with a slew of changes. Some characters like newcomer Alex Williams (Dulé Hill) and long-time recurring favorites Katrina Bennett (Amanda Schull) and Robert Zane (Wendell Pierce) are getting bumped up to main cast roles and a few familiar faces won't be returning. And there will be some new characters played by very familiar faces, too. So who is Katherine Heigl playing on Suits? The new player in the New York law game is going to stir up some drama at the firm.
Last season, Suits fans (known as Suitors, thank you very much) bid a final farewell to three major characters. Rachel Zane (Meghan Markle) and Mike Ross (Patrick J. Adams) finally tied the knot and moved to Seattle to start their own firm specializing in class-action lawsuits. The move totally made sense for the couple and was a great way to end their arcs on the show. The decision stemmed from the actors real-life changes, including Adams' desire to spend more time with his family and, of course, Meghan's new life in the royal family as the Duchess of Sussex.
Jessica Pearson was only a recurring character after she left the firm in Season 6 for a fresh start in Chicago and now she will have a spinoff show about her new career in politics, per Deadline. Their exits left a major hole that needed to be replaced for Suits to continue its story so Samantha Wheeler, played by Heigl, was created to replace Mike and Rachel.
According to Samantha's character bio, she is the firm's brilliant new partner who will become either their biggest asset or a powerful foe. Suits released a Samantha Wheeler teaser trailer and she has killer fashion sense, unbridled confidence, and a lofty goal – securing name partner status at the firm by the end of the year. She has everyone at the firm shook because they know little to nothing about her and she has made it clear that the only rules she plays by are her own.
Heigl spoke with E News about her upcoming debut on the series. The admitted super Suitor and Grey's Anatomy alum talked about Samantha's personality traits and admits the character is a bit of a mystery to her. She said:
She's sort of having fun with people all the time. She kinda walks into situations not taking it terribly seriously unless you really cross her. Then she loses the smile and the smirk and she's all business. She's really smart. She's very ambitious. She takes no prisoners. The fashion, the hair, the makeup...it's creating this woman that under the surface she's not quite as polished and put together...She's a powerhouse.
Of course, she didn't reveal any specific details about Samantha's background and how she ended up at Zane Specter Litt (or...is it Specter Litt Zane now?) but it's always great to see a confident (and possibly morally corrupted) woman shake up a little drama.
Heigl also revealed to Entertainment Tonight's Keltie Knight that she asked for a chance to be on Suits after meeting with show creator Aaron Korsh. They were discussing a few of her own show ideas when he said he was doing another season of Suits. She told him that she was available and hoped to make a guest appearance on her favorite show, but scored a main cast spot and moved her family from Utah to Toronto where the show films. This means Samantha will likely be around for the foreseeable future to Harvey (Gabriel Macht) and Louis' (Rick Hoffman) chagrin.
As the show starts a new chapter its long-running story, Samantha Wheeler is going to be the character to keep an eye on. Is she really just a manipulative opportunist? Or, is she the powerhouse that the firm needs to repair its shaky reputation? The truth will be revealed as she makes her mark this season.