Lauren Bushnell & Her Current BF Are Adorable (Sorry, Ben)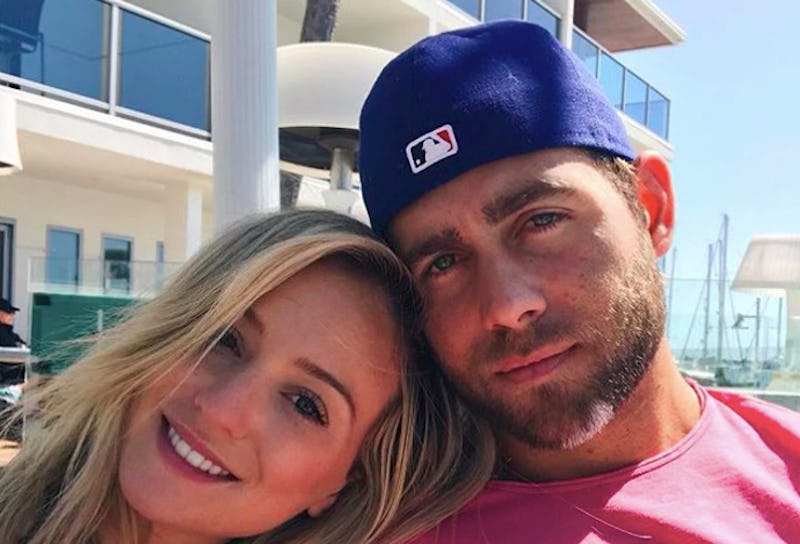 https://www.instagram.com/p/BYCDf2GHIQp/
Bachelor Season 20 winner Lauren Bushnell had a very public relationship (and breakup) with ex-fiancé Ben Higgins, so it makes sense that she would want to take a slower and more private approach in her next relationship. She's not keeping her friends, family, and fans completely in the dark, though. Slowly, but surely, Lauren has shared bits and pieces of her budding relationship with her new man. Now, fans probably just want to know who Lauren Bushnell's boyfriend, Devin Antin, is, but there really isn't a lot of information out there.
Unlike most people who have been part of The Bachelor franchise, Lauren is not rebounding with another person from the shows, which is probably a good thing since she has a lot more privacy this way. Still, she has eased her way into showing off her relationship via Instagram Story posts that disappear within 24 hours, and she has worked her way into sharing actual posts with Devin. As for Devin, he has his Instagram set to private. Good for him, but bad for everyone who wants to follow Lauren's post-Bachelor life.
Even though it's impossible to see Devin's Instagram posts, it is clear that some of the key people in Lauren's life are on board with the romance after a quick Instagram investigation. Lauren's Bachelor besties Amanda Stanton, Emily Ferguson, and Haley Ferguson follow Devin on Instagram and so does her sister, Mollie Bushnell. That is definitely a good sign.
According to TMZ, Devin is a Los Angeles-based real estate investor and is 28 years old. Lauren confirmed this during a question and answer session she had with her followers via Instagram DM, which she shared via Instagram Story on October 3. One fan asked, "Whats the age difference between you and Devin?" Lauren answered, "He's 28 (almost 29) and I'm 27."
During the same Instagram question and answer sesh, Lauren revealed that she actually met Devin on Tinder during her pre-reality TV life two years ago. Lauren admitted, "I only met up with two people from the app and it was him. We hung out for a while but more as friends but always got along really well."
She then went on The Bachelor and fans all know how that went, but after that whole thing (aka her engagement and breakup with Ben), Lauren shared, "Fast forward two years later when I moved back to LA we hung out to catch up and things just kinda happened after that."
After reuniting and getting romantic, Lauren and Devin have been spending a lot of time together. They made their Instagram debut on August 12, when Lauren shared a photo of the couple dressed to the nines with the caption "Dibs."
After their much-anticipated Instagram debut, Lauren shared a more casual photo of herself with Devin with the caption, "Sundays with youuuuu" along with a heart emoji, of course.
Aside from some cute photos here and there, Lauren and Devin's relationship is pretty private. Still, she did actually reveal a couple personal tidbits during the same October 3 Instagram question and answer session. A follower asked Lauren to name her "3 fav things" about her new boyfriend. Lauren listed, "his laugh" as number one. She also said, "how much fun I have when I'm with him and how much I can be myself." She finished the question with "everything about him honestly," so it's clear that she's pretty smitten with him.
Aside from being each other's dates at events and posting cute selfies, it seems like the couple is getting pretty serious since they've taken some trips together to Maui and Chicago.
If the trips aren't a clear enough indication that Lauren and Devin are going strong, she actually said it herself in response to a fan question. Someone told Lauren, "Are you and Devin going to get married [heart eyes emoji] you two are perf!" That's a sweet sentiment, but Lauren has made it very clear that she's going at a slower pace this time around.
After replying with "haha," Lauren did confess, "I do see a future with him but I want to be 1000 percent sure before I get engaged and even more sure before I get married. And for me that takes time. I've learned a lot of things in the last couple years and this is a big one. Marriage is such a special and sacred thing that should never be rushed."
At this point, Lauren's fans don't know a ton about Devin and that's probably for the best. The only thing anyone really needs to know is that she is enjoying this relationship.