Sorry Everyone, Lewis Capaldi Is Officially In A Relationship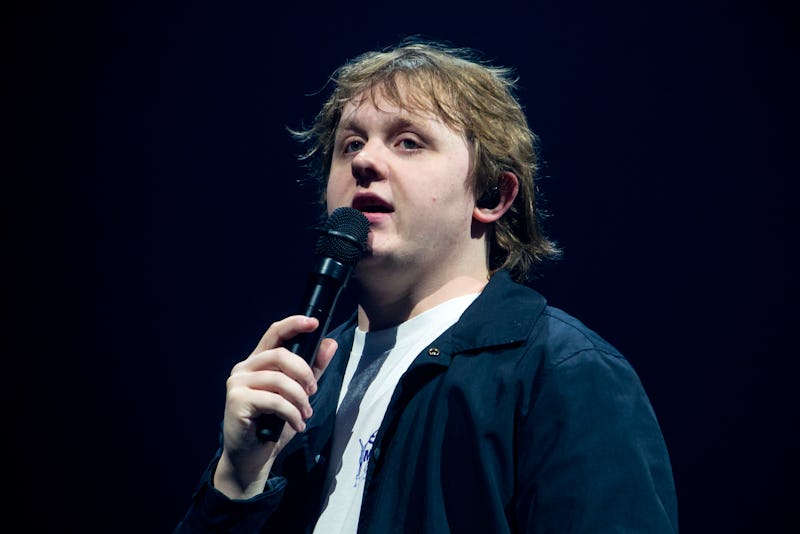 Matthew Baker/Getty Images Entertainment/Getty Images
Lewis Capaldi has been going from strength to strength in his career, reaching number one on the Billboard Hot 100 in October last year and walking away with two BRITs at the 2020 ceremony. But what about his personal life... Who is Lewis Capaldi dating? Or is he even with somebody at all? Well, until recently, Capaldi was a self-confessed singleton, often poking fun at his relationship status on Twitter. But now the singer has revealed he is indeed with somebody, and fans couldn't be more excited for him.
The singer and comedy hero revealed to Capital Radio this week that he is officially off the market and now has a girlfriend. When the host asked if he prefers living the single life or being in a relationship, Capaldi replied: "Well, I'm in a relationship, so if I said the other one, my girlfriend would kill me."
He then continued: "I've never told anybody that I'm in a relationship, so there you go ... She's got red hair, she's got quite a posh voice," before adding, "and that's that, that's all you're getting."
According to Capaldi, the couple have been apart for quite a while now, as they've been isolating separately during the lockdown.
It's so far unclear who the lucky lady is, but per The Mirror, rumours are swirling that it could be 21-year-old Catherine Halliday, who is a student with red hair. Capaldi notably follows her on Instagram. I have reached out to a rep for Capaldi to see if there is any comment on this, and will update you if I hear anything.
Whoever she is, I'm simultaneously chuffed for Capaldi and gutted in equal measure that he's now officially taken.
Before this, the star had previously been single for a while, and joked about it openly. For example, in 2018, when he was nominated for a BRIT Award, he tweeted: "One for the Tinder bio. Been nominated for a BRITs AWARD," he wrote. "Seriously can't believe this is real, thank you so much to all of you."
In response to the tweet sent out by the BRITs account ("Take a bow, @LewisCapaldi! Welcome to The #BRITs 2019 Critics' Choice shortlist!"), the singer wrote: "Let's hope this dramatically improves my tinder match ratio, something needs to change."
As well as his rather hilarious commentary about single life on Twitter, Capaldi has also joked around with radio hosts in the past. In fact, Capital FM's Roman Kemp took it upon himself to set up three 'blind dates' with fans on the show once. You can watch the dates taking place during this video on Capital FM, where Capaldi took a shining to a fan named Laurel, who he said he would wine and dine at his local Nandos. Sounds pretty decent if you ask me.
As well as Tinder, Capaldi was also apparently on dating app Raya, according to sources at The Sun. Raya is a referral-only app, meaning somebody on there must have suggested and invited him.
His only known relationship prior to his new lady was with Love Island star Paige Turley, who is also a Scottish singer.
This article was originally published on