The Truth Behind *That* Exchange Between Maya Jama & Laura Whitmore
Here's what really went down at the BRITs with the Love Island talents.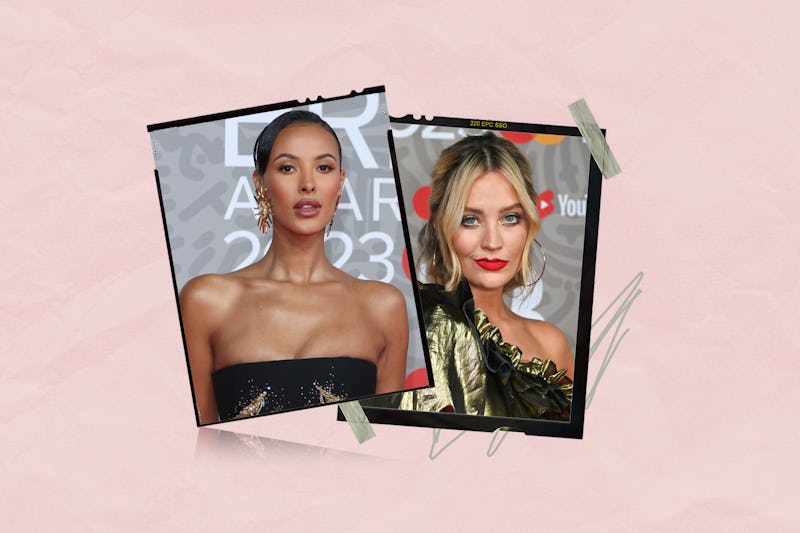 Getty Images/Mike Marsland/David M. Benett
Love Island hosts past and present Maya Jama and Laura Whitmore have both hit out at claims they were ignoring each other during the 2023 Brit Awards, which took place at London's O2 Arena on Feb 11. At one point, the pair were sitting at the same table, but were snapped with their backs to each other as they caught up with different guests. The subjects of the rumour, however, have now directly denied that there's any rift taking place behind the scenes.
"Maya and Laura were sat on the ITV table together but didn't speak to each other once during the whole ceremony," an unnamed source had previously told The Daily Mail. "'At one point they were stood with their backs to each other. Maya was happily speaking to Laura's husband Iain Stirling but didn't chat to Laura once. There is definitely some tension between them."
Now, the two presenters have joined forces to deny claims of a fall out. "I'm so sick of the media constantly trying to run this narrative with women," Whitmore wrote on her Instagram story, alongside a screenshot of the article. "Imagine the audacity of also talking to other people at our table. Stop trying to put women against each other and start celebrating women supporting women!" she said. "We had a great night."
"Silly silly silly," Jama added, resharing the former host's message on her own Instagram story. "I think very highly of [Laura] & think she's an angel. Maybe quote that instead." Whitmore soon replied with: "Back at ya, lovely."
Whitmore presented Love Island for two years, bowing out in 2022, citing clashes with other conflicting projects, and "certain elements of the show I've found very difficult that cannot be changed…including the flying back and forth to South Africa [for Winter Love Island]."
When her successor Jama was confirmed to take over hosting duties in October last year, meanwhile, Whitmore was quick to offer her congratulations. "Yes girl!! So delighted for you! You're gonna be fab," she commented on Jama's Instagram.