Who Is Lorde's "Liability" About?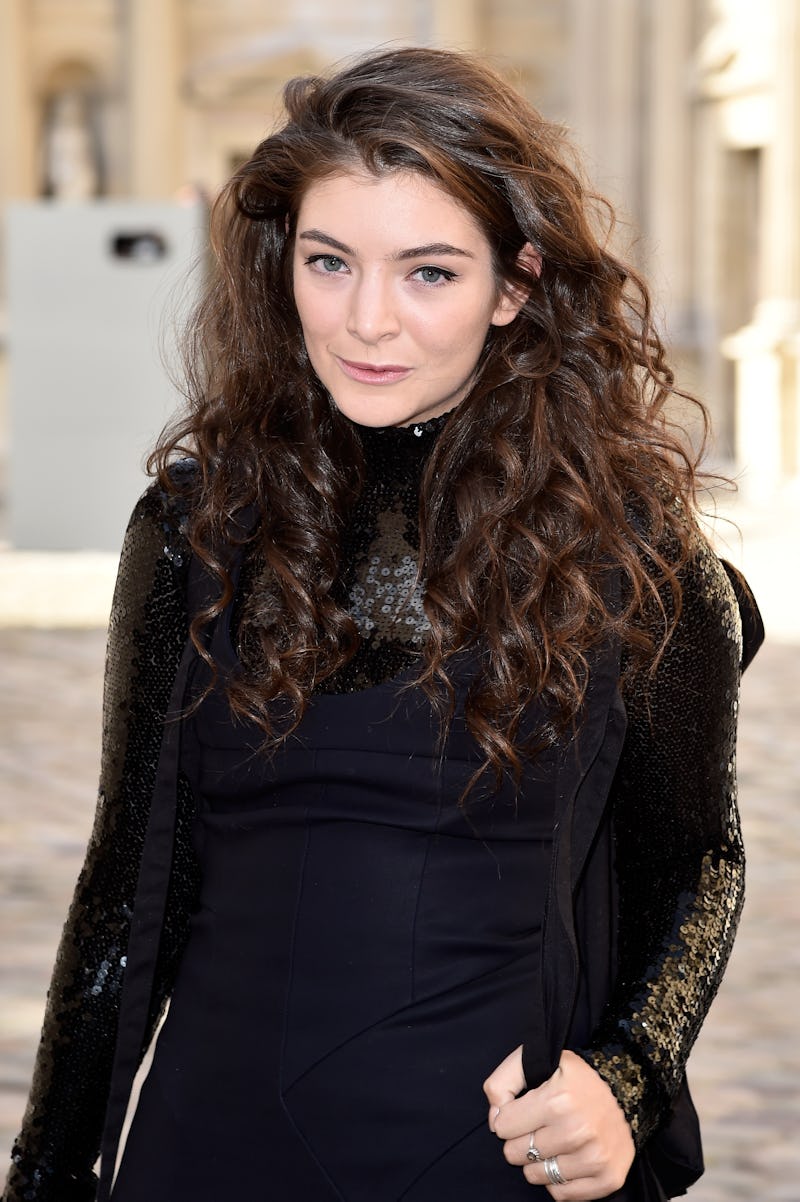 Pascal Le Segretain/Getty Images Entertainment/Getty Images
Should we call Thursday "Lordesday" from here on out? Feels about right to me. One week after dropping Melodrama's fantastic lead single "Green Light," pop queen Lorde gifted us with "Liability," a wistful, pared-down record that starts as a breakup song, and then takes a sharp turn at Introspection Avenue. So, who is Lorde's "Liability" about? The person Lorde'll love forever: Lorde.
On Thursday's episode of Beats 1, Lorde shared the inspiration behind "Liability" with host Zane Lowe:
"It's interesting because I had this realization where I was like, because of my lifestyle and what I do for work there's going to be a point with every single person around me where I'm gonna be a tax on them in some way. If it's having to give up a little portion of their privacy or their life becoming more difficult or whatever."
She continued,
"It was just this moment of sadness and I remember it so vividly: I was in this cab alone listening to 'Higher' by Rihanna because ANTI had just come out. And I had a little cry and I was just like, 'It's always going to be this way, at some point with everyone it's going to be this way.' But the song kind of ended up turning into a bit of a protective talisman for me. I was like, you know what, I'm always gonna have myself so I have to really nurture this relationship and feel good about hanging out with myself and loving myself."
Yessssssss. Get that self-love.
Ready to comb through the "Liability" lyrics? Let us begin at the beginning (wow, starting at the top of the song? How edgy of me).
Baby really hurt me
Crying in the taxi
He don't wanna know me
Says he made the big mistake of dancing in my storm
Says it was poison
I don't think this is too much a leap, but the "he" in this tale probably refers to some ex-boyfriend who can't handle the trappings of Lorde's fame. And then, the subject of the song shifts as Lorde reveals what she plans to do once the cab drops her off at her place of residence:
So I guess I'll go home
Into the arms of the girl that I love
The only love I haven't screwed up
She's so hard to please
But she's a forest fire
She stops singing about the "baby" who left her "crying in the taxi," and introduces the listener to "the girl that [she] love[s]." So, who is "the girl that [Lorde] love[s]"? Let the song keep rolling:
I do my best to meet her demands
Play at romance, we slow dance
In the living room, but all that a stranger would see
Is one girl swaying alone
Stroking her cheek
Lorde's slow dancing alone in her living room. Lorde's trying to meet her own demands. Lorde's stroking her own cheek. Lorde is the girl that Lorde loves. That, or Lorde's in love with an invisible lady.
No matter how much of a "liability" she may be, Lorde adores herself unconditionally. However, "they" (i.e., her past significant others) have their limits:
They say, "You're a little much for me
You're a liability
You're a little much for me"
So they pull back, make other plans
I understand, I'm a liability
Get you wild, make you leave
I'm a little much for everyone
In the second verse, Lorde sings that "they" lose interest in her when her "wild" gets too be too much:
The truth is I am a toy
That people enjoy
'Til all of the tricks don't work anymore
And then they are bored of me
I know that it's exciting
Running through the night, but
Every perfect summer's
Eating me alive until you're gone
Better on my own
Better swaying alone, better on her own, and better disappearing into the sun.
In just a few months, there'll be even more Lorde magic to put in our ears: Melodrama will be out on June 16. Can't wait to sway in my living room to this album.