You Probably Recognize Lil Pump's Music, Even If You Don't Know Him By Name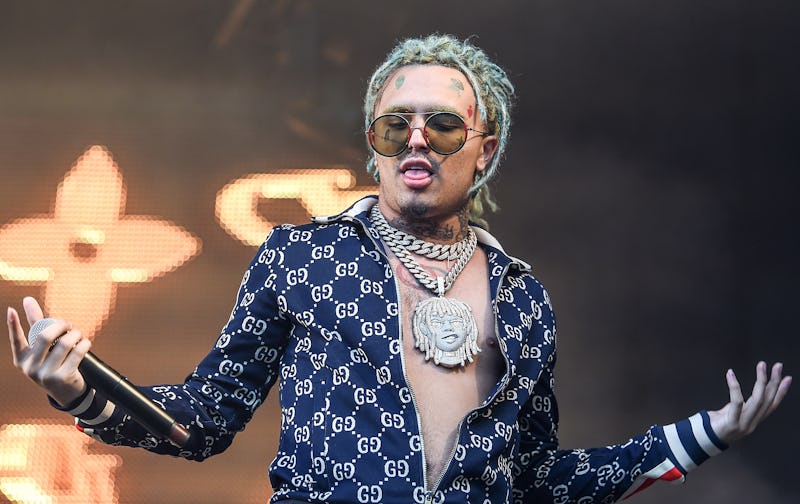 Tabatha Fireman/Getty Images Entertainment/Getty Images
At some point last year, "SoundCloud rappers" became a thing. They descended onto the hip-hop scene like a tsunami, and now they're wreaking havoc all over the Billboard music charts. So even if you don't think you know who Lil Pump is, trust me — you probably do. Along with Lil Uzi Vert, Pump is actually one of two SoundCloud rappers in the Best New Artist category at this year's MTV VMAs, so it's probably time for you to get acquainted.
Let's start with some basics, shall we? Lil Pump's real name is Gazzy Garcia. He is 17 years old, hails from Miami, and sports shoulder-length dreadlocks in ever-changing rainbow shades. Pump has got a bunch of tattoos, including several on his face. Face tattoos, by the way, are also "a thing" these days. A thing that's pretty popular within the SoundCloud rapper community, but a thing nonetheless.
If you listen to the radio at all, you've probably heard of Lil Pump even if you didn't realize it, because "Gucci Gang" — his big hit track from 2017, which hit No. 3 on the Billboard Hot 100 — is an inescapable ear-worm. Sorry, not sorry. We're all in this together now.
Pump loves him some Gucci. It's unclear how the 17-year-old rapper was able to afford so much Gucci before writing a hit song about Gucci, but it's safe to assume that he's pretty much rolling in all the Gucci he wants now.
Here's another thing about most SoundCloud rappers: They're not exactly modest. It's easy to understand why, though. They're young (the majority of them are under 25), rich, and incredibly influential. Pump recently credited himself as one of the originators of the SoundCloud rap movement, although some people say that's up for debate.
"Deadass though, these are the rappers that started the whole SoundCloud sh*t: Me, X, Ski Mask, Purpp, Uzi, Yachty, I can keep going," Pump stated in an Aug. 6 video on his Instagram Stories, according to XXL.
He then posted another video, the publication reported, further touting his clout. "Nobody was being called SoundCloud rappers until we came out. We made the whole SoundCloud wave go up," he said.
Regardless of whether or not Pump was truly one of the people who made the SoundCloud rap wave go up, he's definitely riding high on the wave now. The rapper is gearing up for the release of his highly-anticipated mixtape, Harverd Dropout, on Aug. 17, as Billboard reported, and then he'll be taking his show on the road in September for a 28-city nation-wide tour.
Despite all of his success thus far, Lil Pump has some seriously stiff competition in the VMA's Best New Artist category this year. In addition to fellow SoundCloud rapper Lil Uzi Vert, he'll be up against singer-songwriter Bazzi, Beyoncé's protégées Chloe x Halle, synth-pop star Hayley Kiyoko, and the one and only Cardi B.
The 2018 MTV Video Music Awards go down on Aug. 20, so tune in then to see if Pump takes the crown.