Lily Tomlin & Her Wife Have Been Together Forever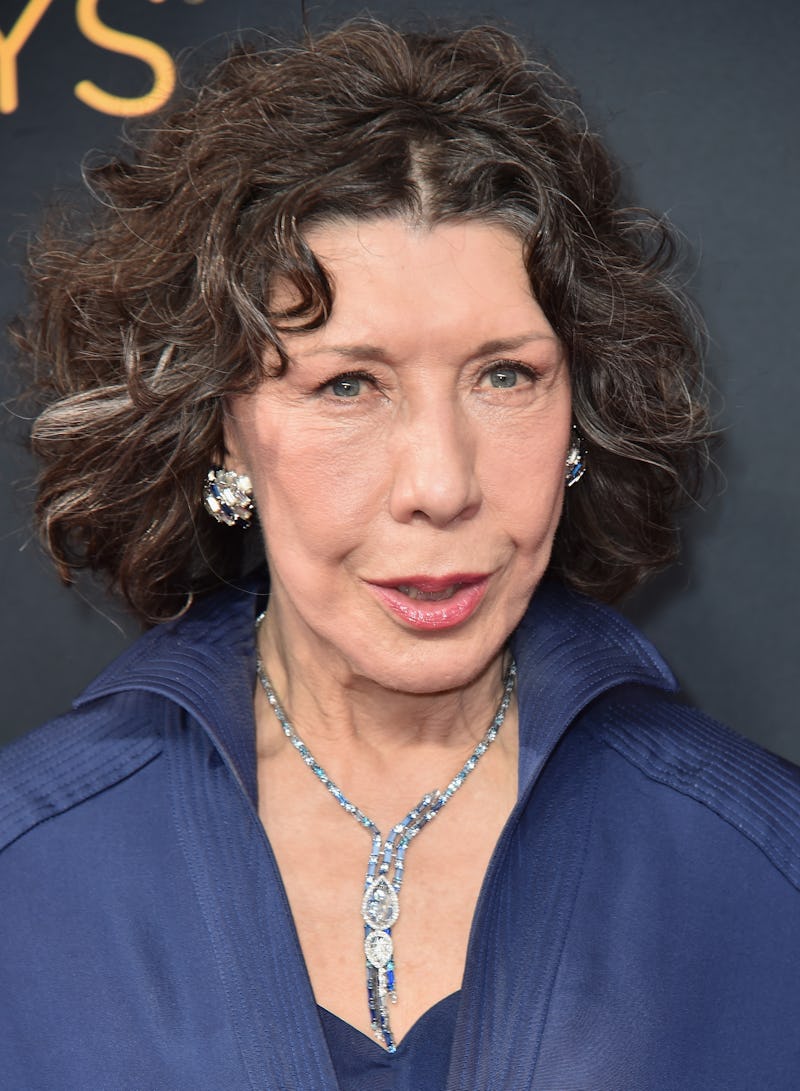 Alberto E. Rodriguez/Getty Images Entertainment/Getty Images
The 23rd Annual Screen Actors Guild Awards are almost upon us, providing yet another chance to celebrate the most impressive performances of the past year. Perhaps the most special award of the night is the SAG Lifetime Achievement Award. Since the 1960s, (so, before the SAG Awards were an entire ceremony) an actor has been selected by the guild each year to receive an achievement award, which highlights a performer whose career has been consistently outstanding. Screen icon Lily Tomlin will receive the 2017 SAG Lifetime Achievement Award, which she'll be presented with on Jan. 29 at the ceremony in Los Angeles. While the Grace & Frankie actor is recognizable to most, who is Lily Tomlin's wife, Jane Wagner, who will likely be in attendance with the star.
Tomlin and Wagner got married on New Year's Eve in 2013, after an incredible 42 years as a couple. Their decision to marry after such a long courtship is completely romantic, and shows just how committed the pair are to one another. In August 2013, Tomlin spoke about Wagner, and how the couple didn't think that same sex marriage would be legalized during their lifetimes. Tomlin told E!, "We're thinking maybe we'll get married... No rings, no bridal dresses. Maybe we'll be dressed like chickens."
Clearly, Tomlin's wife must share her sense of humor, but what else do we know about Wagner?
The couple share a Twitter account, which highlights Wagner as a writer, producer, and director. In fact, they have been writing partners since 1971, when Wagner to collaborated on Tomlin's comedy album And That's The Truth, after being impressed with Wagner's writing style. Together, they have been nominated for six Primetime Emmy Awards and won three, in 1974, 1976, and 1981, for comedy specials starring Tomlin.
Wagner has been the producer, writer, and also director, on many of Tomlin's projects. Most notably, Wagner wrote and directed the 1978 movie Moment By Moment, which starred Tomlin opposite John Travolta. There is even a star on the Hollywood Walk of Fame dedicated to Tomlin and Wagner, which they jointly received in 2012.
Aside from her work with Tomlin, Wagner has taken home several awards of her own. Notably, she wrote the afternoon special J.T. in 1969, which won her a Peabody Award, as did Edith Ann's Christmas: Just Say Noel in 1996.
It's clear that Wagner and Tomlin's partnership has led to many creative collaborations, which will be remembered for years to come.