Lisa Miranda, Anthony Scaramucci's First Wife, Is No Trump Fan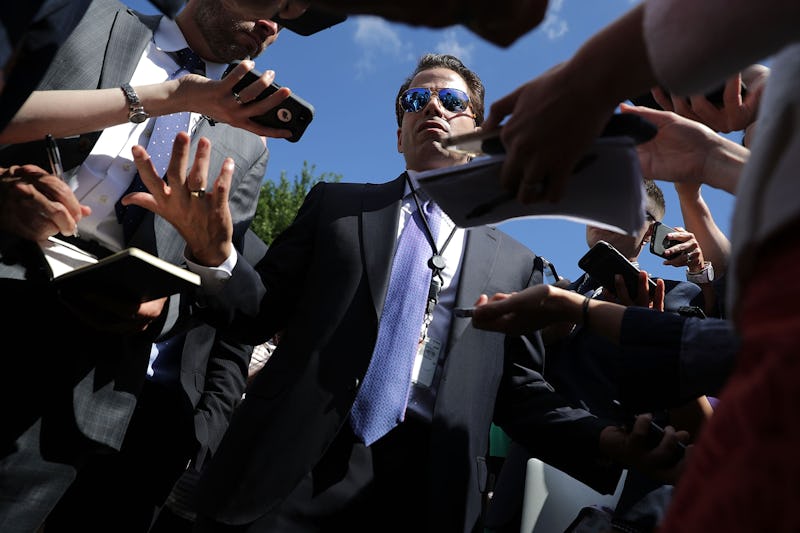 Chip Somodevilla/Getty Images News/Getty Images
The drama surrounding the removal of communications director Anthony Scaramucci has also seen the Mooch's personal life getting entangled in his rise and demise at the White House. Like his second wife Deidre Ball — with whom he is reportedly going through a divorce — Scaramucci's ex-wife Lisa Miranda is no Trump fan, according to reports about her political affiliation.
Miranda has been vocal about her disdain toward Trump on Twitter. Her account shows support for Hillary Clinton, women in STEM and accepting refugees. In his old tweets, her former husband had also praised Clinton and shared views on climate change and immigration that would have put Scaramucci at odds with Trump. Scaramucci admitted on Twitter that he deleted those tweets because he had evolved from his past views, saying he served Trump's agenda and "that's all that matters." It's unlikely that Lisa and her ex-husband would see eye to eye now on political affairs.
New York Post tabloid Page Six reports that Lisa and Scaramucci met in church while attending Tufts University as undergrads. Page Six also quoted one of Lisa's friends:
When they were married, they had nothing, they were literally counting quarters in a jar to figure out what they were going to have for dinner that night. … Things went bad when Anthony became very successful in the late '90s.
Mirandae and Scaramucci have three children together, and along with his two children with Ball, he altogether has five kids. Last week, Page Six reported that Ball filed for divorce when she was about nine months pregnant with their second child. She gave birth to their son James just a week before he was sacked — a birth he didn't witness because he was with Trump at a Boy Scout Jamboree event in another state.
Ball is Scaramucci's second wife since 2014; he was married for 23 years to Miranda until 2011.
Scaramucci's tenure in the White House was one of the briefest in recent memory; he lasted 10 days as the communications director. The news of his resignation on Monday came on the first day of former Marine general John F. Kelly's job as new chief of staff. It's unclear what Scaramucci's next step is. While the details relationship with either Ball or Miranda has not been made public outside of several reports, it's safe to say that the Mooc is still involved in the lives of his children.