The British Comedian Behind *That* Viral Thigh Gap Video Has A New BBC Show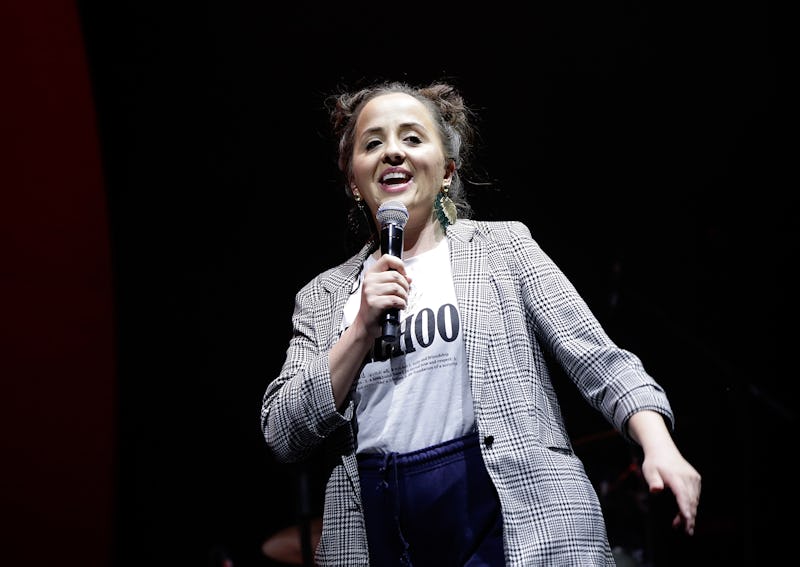 John Phillips/Getty Images Entertainment/Getty Images
It's been a while since the UK had a great breakthrough comedian — especially a female one. Luisa Omielan, the brains and face of the new BBC3 show Politics For B******, may well be that new talent. Ever thought politics was too manly? Felt isolated because the man holding the most power in the world today boasts about grabbing the p****? Well, this could be the new show for you. But who's the person behind it — who is Politics For B*****' Luisa Omielan?
Born to a Polish mother, Omielan graduated from the University of Salford in 2005 with a first class performing arts degree. Omielan has been gigging since then, spending three months in Chicago in 2010 to train at the Comedy Sportz Theatre, The Second City, and Improv Olympic. As Bustle reported back in 2015 — when her video about thigh gaps went viral — Omielan had her breakthrough in 2012 with her standup based on none other than Beyoncé, which asked What Would Beyoncé Do? She released a book with the same title four years later, which currently holds a very strong 4.15 rating out of five on Goodreads. If you've already seen her stand-up and read the book, then you'll know that Omielan likes to use the b word. A lot. Unsurprisingly, her latest show makes plenty of use of it. But what exactly is Politics For B******?
The show scooped up rave reviews when Omielan debuted it at the Edinburgh Fringe Festival earlier this year, so it's no wonder it got commissioned so hastily. "Luisa Omielan is on a mission to educate young people about politics and why it is so important," the BBC writes. "Trouble is, she finds it intimidating, inaccessible and has no idea what she is talking about." Politics For B******, then, is Omielan's mission to tackle, "some of the most important things relevant to young people today," which she does by, "learning on the job and travelling around the UK with her dog Bernie, exploring issues that matter to people like her."
The series has eleven episodes in total, each one dealing with a different prescient issue, and so far she's taken on topics like housing, women, and public spending. The show might well fit within the genre of what Vulture writer Jesse David Fox calls "post-comedy." Like Hannah Gadsby's Nanette, it describes a new wave of comedy, which Fox says is "looking more like the frowning mask than the smiling one." "Like post-rock, post-comedy uses the elements of comedy (be it stand-up, sitcom, or film) but without the goal of creating the traditional comedic result — laughter — instead focusing on tone, emotional impact, storytelling, and formal experimentation," he explains.
And that might be true of Politics For B******. "Certainly by comedy standards it's not very funny, and Omielan knows that well," Steve Bennett writes in a fairly critical review for Chortle. But while there definitely are laughs, Omielan's show tugs at the heartstrings just as much. She reveals to the audience the inspiration behind the show — her mother. When she became ill with what turned out to be stomach and bowel cancer, Omielan was forced to finally confront politics. The long waiting lists, being denied water, being treated terribly — all led to Omielan's mother's death without dignity. Politics For B****** is a way for Omielan to recover it.