'The Punisher' May Finally Have A Friend In The Federal Government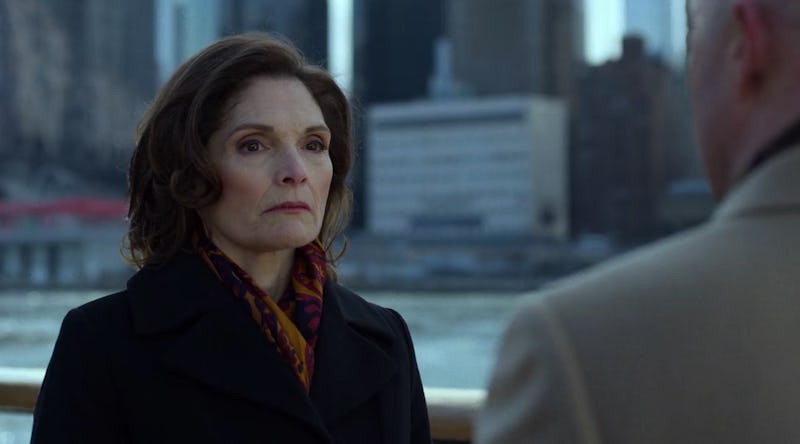 Screenshot/Netflix
Spoilers for Season 1 of The Punisher. For most of Season 1 of The Punisher, William "Agent Orange" Rawlins is the most powerful man in the room. He's the mastermind behind Project Cerberus, he's the person the only person that Billy Russo seems to be loyal to, he even survives a sniper bullet from Frank Castle thanks to the smart decision to line his mansion with bulletproof windows. However, it becomes clear that Rawlins' entire career could fall apart thanks to Frank Castle. So he meets with a woman named, Marion James, who is actually the most powerful person in The Punisher.
Marion, played by Mary Elizabeth Mastrantonio, may not be powerful enough to take on Frank Castle one-on-one, but for the first time in the series it is confirmed that there is someone more powerful than Rawlins when it comes to Project Cerberus and the CIA. Rawlins almost begs Marion, who is Deputy Director, for access to technology that will make it easier to have Frank assassinated. All the while that Rawlins is explaining how Frank could end up making the agency look bad, Marion is quick to remind Agent Orange that it's really only his name that is going to suffer. In the eyes of Marion James, there is no "we."
It seems that even though Marion is more powerful than Rawlins is, she was unaware that much of Rawlins' work was illegal. Despite being willing to let Rawlins do whatever he needs to do to clean up the mess he's made, she has little patience for things going wrong. She's especially upset when Rawlins' efforts result in the death of five Homeland agents. Rawlins eventually convinces Marion to go along with his plan at the risk of throwing away her 30 years as a part of the CIA. She allows him to let the hammer fall on Billy Russo and keep themselves clean — with the caveat that Rawlins resign after Billy Russo is killed.
One of the overarching themes of The Punisher is how institutions use everyday citizens and treat them irresponsibly. It's shown through Lewis' descent into domestic terrorism and through the CIA's hunt for Frank. These veterans served their country — Frank even served a powerful paramilitary unit — but they were ignored while the people who asked for their service continued to succeed, unburdened by the violent actions the people beneath them were involved in. Rawlins spends all of Season 1 trying to cover his own tracks and make sure the illegal actions of Project Cerberus are not made known to the public. Corrupt government agencies are nothing new to the Marvel Universe, but the presence of Marion James hints that maybe there are some good people at the top of the food chain.
Marion proclaims that she is "disgusted" by Rawlins, and pushes him to resign at the risk of her personally "delivering" him to Homeland Security. Marion is a small, but powerful presence in The Punisher. In a world where everyone with power is corrupt, she seems more interested in staying on the right side of morality than most others.
Marion doesn't have much to do in The Punisher, but chances are this isn't the last that Marvel fans will see of her. While The Punisher often feels like its own world, there's a chance that Marion will pop up in other Marvel series, should the CIA begin investigating matters related to blind lawyers, powerful private investigators, or bulletproof men.
The Netflix-Marvel Universe is overdue for a decent person in government, and while Marion does allow Rawlins to try and take out Frank Castle (who, in her defense, she only knows as a mass murderer), her inherent decency makes her someone to keep an eye out for in future Marvel installments.