Bill O'Reilly Hires Bill Clinton's Old PR Consultant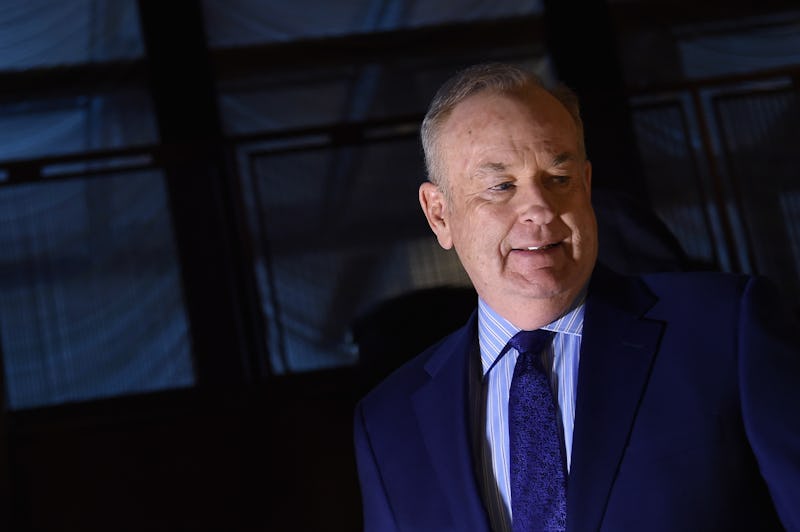 Ilya S. Savenok/Getty Images Entertainment/Getty Images
Fox News' popular conservative commentator Bill O'Reilly hired Bill Clinton's old crisis communications consultant, Mark Fabiani, to help him battle questions from the press — specifically from the New York Times — regarding allegations that he sexually harassed multiple women during his years hosting The O'Reilly Factor, which O'Reilly denies. Fabiani worked for the Clinton administration from 1994 to 1996, when he and his business partner, Chris Lehane, focused on tackling several controversies, including Clinton's sex scandal over Monica Lewinsky. Given a few of O'Reilly's statements on said scandals, his decision to hire Fabiani is a little ironic.
In 2003, while attempting to defend Arnold Schwarzenegger from tough reports by the Los Angeles Times about allegations made by six women claiming that the actor had sexually harassed them on throughout his Hollywood career (allegations Schwarzenegger denies), O'Reilly argued, "First, the actor has never been charged with a crime or sued in civil court. So his record is clean. There's no Paula Jones here, no Monica Lewinsky, at least not yet."
While O'Reilly has not been sued in court over the sexual harassment claims he is working to discredit — you can read his full statement about the allegations here — the NYT investigation suggests that this might be partially due to Fox News' method of settling certain types of conflicts behind the scenes to avoid negative publicity. It's important to note that this led to a federal investigation of the network following Andrea Tantaros' public lawsuit against Fox News and the network's former CEO, Roger Ailes.
O'Reilly was, in fact, also named in Tantaros' lawsuit as having allegedly subjected her to inappropriate behavior. "Ailes did not act alone," it read. "He may have been the primary culprit, but his actions were condoned by his most senior lieutenants."
Mark Fabiani will undoubtedly be implementing his "ten commandments of damage control" to navigate O'Reilly out of his current scandal. In 1996, Newsweek published and article referring to Fabiani and Chris Lehane as "masters of disaster," a title the article said the two men had given themselves. Already, O'Reilly is sticking to the commandments directing those in crisis to hold their heads high and speak to their core audiences.
"Most importantly, I'm a father who cares deeply for my children and who would do anything to avoid hurting them in any way," reads a statement published on O'Reilly's official website. "And so I have put to rest any controversies to spare my children. The worst part of my job is being a target for those who would harm me and my employer, the Fox News Channel. Those of us in the arena are constantly at risk, as are our families and children. My primary efforts will continue to be to put forth an honest TV program and to protect those close to me."
No doubt O'Reilly's audience, which is used to hearing the commentator preach about "family values," will feel some degree of sympathy after seeing the issue framed in such a way.