Boston's Mayor Is Being Commended For His Handling Of The "Free Speech" Rally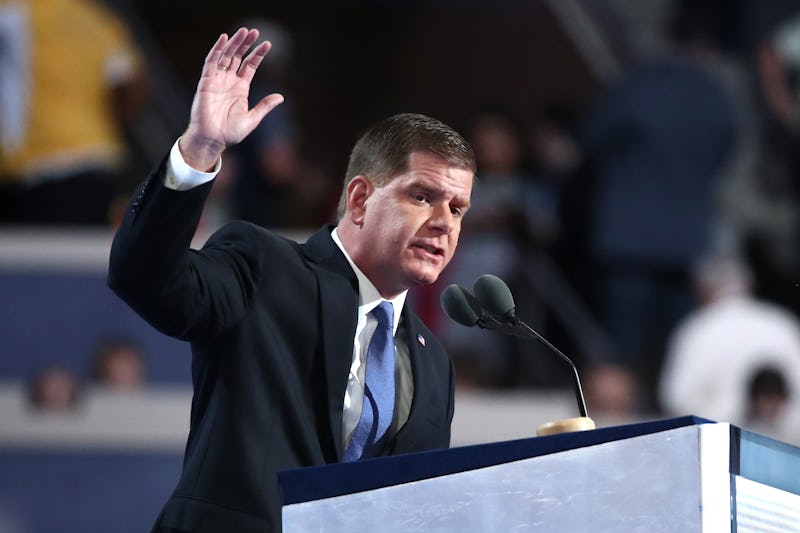 Jessica Kourkounis/Getty Images News/Getty Images
After thousands rallied to protest a purportedly pro-free-speech rally in Boston on Saturday, many are wondering who exactly is Marty Walsh? Boston's mayor won praise from Americans across the board as well as Donald Trump for maintaining law and order during a particularly contentious moment in American political history.
The Boston Free Speech was ostensibly conducted to walk in support of unregulated speech and civil liberties. Although the administrators of the Boston Free Speech page maintained that the march was for a variety of political adherents like "libertarians, progressives, conservatives, and independents," observers were critical after the violence that took place during the deadly white supremacist Unite The Right rally in Charlottesville, Virginia.
Prior to the march taking off, Walsh seemed to have taken a proactive and informative route for those who had planned to attend the rally. The mayor's Twitter account shared several messages of unity and peace. In one of his tweets, Walsh urged "everyone to be peaceful today and respect our city. Love, not hate. We stand together against intolerance." In another tweet, in order to keep the public well-informed and prepared, the mayor had shared an advisory for those with questions or comments about the rally.
In a statement to the press on Friday, Walsh made his sentiment on the rally clear, "Our job is to make sure that as the peace rally enters into Boston Common, that the folks that come in there feel safe, that we don't have an incident that happened like last week in Virginia." Around 500 police officers had been deployed by the city to avoid the kind of violence Charlottesville had witnessed last weekend.
Walsh's foray into media and public's attention has been received positively by many in the country. But this isn't the first time that the Democrat mayor has taken a stand in favor of the marginalized and vulnerable people of the country. In January, Walsh reaffirmed Boston as a sanctuary city after Trump's controversial remarks on dramatically cutting federal funds for sanctuary cities.
This time, however, Trump seemed to have viewed Walsh's modus operandi for the Saturday rally in a more positive light. In a tweet directly mentioning the Boston mayor, Trump said, "Great job by all law enforcement officers and Boston Mayor @Marty_Walsh."
Walsh deftly responded to Trump's tweet and said, "Today, Boston stood for peace and love, not bigotry and hate. We should work to bring people together, not apart."