Meghan Markle's Hairstylist Is Behind *So* Many Iconic Celebrity Haircuts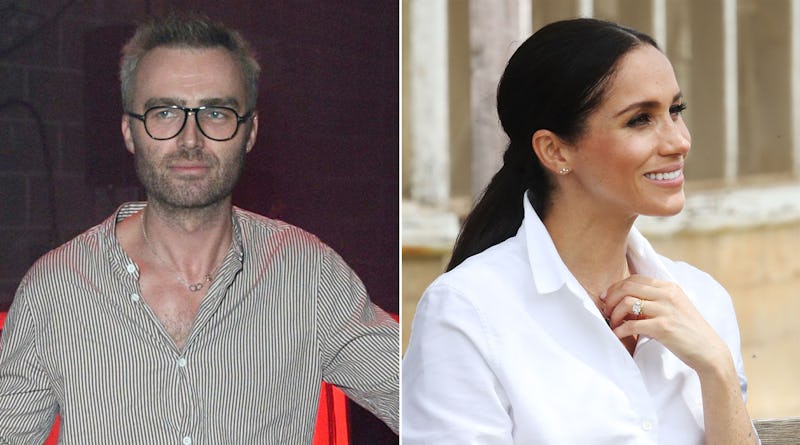 Richard Young/Shutterstock, Chris Jackson/Getty Images Entertainment/Getty Images
A royal tour isn't complete without a royal entourage. And the Duke and Duchess of Sussex haven't disappointed with their 10-strong one. Featuring private secretaries and personal assistants, the duchess has also managed to bring her very own glam squad to Australia. But who is Meghan Markle's hairdresser and where have you seen his work before?
George Northwood appears to be the chosen one. First selected to style Markle's hair for her wedding reception at Frogmore House, the 39-year-old Brit seems to have become the royal's go-to man for any important occasion. (Fellow hairstylist Serge Normant was chosen for Markle's wedding ceremony bun.) Although he has a very active Instagram account, the hairstylist has so far remained silent on his royal client, meaning no one is entirely sure how the two first met. Get The Gloss reports that the Duchess of York was spotted in his London salon so perhaps Fergie is the missing link.
However they first came into contact, it's obvious that the former actress has been utilising Northwood's talent. In recent months, Markle has stepped out with her hair styled in the hairdresser's signature waves along with his sleek straight looks and, of course, that messy bun. It was also reported that the hairstylist travelled with the duchess to Dublin back in July.
Northwood is best known for being a celebrity hairstylist. His career began over a decade ago when he chopped Alexa Chung's locks into her famous bedhead bob. The look became so popular that, according to Glamour, Northwood was asked to repeat it up to 18 times a day.
Chung remains his most loyal client to this day and sits on top of an A-list roster that also includes the likes of Rosie Huntington-Whiteley, Alicia Vikander, Claudia Winkleman, and Lily James. Each of these women are known for their defining looks, particularly Huntington-Whiteley who hit headlines for her tousled bob and Winkleman who just wouldn't be the same without that blunt fringe.
Northwood hasn't completely resigned himself to the celebrity life. His London salon, which opened in 2014, welcomes in anyone from anywhere. Prices for a cut and finish start from £75 and can range up to £225 while a simple blow dry will set you back anything from £35 to £75.
As one Vogue editor put it, "Northwood has a gift for making women feel like themselves. Put simply, he listens and then gives you the kind of hair that makes you want to take a selfie rather than brushing out the style as soon as you've left the salon." This could be the exact reason why a truly modern royal like Markle chose him.
Even if you can't afford a trip to Northwood's salon, you can still pick up plenty of tips from the man himself; tips I'm sure he has passed on to Markle. His number one trick involves washing your hair twice.
"Most people don't actually get their hair truly clean when they wash it, so it ends up covered in a sort of film which leads to dullness and lack of shine over time," he told Vogue. "By shampooing twice, you have a first wash to remove excess dirt and grime and then a second wash to really get it squeaky clean." He also advises women to wash their hair every two to three days. This can vary if your hair is super fine or super thick.
And if you're an extremely low maintenance person like me, Northwood recommends opting for a short haircut that doesn't require heat styling. "You can opt for a look which can be rough dried with just a bit of product worked through for texture and hold," he commented to Grazia.
Sign me up.