Meryl Streep Is Joining 'Big Little Lies,' So Prepare To Totally Freak Out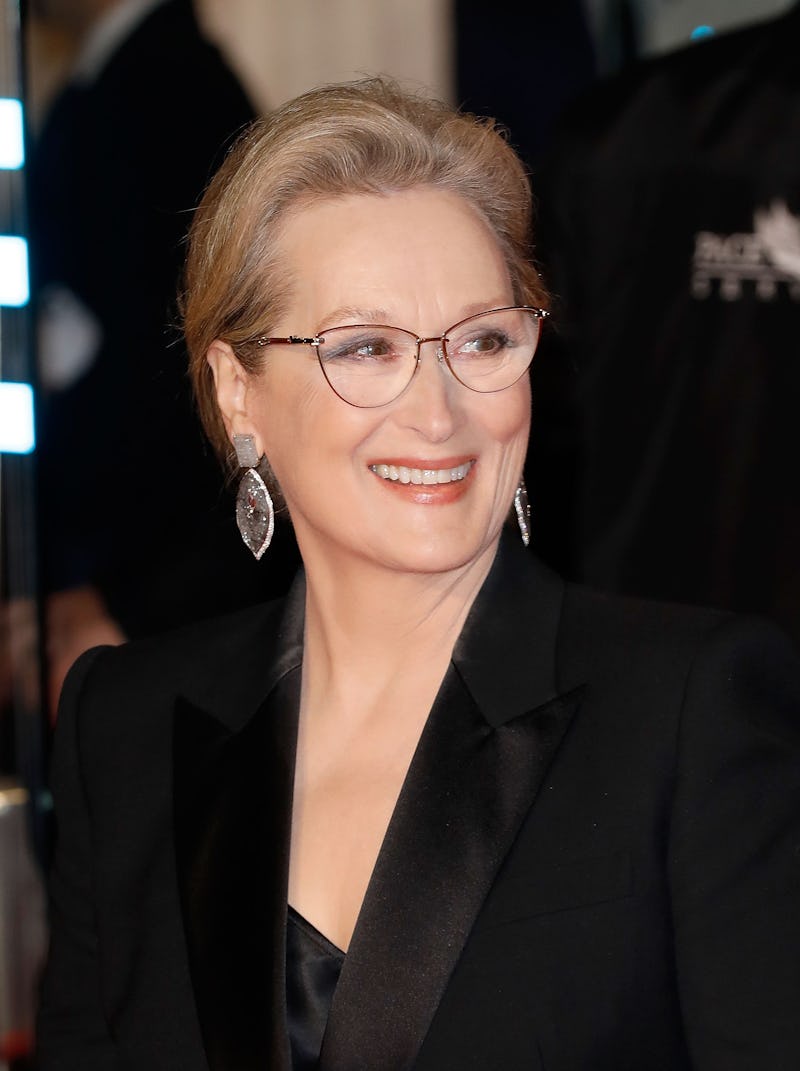 Tristan Fewings/Getty Images Entertainment/Getty Images
As if Big Little Lies is getting another season wasn't exciting enough, the news just got a million times better. Meryl Streep is joining Big Little Lies Season 2. According to Entertainment Weekly, Streep will play Mary Louise Wright, the mother of Alexander Skarsgård's Perry. Yes, this also means Streep is playing Nicole Kidman's character's mother-in-law, which sounds absolutely perfect.
Since Streep's conquered the big screen — she just picked up her 21st Oscars nomination, which beats her own record — it's hardly a surprise she'd go and join and award-winning TV venture. (Big Little Lies took home a whopping eight Emmys). Since she's best known for movie roles, though, having her pop up on TV feels like a special treat. She last appeared on Showtime's Web Therapy starring Lisa Kudrow in 2012. And to see her star alongside Kidman? Well, that just sounds like a TV dream come true that will likely lead to even more awards.
After all, Kidman earned an Emmy and Golden Globe for the HBO miniseries, where she plays Celeste, a mother struggling through an abusive marriage, (spoiler alert) whose husband Perry is killed at the end of the first season. The show featured complicated, strong, multi-dimensional women, and it's something the cast has repeatedly emphasized in acceptance speeches. As Kidman succinctly said herself during the Globes, "Wow, the power of women." And now the cast just got one of the most powerful women to ever grace the screen.
As of now, it's unclear how much Streep will factor into this season, though according to The Hollywood Reporter, she'll come to Monterey looking for answers and to take care of her grandchildren. So, let's expect some sparring between Streep and Kidman, who both starred in 2002's The Hours together, but didn't share any scenes.
Skarsgård is reportedly "returning in some capacity" for Season 2, which will also feature Zoe Kravitz's character, Bonnie's parents. No word on who will play her mom and dad, but perhaps Kravitz's very talented real-life parents, Lisa Bonet and Lenny Kravitz?
Along with Kidman and Reese Witherspoon — who both got much-deserved big deals to return as Celeste and Madeline, respectively — David E. Kelley will also be back to write all seven episodes of the season, which will expand on Liane Moriarty's 2015 novel Big Little Lies. But, Kelley will reportedly base some of this season on a new Moriarty story.
According to HBO, Season 2 will explore the "malignancy of lies, the durability of friendships, the fragility of marriage and, of course, the vicious ferocity of sound parenting." The network teases that this mix could bring some doom and gloom for the ladies of Monterey. "Relationships will fray, loyalties will erode," HBO stated, and "the potential for emotional and bodily injury shall loom."
The biggest change of this season will be who's behind the camera this time around. Andrea Arnold, who directed 2016's American Honey, is taking over for Season 1 director Jean-Marc Vallée. Arnold, who got her start on TV as a dancer on Top Of The Pops, has also directed three episodes of Amazon's Transparent. Clearly, the show is returning with even more girl power, led by the surprise casting of Streep, who won an Emmy for her performance in the 2003 HBO's miniseries adaptation of Angels in America.
Of course, the only person who may be more excited than fans to hear Streep is returning to TV is Kelley, who told The Hollywood Reporter back in October that his dream casting goal would be "adding Tom Hanks and Meryl Streep to Big Little Lies." Apparently dreams come true, so maybe expect to hear Hanks is joining the show any day now.
But like most good things, there is a waiting period, and BLL fanatics will have to stay tuned until 2019 to see Streep in Monterey. Let's bet it'll be totally worth it.
Additional reporting by Jamie Primeau.