Nicole Kidman Thanked Her Activist Mother At The Globes & You Need To Know What This Woman Did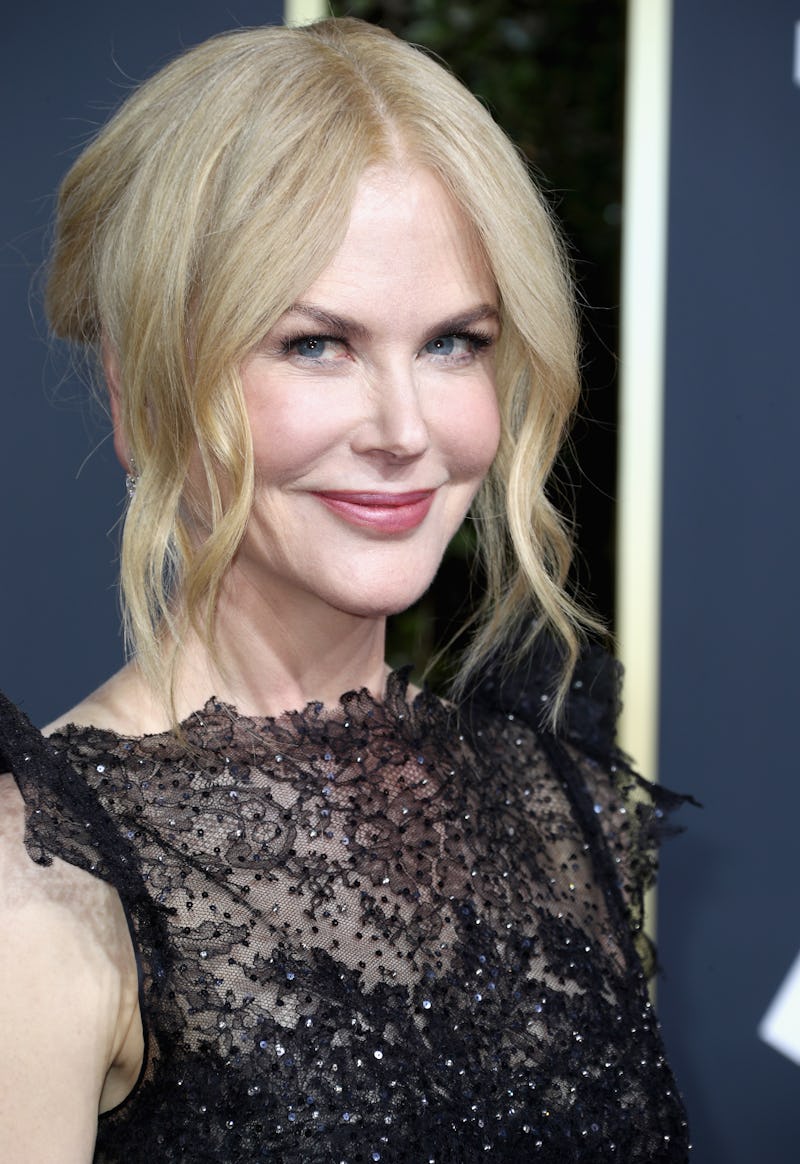 Frederick M. Brown/Getty Images Entertainment/Getty Images
After raking in a whopping eight trophies at the 2017 Emmys, all eyes were on Big Little Lies during this year's Golden Globes. Starting the night off strong, Nicole Kidman won Best Actress in a Limited Series, and she even gave a few special shoutouts in her speech. If you're wondering who Janelle Kidman is, she's the woman who gave birth to the now-trophy winner. Yes, Kidman gave her mom a shoutout for inspiring her activism, and the moment will warm your heart.
First, Kidman made sure to acknowledge her Big Little Lies castmates, including Reese Witherspoon who was nominated in the same category. Addressing her costar directly, she said, "We did this because of our friendship, our creative union, our support of ourselves, I love you." The camera panned to Witherspoon, who couldn't look more proud.
Kidman also shared the moment with BLL's Laura Dern, Zoe Kravitz, and Shailene Woodley, saying, "This is ours to share. Wow, the power of women." And after all that cast love, she then shifted the spotlight to even more powerful women — her own mother. She said,
"And my momma. My momma was an advocate for the women's movement when I was growing up, and because of her, I am standing here. My achievements are her achievements. Antonia, my sister, and I say thank you, Janelle Kidman."
Obviously, fans on Twitter couldn't be more touched by the speech. Some even tweeted that they teared up.
For the record, this isn't the first time the Big Little Lies star has acknowledged her mother, who's a former nursing instructor, on a public platform. When accepting a Variety magazine award in 2013 at the Power of Women luncheon, Kidman said,
"I became involved because I was raised by a feminist mother who planted the seed early in me to speak out against the fact that women are so often treated differently than men. She was very clear with me: she said stand tall, do not settle for less than what is fair. Discriminating against more than 50 per cent of the population just because they are female is terribly unfair."
As she pointed out in that same speech, it's because of her mom that she became involved with the UN Women organization, where Kidman serves as an UN Women Goodwill Ambassador.
The fact that Kidman's mother empowered her to be an activist just further shows the power of women supporting another, and how teaching the next generation can truly make a difference. That seems to be the general vibe on this year's Golden Globes red carpet — where women are speaking out about everything ranging from equal pay to harassment to discrimination. They're making it clear that the time's up on that behavior; quite literally, actually, with the Time's Up initiative.
This same movement also circles back to the show that earned Kidman her trophy — Big Little Lies. The HBO miniseries, which recently landed a second season, has been applauded for putting women's stories front and center. The show doesn't shy away from featuring complex, dynamic characters and tackling often taboo topics, ranging from domestic violence to sexual assault.
There's no doubt that Season 2 will be equally forward on topics that matter, especially with Kidman and Witherspoon executive-producing. Plus, this time around, Big Little Lies will be directed by a woman — Oscar Winner Andrea Arnold, to be exact.
Just like the show itself, Kidman doesn't brush important topics under the rug. She speaks out and advocates for other women, and it's all the more special that it's something she learned from her own mother.